Sherlock's Dialogue In Enola Holmes 2 Was A Fun 'Challenge' For Henry Cavill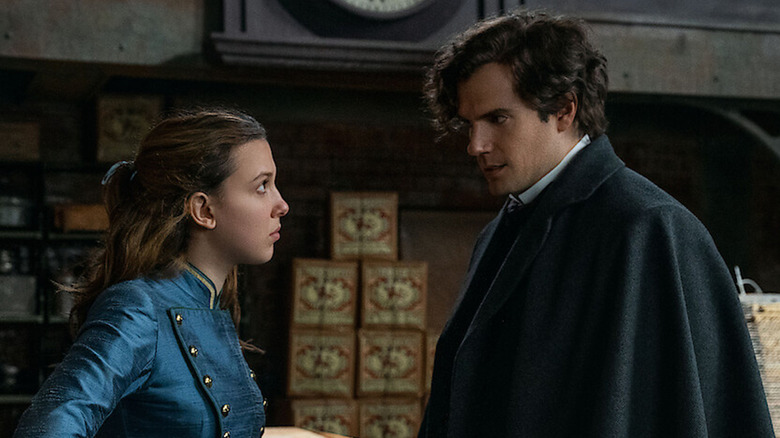 Netflix
Henry Cavill may not be the titular character in the "Enola Holmes" film series, but he is quickly becoming a fan-favorite version of Sherlock Holmes. The sequel just arrived on Netflix, and Cavil has a much bigger role this time around. We've seen a plethora of actors take on the iconic character, however, Cavill has been able to bring his own sensibilities to the long-tenured role. While playing second fiddle to Enola (Millie Bobby Brown), Cavill gets to spread his wings as an actor and deliver a fast-paced performance that is equally challenging as it is fun.
Though Cavill is pretty exceptional as Sherlock Holmes, it's pretty out-there casting if you take into account his filmography. For whatever reason, it was assumed long ago that Cavill could only play a rugged, uber-macho character. I mean, he's great at it. "The Man from U.N.C.L.E." and "Mission: Impossible – Fallout" are perfect examples of his ability to command the screen through sheer charisma and physical presence. However, typecasting is rarely indicative of the full range of someone's capacity to act, and the "Enola Holmes" franchise has solidified that for Cavill. 
More so in the recently-released sequel, which features a quick-thinking Sherlock getting in on the mystery action.
'Large swathes of dialogue'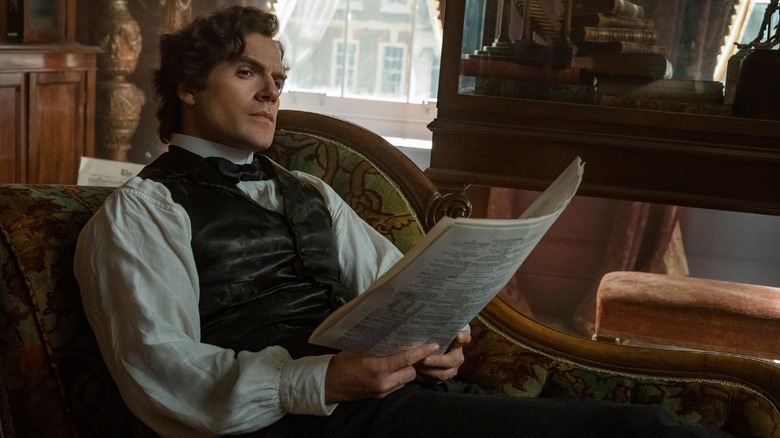 Netflix
In an interview with BBC Radio 1, Cavill spoke about the inherent challenge of repeating exposition-heavy dialogue, but makes it clear it's mostly a lot of fun:
"Yeah, sometimes it's the expository dialogue which can be very tricky. Because you can't sit back and tell it in a relaxed, round the campfire sort of storytelling manner. It has to be fired off at 100 miles an hour, and while also trying to convey emotion and thought...It's fun to have large swathes of dialogue. And the whole point of my character is to play in support of Enola. So as long as I'm doing that bit right, and I'm elevating, I'm supporting that character...I would say, I think challenge is a strong word, because it is very enjoyable."
Cavill's more prominent role this time around speaks to the jump in quality in "Enola Holmes 2." Sherlock gets to help solve some mysteries, but it's all in service of the titular character. He is already a staple in all of fiction, so prioritizing the sibling comes as a breath of fresh air. Still, it's pretty fun seeing Cavill rattle off his thoughts as a suave detective that is playfully competitive with his equally-talented sister. And that dynamic extended beyond the screen, too.
Perhaps Cavill's Sherlock could spin off into his own film. But for now, the much-improved sequel will have to do. "Enola Holmes 2" is now streaming on Netflix.