Henry Cavill Got Some Lighthearted Revenge On Millie Bobby Brown Behind The Scenes Of Enola Holmes 2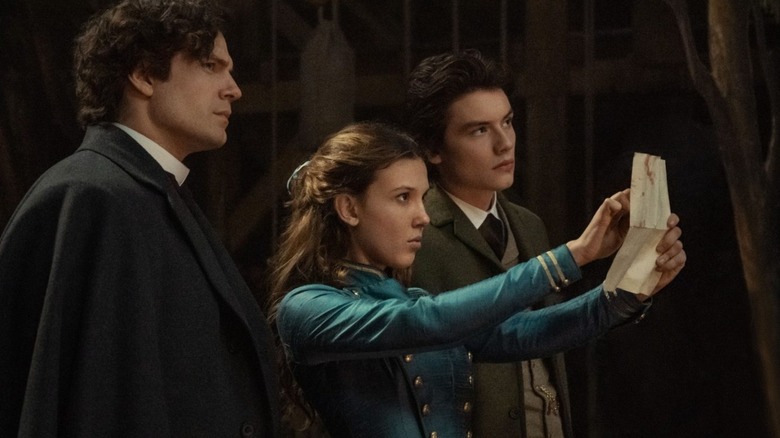 Netflix
Based on the book series by Nancy Springer, the "Enola Holmes" movies follow the adventures of the less-discussed but equally brilliant teenage sister of Sherlock Holmes. While her more famous brother comfortably makes a living solving mysteries for hire, Enola — lovably brash and forthright — is still gaining traction in the world of private investigations. No one takes her seriously in Victorian London, sadly, by mere dint of her being a young woman. Harry Bardbeer's "Enola Holmes 2" was released on Netflix on November 4, and it concerns a mystery that is directly linked to the real-life Matchgirl's Strike of 1888. Millie Bobby Brown plays Enola with a great deal of modern verve, and Henry Cavill, in a supporting role, plays the relatively stoic Sherlock. 
The relationship between Enola and Sherlock contains a great deal of affectional sibling ribbing, undergirded by a streak of genuine resentment. Like many siblings, they love each other, but they don't necessarily like each other. Sherlock and Enola admire each other's deduction skills, but Enola clearly grits her teeth with every client request that they speak to her brother instead. Meanwhile, Sherlock seems a trifle wounded that their mother (Helena Bonham Carter) has seemingly spent a great deal of time raising and teaching Enola ... more than she spent with him. 
This playful sibling rivalry, it seems, played itself out in real life on the set of "Enola Holmes 2." In a recent video interview with the BBC, Cavill admitted that he and Brown often plays pranks on one another on the first "Enola Holmes," with Brown, 18, constantly mocking Cavil, 39, for being old and out of touch. 
Show me the way to go, Holmes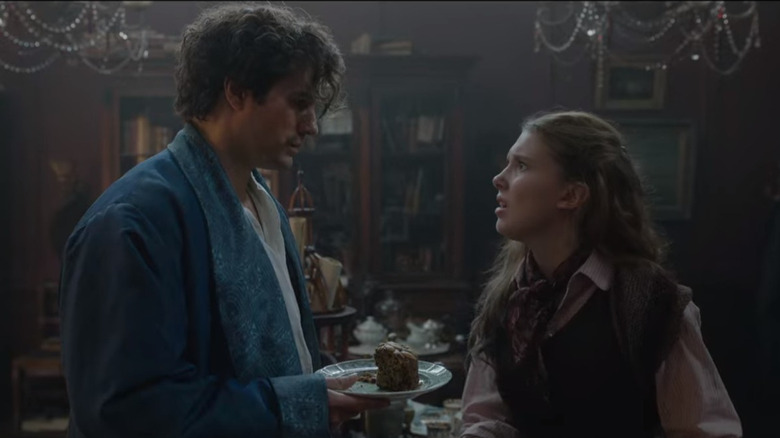 Netflix
There is a scene about a third of the way through "Enola Holmes 2" where Enola, while out on a case, runs into Sherlock coming the other way. Sherlock has been drinking quite a lot and requires assistance getting home. Cavill leans heavily on Brown, and she comically hoists up her much taller co-star with great difficulty. It was during the drunkenness scene that Cavill thought he could, on camera, make things playfully difficult for Brown. It turns out that Brown's struggles to keep Cavill from falling over were quite real. Cavill describes it thus: 
"Millie and I make fun of one another a lot on set, and she's owed some punishment for teasing me with the threat of TikTok videos on 'Enola 1,' and so I definitely lent pretty heavily into Enola when I was being drunk Sherlock. There were certainly times where she was like, 'There's no way I could actually hold you up in real life,' but it was a good time, it was good fun."
Brown has not, as far as cursory internet research has been able to uncover, commented on the scene in question. 
Although the appeal of Enola as a character is her age — Victorian teenager investigates crimes! — Brown has created a spirited and exciting YA character in the "Enola Holmes" movies. Since 2006, there have been eight "Enola Holmes" novels, and the character remains a teen throughout. One, however, could easily imagine a world where Brown continues to play Holmes for decades, returning to the role every few years throughout her career. A small part of this author would love to see Brown playing Enola into her 70s. As far as enjoyable pop culture institutions go, we could certainly do much worse.