Jenna Ortega Wasn't Sure About Wednesday, But Couldn't Pass Up A Call With Tim Burton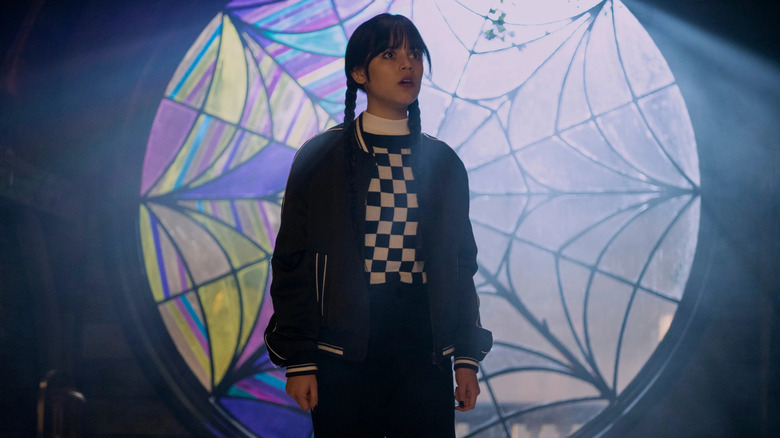 Netflix
In March of 2010, Deadline announced that Tim Burton was officially in production on a stop-motion animated version of "The Addams Family," based on the famously macabre Chas Addams comic strips that ran in the New Yorker. The ghoulish characters were to be designed to look like their original drawings, and it was to be released in black and white. The project was canceled, rumor has it, when Universal lost the film rights to the property. Burton did not make "The Addams Family," but he did end up leaning into a black and white, stop-motion animated film in 2013 with "Frankenweenie," a remake of his 1984 live-action short film. MGM eventually took the reins on the  "Family," and released a CGI animated film in 2019. MGM's film, which starred Charlize Theron and Oscar Isaac, was popular enough to warrant a sequel in 2021. 
With the Addams in the consciousness, it seemed that the iron was once again hot for Burton to strike. Debuting on Netflix on November 23 will be "Wednesday," a live-action series about the Addams' daughter, now a gloomy, murderous teenage goth, going to high school. Burton will serve as executive producer and will direct the show's first four episodes. 
Wednesday Addams will be played by Jenna Ortega from "Jane the Virgin," the fifth "Scream" film, and Ti West's "X." In a bout of pop culture synergy, Christina Ricci — who played the young Wednesday Addams in the 1991 film version — will also appear on the Netflix show. Also, to further the fun, Ortega and Ricci interviewed one another back in October for Interview Magazine, discussing their respective approaches to the same character. 
TV vs. movies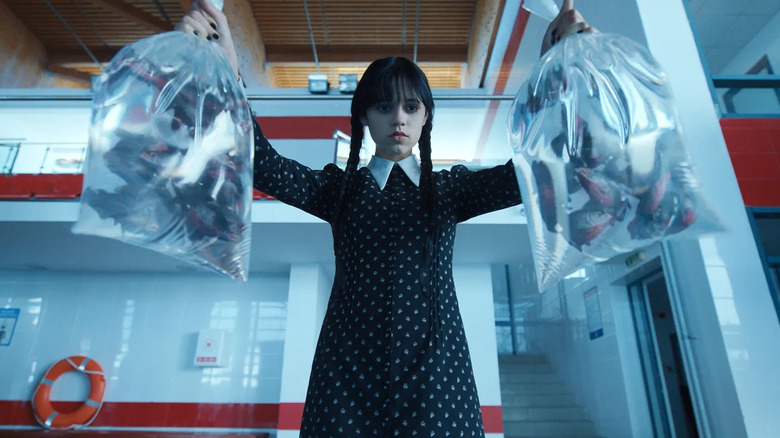 Netflix
Although the entertainment landscape has changed dramatically in the last decade — we live in a world where fantasy TV shows are granted larger budgets than most feature films — there still seems to be something of a stigma against television. Ortega certainly believes in the stigma, having felt that she had already conquered one medium by starring in "Jane," the 2016 sitcom "Stuck in the Middle," and the animated Disney Channel series "Elena of Avalor." Ortega was, she felt, ready to jump into feature films. To date, her film career has been notable in 2022 alone for her appearances in a pair of lauded horror movies. 
As such, when the call came to move back to television, Ortega balked. It wasn't until she heard she would be working with Burton that her eyes lit up. By coincidence, Burton has also worked with Ricci on the 1999 film "Sleepy Hollow." As Ortega recalls:
"I was shooting in New Zealand and had heard of the show going around. People were talking about throwing me out there, and then I got an email saying that Tim [Burton] wanted to meet with me for the part. He just wanted to read the sides and have a conversation. I didn't really want to do it initially because I didn't want to do television again. I've been trying to get into film for a while, but you can't really pass up the opportunity to talk to someone like Tim."
A face covered in blood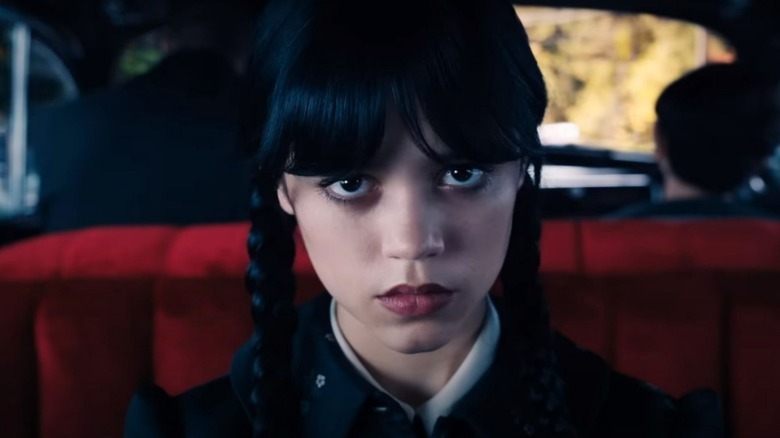 Netflix
The New Zealand film Ortega was working on, incidentally, was Ti West's "X." Because of the blood and gore in that film, Ortega received her first call with Burton in a somewhat compromising predicament. Her face was covered with fake, bloody wounds. She was also tired after having to shoot all night. By her recollection: 
"I had just done a whole night shoot, and I had cuts and prosthetics all over my face. I got on the phone with Tim and he just laughed. We kept talking and talking, and eventually I realized this is something that could be really interesting to be a part of. And then I think I signed on four or five months later."
The new "Wednesday" series will be a detective show, but set at a Hogwarts-type boarding school called Nevermore Academy where the kids all appear to have superpowers. Also, in a twist, the titular detective occasionally murders people herself; in the show's preview, Wedensday is seen wielding swords and tasers. "They told me that Wednesday was going to boarding school," Ortega said, "and she got in trouble. It's Nancy Drew–esque in the sense that she's into mystery and is doing this detective thing." 
In a magic piece of synergy, both "Wednesday" and Rob Zombie's new film "The Munsters" will be on Netflix at the same time. Just like in the 1960s, the two families will once again be at odds.