How Ti West's X Pulled Off Shooting Scenes With Two Mia Goths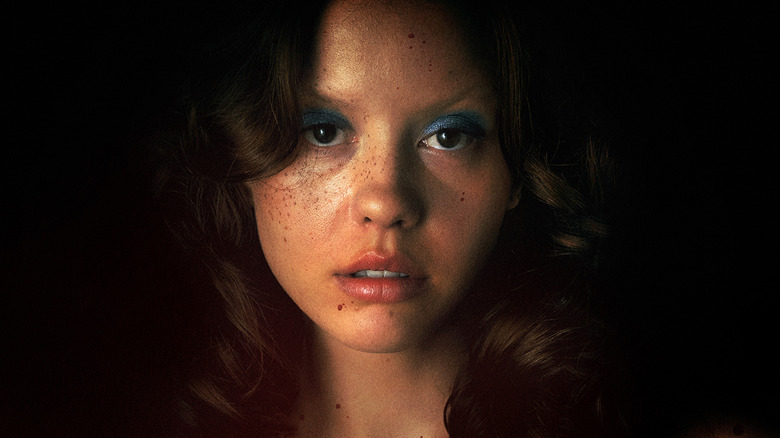 A24
Name a bigger surprise success story in 2022 in the horror genre than Ti West's "X" — it won't be easy. This A24 slasher was released way back in March and was a critical and box office success. "X" currently holds a 94% approval rating from critics on Rotten Tomatoes and grossed $14 million on a budget of just $1 million, according to Box Office Mojo. Even before its success, there was a clear level of faith in this project. So much so that writer-director Ti West wrote a prequel titled "Pearl" and shot it back-to-back with "X." Moreover, the film was an original slasher film with an all-star cast that included Kid Cudi, 2022's Scream Queen Jenna Ortega, and last but not least, Mia Goth.
Those who have seen "X" probably are aware that there was a double dose of Goth since she had two roles in the film. The first was as Maxine Minx — a part of the adult film crew — and as Pearl, the elderly woman who is one-half of the couple that hunts down the film crew. On paper, keeping the two different characters separated may seem like a no-brainer. But West clearly likes a challenge, bringing the characters' two paths together to make us all question what movie magic was used to accomplish this feat.
Seeing double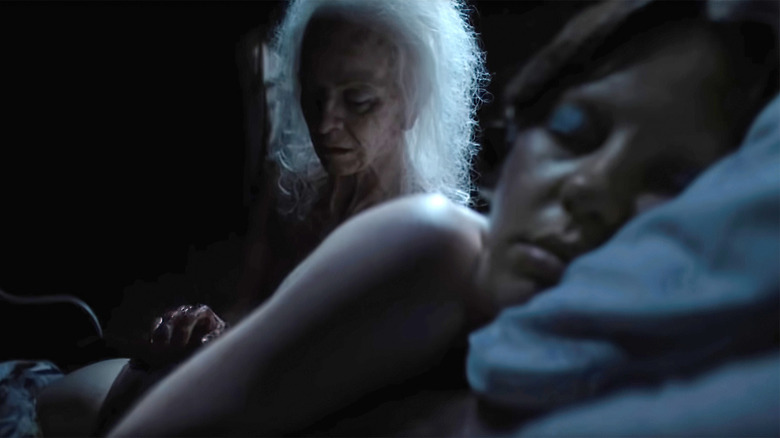 A24
One of the things that made "X" so refreshing for fans of the slasher genre is that it wasn't another sequel, prequel or "requel," as they say in the latest "Scream" film. Before "X," the first quarter of 2022 saw slasher franchises such as "The Texas Chainsaw Massacre" and "Scream" return to varying degrees of success. "X" gave an original story that was set in a time period — something West continues to play around with — and was a breath of fresh air.
Goth's performance is something to behold in "X." Both parts Goth plays are exceptional. Personally, the fact that Goth was pulling double duty was unbeknownst to me until I was writing my review and realized that I couldn't find a separate actor for Pearl. In hindsight, it makes a lot of sense since there are a number of over-the-shoulder shots (more on this in a moment) that make more sense in the context of Goth's role(s).
How was this accomplished?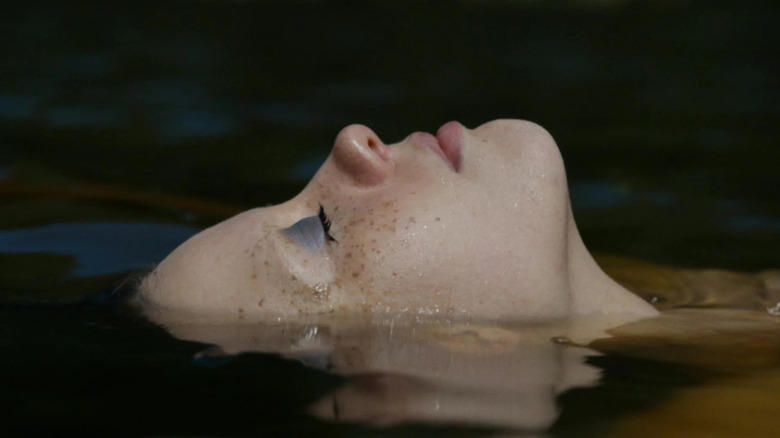 A24
Sarah Rubano, the hair and makeup designer on "X," gave a peek behind the curtain of the production during her chat with Below the Line. Luckily for Goth, they would use a body double whenever shootings scenes with Pearl and Maxine, meaning that there was never a day of shooting where Goth had to switch between the two. "On those days, we would shoot because we had a Pearl double, who was in the Pearl makeup, fully, and then we had a Maxine double, who was fully in the Maxine look, so that Mia had something to work with," said Rubano.
Rubano also revealed that while there was one primary body double who would put the Pearl makeup on, they also used an older woman sporadically when needed. A couple of the specific instances named by Rubano were the sex scene between Howard and Pearl and certain shots including the one where Pearl is turning the keys of the truck in the film and they needed an older set of hands in the frame. The over-the-shoulder shots only helped the crew because, as Rubano described, all you could see were "the wispy hair and the bony shoulders" with Pearl's over-the-shoulder shots and there was a wig that matched Maxine's hairstyle for any of her over-the-shoulder shots.
This wouldn't be the last of Pearl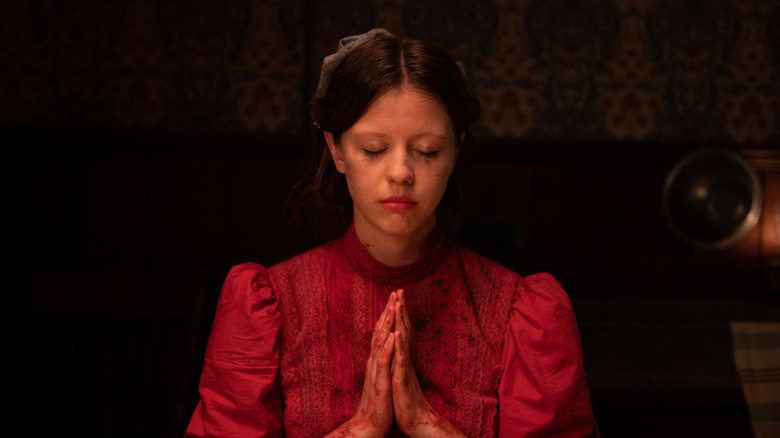 A24
"X" would not mark the last time that viewers would get to see Pearl on the big screen. Some screenings of "X" earlier in the year included a teaser for the then-unannounced prequel film, "Pearl," which is set to release in theaters this weekend. The film serves as a prequel for the character of Pearl, taking place decades before the events of "X."
At the TIFF midnight screening of "Pearl," West announced a third installment titled "MaXXXine," a follow-up to the events of "X" and taking place in the 1980s. The film will reunite Goth and West once again and presumably follow the younger of Goth's characters from "X" after the events of "X." Whether or not the same makeup tricks are used in the third installment are yet to be seen, but you'll be able to catch more of Goth this Friday when "Pearl" opens.