How Wednesday Addams Came To Have Such An Unusual Name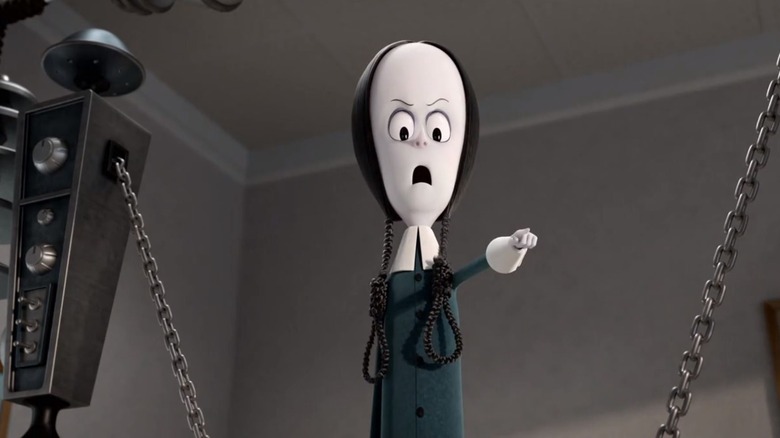 Metro-Goldwyn-Mayer
The Addams Family, when they first appeared on page nine of The New Yorker in 1938, were not named. The initial cartoon saw a gaunt Morticia-like woman and her towering beastly husband standing at the foot of a stairway in a dilapidated haunted house. A bat flies above, and there are spider webs in every corner. Lurking above them was some sort of ghoul. Their child? Addressing the monstrous couple was a determined vacuum cleaner salesman, clad in white, who states plainly that his product is "Vibrationless, noiseless, and a great time and back saver. No well-appointed home should be without it." The home was perhaps the least "well-appointed" imaginable. 
The "family" soon began appearing in more and more strips in the New Yorker, until the members became more solidly codified. The gaunt matron remained the same, but her beastly husband became squat and lascivious. Their butler was more or less a Frankenstein monster, the uncle became a grinning fool, and the children were a vicious prankster and a sullen thanatophile. Grandma was a witch. The characters were soon dubbed the Addams Family after their creator, Charles Samuel "Chas" Addams. 
The appeal of the Addams Family was that they celebrated the opposite of what ordinary humans did. Dark and stormy days brought them joy. Torture was a jolly hobby. Christmas carolers were to be murdered via molten lead. And they never encountered pushback. They do what they want to do, say what they want to say, live how they want to live, play how they want to play. They could be called counterculture icons for a stuffy age. Death-obsessed goths before it was a movement. The strips would be adapted for TV in 1964, 1973, 1992, 1998, and at the end of 2022. Films would come out in 1991, 1993, 1998, 2019, and 2021.
'Wednesday's child is full of woe'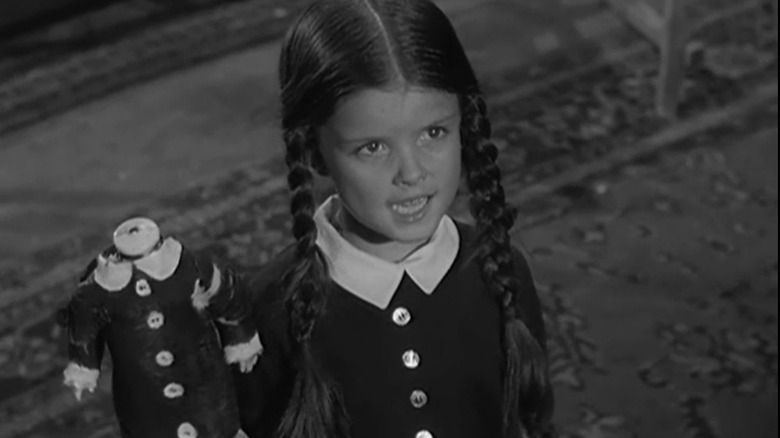 MGM Television
When Chas Addams was approached about adapting "The Addams Family" into a TV series, he didn't have names for the characters. Indeed, they had only come to be called "Addams" by dint of their author, the implication being that Addams was drawing autobiographical stories. Chas, however, would have to invent first names for his family for the screen. 
As it so happens, a mural that Addams had been commissioned to paint came into play. In 2018, an article in The A.V. Club printed a few letters to The New Yorker written by a woman named Joan Blake. Blake tells the story of how the mural — called "An Addams Family Holiday" – brought her and Addams together, and how a subsequent kibbitz led to her invention of the Addams daughter. A portion of the letter ran thus:
"I met Addams in New York more than fifty years ago. I lived in North Carolina, but had travelled to the city for a court case involving the custody of my children. I was staying with my college roommate, and she threw a large party, which Addams attended. I was so depressed that I sat on the couch all evening. Addams sat down beside me and asked what was wrong. I told him. He took my arm, walked me to the elevator, and took me to P. J. Clarke's. He made me laugh and told me that the Addams Family was being made into a television show, and that he had no name for the little girl. I said, 'Wednesday — Wednesday's child is full of woe.' And Wednesday became her name."
The A.V. Club points out, however, that there was no way to directly substantiate Blake's story.
The poem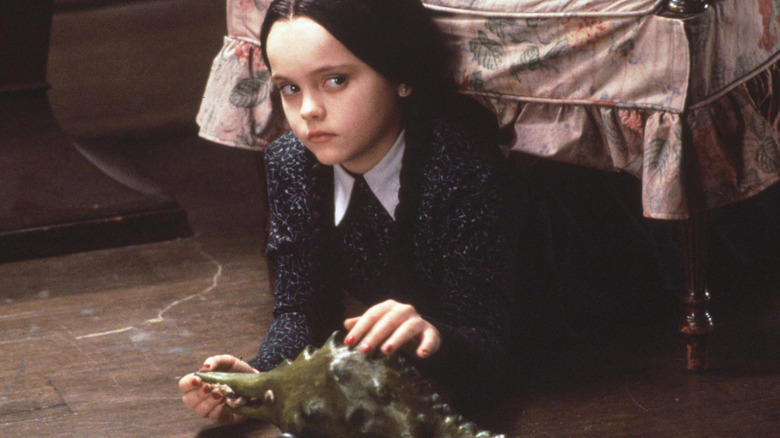 Paramount
The suggestion that Wednesday was named after a famous poem was backed up, however, in Kevin Miserocchi's 2010 book "The Addams Family: An Evolution," Addams had to invent names for the characters for a line of stuffed toys that a New York toy company was manufacturing. According to Miserocchi, Addams had already thought of the names Morticia and Gomez, and chose Wednesday based on a friend's suggestion. No one else has come forward taking credit for Wednesday, so it could very well have been Blake. No further word of Blake has been heard, only that being grumpy at a party led to the name in question
The famous poem referred to above, of course, is "Monday's Child," a children's verse of unknown origin.
According to a 2011 edition of "Traditions, Legends, Superstition, and Sketches of Devonshire" by Anna Elizabeth Bray Stothard, the first printed source of the nursery rhyme appeared in her 1838 magazine Traditions of Devonshire, and had been "collected" there by one James Orchard Halliwell. According to Halliwell, it was a centuries-old English tradition to predict a child's fate depending on the day of the week they were born. As the poem goes: "Monday's child is fair of face, Tuesday's child is full of grace. Wednesday's child is full of woe, Thursday's child has far to go. Friday's child is loving and giving, and so on."
There are of course multiple renditions of the poem, but the above version is the one seemingly most widely accepted. 
A teenage Wednesday Addams will be the central figure in Tim Burton's upcoming Netflix TV series "Wednesday," set to debut on November 23, 2022.