10 Underrated Cary Grant Movies That You Should Check Out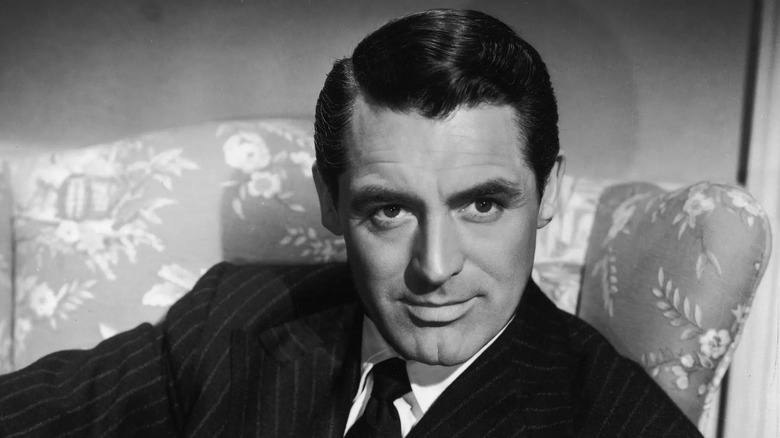 RKO Radio Pictures
Cary Grant was famously born in Bristol, England as Archibald Leach, but became known as a suave and debonair leading man with the Mid-Atlantic accent of America's upper crust. Despite his impeccable appearance, he is one of cinema's greatest-ever comedians, which he proved in countless romantic and screwball comedies that were frequently physical and farcical. As with James Stewart, Alfred Hitchcock found a dark side to Grant, particularly in the masterpiece "Notorious." With over 70 movies to his name, many of them are not well-known or widely seen, despite Grant's immense fame. He made over 30 movies in the 1930s alone, and these are becoming increasingly hard to find. 
As Grant's career stretched across the decades, his leading ladies included Mae West and Marlene Dietrich in the early days, as well as stars of the 1960s such as Doris Day and Leslie Caron. Some of Grant's lesser-known films involve him exploring fatherhood in unconventional ways, playing against type as a gangster, and even an anarchist. This list is top-and-tailed by a WWI movie and a WWII movie, a brilliant way of seeing Grant across the decades. The deeper you go into Grant's catalog, the more you realize that he did have a greater range than most people give him credit for. Join us on a tour of 10 underrated Cary Grant movies that you should check out.
Father Goose (1964)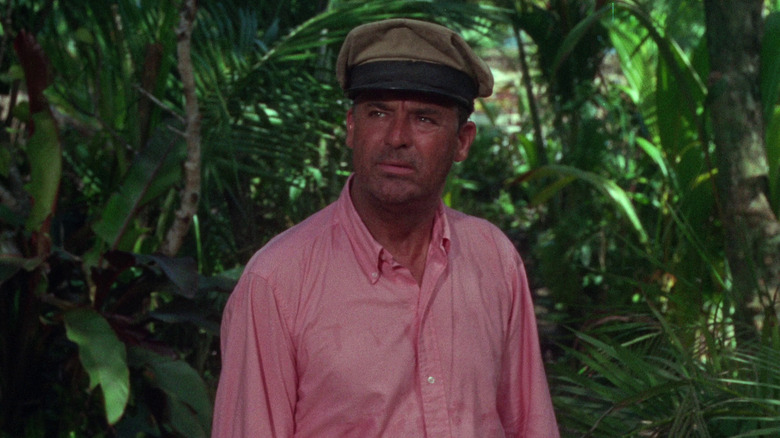 Universal Pictures
Cary Grant retired from acting in 1966 to focus on raising his daughter, and his penultimate film was a World War II movie set on an island in the pacific. An Australian Navy commander named Frank Houghton (Trevor Howard) coerces Eckland (Grant) into manning an island alone and reporting sightings of Japanese planes overhead. Eckland is an alcoholic and Frank has buried bottles of whiskey around the island. One day he suddenly finds himself cohabiting with French teacher Catherine Freneau (Leslie Caron) and the seven girls in her care.
"Father Goose" is one of several movies that shows Grant in a reluctant relationship with children before embracing his paternal role. The kids are delightful, and Grant has a great rapport with them. Eckland and Frank's friendship — mostly conducted via radio — is another highlight. Sometimes crises occur on the island that requires a doctor or priest on the other end of the line. There are some tense moments, such as Japanese soldiers arriving on the beach while one of the girls is up a coconut tree. A classic enemies-to-lovers tale, Eckland and Freneau spend the entire runtime bickering. It's interesting to watch one of Grant's 1930s films and compare it to this one from 30 years later: his on-screen persona didn't change all that much. He's still smooth-talking or wise-cracking his way through life, and somehow charming a young lady despite rubbing her the wrong way. A charming almost swan-song for Grant.
The Grass is Greener (1960)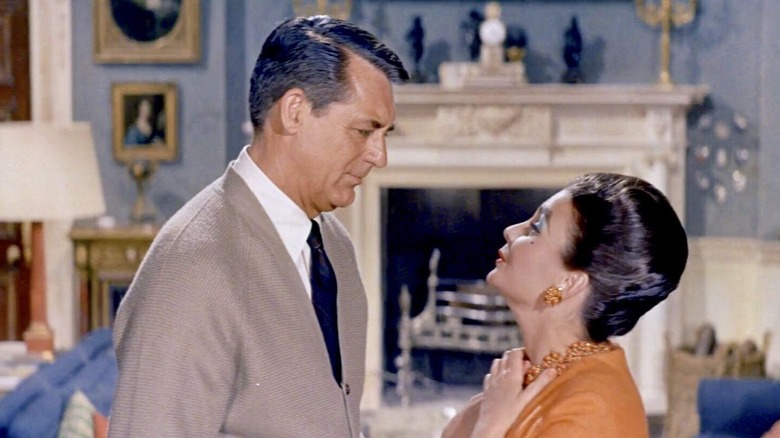 Universal Pictures
With some of the best opening titles of all time, this 1960 comedy teamed four of the best stars of Hollywood's Golden Age, just as that era was coming to an end. Cary Grant and his "Affair to Remember" co-star Deborah Kerr play an English couple who live in a stately home yet are struggling financially. Robert Mitchum is a Texas oil millionaire who falls in love with Kerr's Hillary while touring their home. Jean Simmons plays the couple's friend Hattie, who has feelings for Grant's Victor.
The contrasting energies of Grant as the traditional Englishman and Mitchum's laid-back Texan is what makes "The Grass is Greener" so good. The situation comes to a head when Victor challenges Mitchum's Charles to a literal duel. Moray Watson is fantastic as Sellers, the butler who serves as second to both men. They both have to don glasses before taking their ten paces down an antique-lined corridor and firing their pistols. While there are definitely absurd elements, Grant and Kerr actually sell their marriage as authentic. Their life together within the vast ancestral home is full of details that ring true. Kerr is genuinely torn between Victor — who is a good man — and Charles, who is certainly persuasive. Grant delivers the witty, matter-of-fact dialogue which calmly lays out his position on the affair perfectly. "The Grass is Greener" provided Grant with a juicy role that he could sink his teeth into at the tail-end of his long career.
Indiscreet (1958)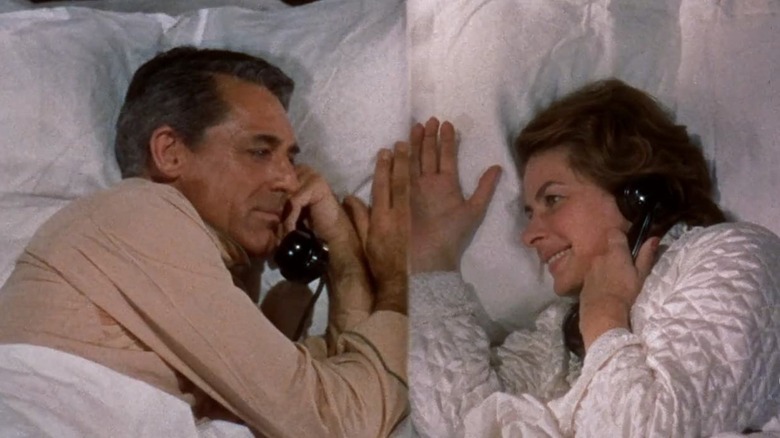 Warner Bros. Pictures
One of Cary Grant's best films is Alfred Hitchcock's "Notorious," in which his chemistry with Ingrid Bergman is so sizzling it burns a hole in the cinema screen. Over a decade later, they reteamed for the less well-known "Indiscreet" and their chemistry hadn't diminished one iota. Grant plays in-demand economist Philip Adams, who tells Bergman's Anna that he is married, despite this being a lie. They begin an affair anyway, with Anna throwing caution to the wind. He takes a posting with NATO in Paris and flies to London every weekend to see Anna.
One of the most astonishing lines in this 1958 film is Adams saying, "I read an article the other day that claimed the world's weather is changing." The production design of Anna's apartment is one of the highlights, with its pictures in primary colors adorning the walls, as well as her Christian Dior gowns. Director Stanley Donen would reteam with Grant twice more after this, including for 1963's "Charade" with its similar use of primary colors. "Indiscreet" is supremely romantic, with Grant and Bergman wonderful together. She was probably his best leading lady. While she was only 43, this was still at the older end for leading ladies of the time, so it's lovely to see her still getting a properly romantic role at this age. Its use of split-screen telephone calls would become a brief trend, most famously in 1959's "Pillow Talk." "Indiscreet" makes an essential companion to the sublime "Notorious."
Houseboat (1958)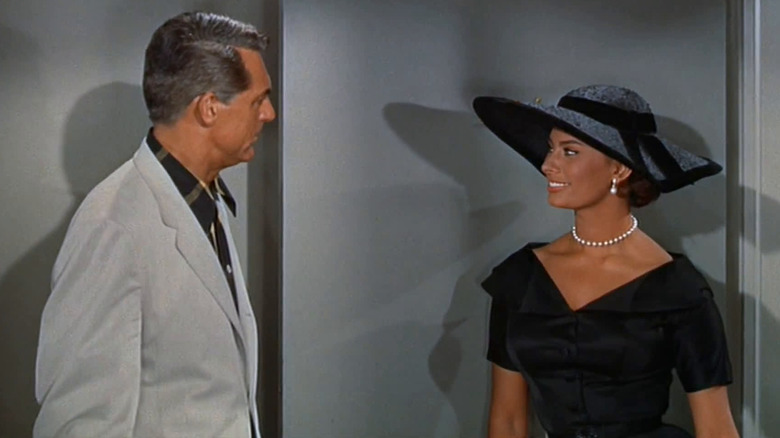 Paramount Pictures
One of several films that saw Cary Grant exploring fatherhood came in 1958 when he was once more paired with Sophia Loren, who was 30 years his junior. Despite this, they have wonderful chemistry in "Houseboat," which sees Grant as Tom, a widowed father who barely knows his own children. Loren is Cinzia, the wild child daughter of an Italian conductor on tour in the US, who escapes for a night on the town in Washington DC. Cinzia winds up becoming nanny/maid to Tom and the children, despite the fact she has no skills (including cooking). Through a series of amusing mishaps, the makeshift family winds up living on a ramshackle houseboat on a country river.
Grant and Loren previously starred together in "The Pride and the Passion" and apparently the sexual tension between the pair on "Houseboat" made filming difficult. The three child actors are wonderful, with the oldest being on the cusp of adolescence, and Tom having to cope with all of the problems that come with that. The difficult middle child is obsessed with his harmonica, and the youngest is afraid of thunderstorms. Grant always excels when faced with situations that leave him exasperated, and there are several here. He's very good with the children, and he could have done with a few more roles that took advantage of his natural affinity with child actors. "Houseboat" is a fun rom-com featuring Loren in a stunning gold dress that will take your breath away.
Mr. Lucky (1943)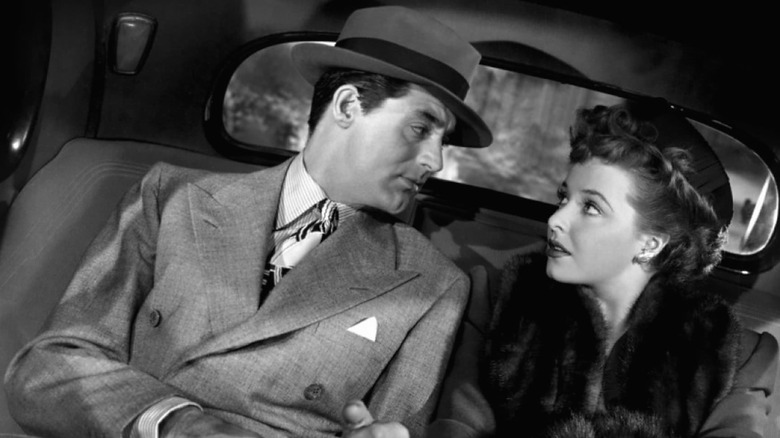 RKO Radio Pictures
In 1943, Cary Grant starred in a film set in 1940, when the US began conscription before entering the Second World War in 1941. Grant plays Joe Adams, a gangster running a casino on a ship who assumes a false identity to avoid the draft. He also wants to use war relief funds raised by Dorothy (Laraine Day) at a charity ball to fund his casino. "Mr. Lucky" follows Joe gaining a conscience regarding the war while trying to win over Dorothy, in a plot not dissimilar plot to "Guys and Dolls."
Much of the humor comes from Joe pretending to be interested in the war relief organization for his own selfish ends, which includes him being roped into knitting. Grant has great chemistry with Day, teaching her Cockney rhyming slang, while she is drawn to the danger and excitement he represents, despite being an heiress. We are used to seeing Grant in impeccable suits in most of his movies, but it's a refreshing change here to see him in the fedora and flashy ties of a gangster. An unusual technique by director HC Potter in "Mr. Lucky" is the use of windows, doors, and glass walls to "spy on" the characters, but he cuts the sound while we're on the other side of these partitions so we can't hear the dialogue. Once again, we are shown a different side of Grant here, and it's certainly a fun one.
The Talk of the Town (1942)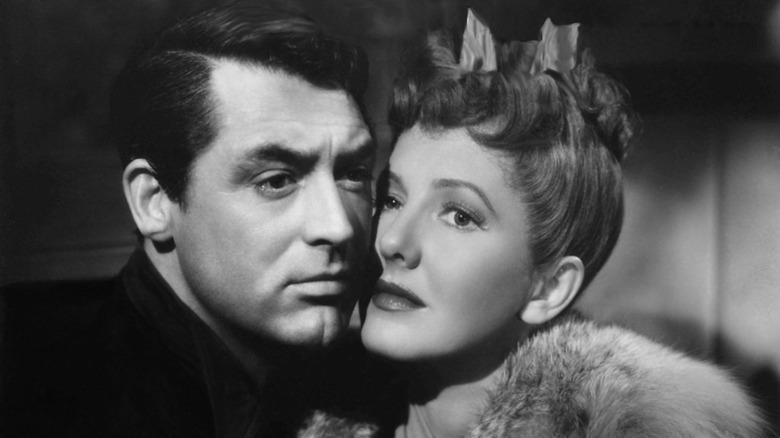 Columbia Pictures
In the unlikeliest casting of his career, Cary Grant played a political radical and anarchist in "The Talk of the Town." Grant is presented with yet another love triangle, this time with Jean Arthur and Ronald Colman, but the bizarre plot sets this movie apart from the rest. The three leads spend time living together, with Grant's character on the run pretending to be someone else. The highlight is seeing Grant's Dilg and Colman's Professor Lightcap forming a friendship via heated political debates while both vie for the affections of Arthur's Nora Shelley. The trio ends up working together to clear Dilg's name. 
Grant's carefully-crafted upper-crust persona honed during his career could not be further from a working-class mill worker, who makes radical political speeches on street corner soapboxes. Grant still plays this character with the same mid-Atlantic Ivy League accent, though. It's such ridiculous casting, but that's what makes "The Talk of the Town" stand out in Grant's career. The film features plenty of the farcical screwball comedy that Grant excelled at, as well as the romance that he sells so well. Jean Arthur was a wonderful comedienne, proving a perfect foil for Grant here. "The Talk of the Town" is like a lesser-known "Philadelphia Story" built entirely on the chemistry of the three leads who are embroiled in a hilariously unlikely scenario.
Penny Serenade (1941)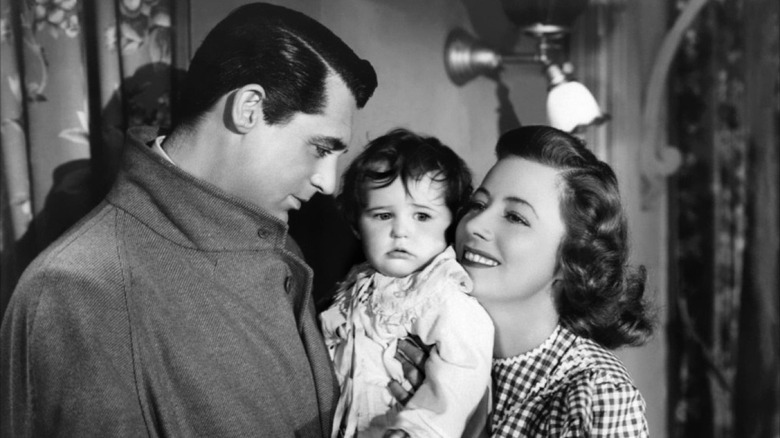 Columbia Pictures
Irene Dunne is not as well known as some of Cary Grant's other leading ladies like Katharine Hepburn, Ingrid Bergman, Grace Kelly, or Audrey Hepburn. "The Awful Truth" is the best-known of the Dunne-Grant collaborations, but they also made two other unusually wonderful movies together: "The Awful Truth" (1937) and "My Favorite Wife" (1940). Considering that Grant would not become a father until age of 62, it's interesting to see him grappling with fatherhood in several films.
"Penny Serenade" sees Dunne's Julie, on the brink of leaving her husband Roger (Grant), looking back at their marriage. Pregnant Julie loses her baby in the 1923 Tokyo earthquake — a dramatic sequence with much quaking destruction — and is told she will not be able to have children. Later, Roger and Julie adopt a five-week-old baby girl and there are some fascinating scenes of the inexperienced couple coping with a newborn (played by a real baby!). This is by far the strongest section of the film, as their friend Applejack advises them on bathing, etc. Grant's "Oscar moment" comes when the baby is one-year-old, and he must go before a judge to plead to be able to keep her. The less said about the ending of "Penny Serenade" the better, as it takes a bizarre left turn. Up until this point, it's a fascinating look at parenting in the '30s and '40s, and it's nice to see Grant interacting with the one-year-old and six-year-old versions of his daughter.
My Favorite Wife (1940)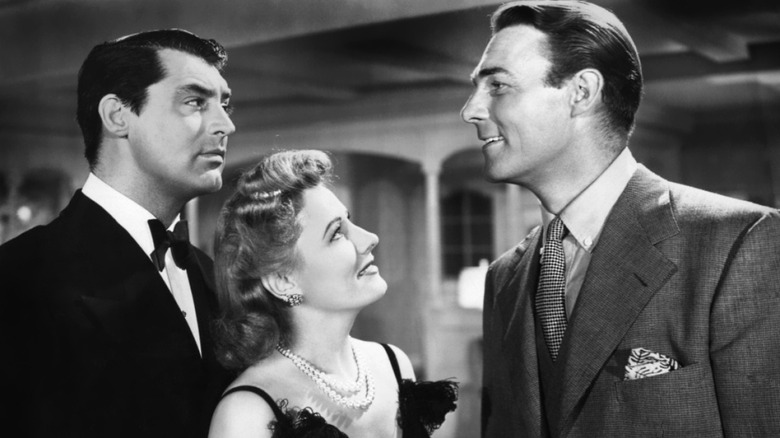 RKO Radio Pictures
Cary Grant was no stranger to screwball comedies, with some popular ones being "His Girl Friday" and "Arsenic and Old Lace." One lesser known to today's audiences is the farcical "My Favorite Wife." Irene Dunne's Ellen has been missing and presumed dead for seven years. Her husband Nick (Grant) has her declared legally dead and marries Bianca (Gail Patrick). Lo and behold, on the wedding day Ellen returns from the desert island (yes, really) that she's been marooned on.
Many shenanigans ensue, as Nick can't pluck up the courage to tell his new wife what is happening, and Ellen can't bring herself to tell her twin children (who were babies when she left) who she is. Things ramp up a gear when it emerges that Ellen wasn't alone on the island. Stephen, a man who looks like a Greek god, was also there. There's a hilarious scene where Grant watches him on a high diving board at a swimming pool and is clearly overcome by his physique. He later fantasizes about Stephen doing exercises on gymnasium hoops. The extra layer to the hilarity is that Stephen is played by Grant's long-term roommate, Randolph "Randy" Scott, and the pair featured in several magazine photoshoots that many people have interpreted as homoerotic. "My Favorite Wife" is a very funny comedy which takes full advantage of the easy chemistry between Grant and Dunne, as well as poking fun at Grant and Scott's bromance, which was well-known to contemporary audiences. 
Topper (1937)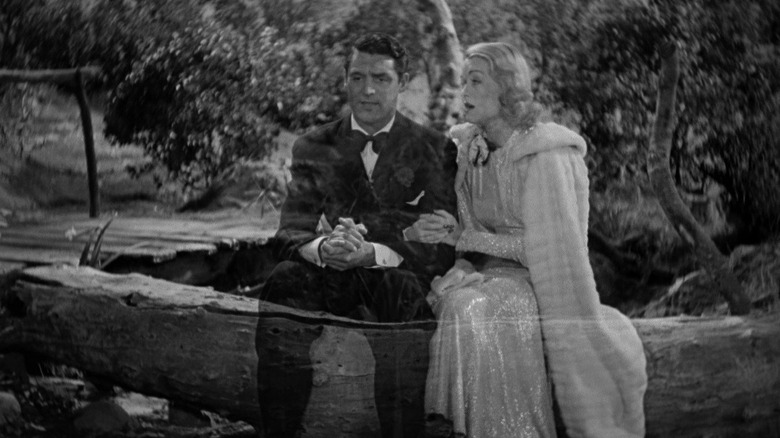 MGM
While "Arsenic and Old Lace" is considered a Cary Grant Halloween classic, there is a lesser-known Grant movie in which he actually plays a ghost. Grant and Constance Bennett play a rich and reckless couple who spend their carefree lives partying. One night they get into a fatal car wreck but remain on earth as ghosts. They come to the conclusion that livening up the life of their stick-in-the-mud friend Cosmo Topper (Roland Young) might help them pass on to the next realm. Grant and Bennett brilliantly embody the hedonistic Kerbys, who are able to throw caution to the wind now that they're dead.
Bennett's Marion immediately begins outrageously flirting with Topper. There are some lovely effects of her haunting his office, with floating hats and flower vases, before gradually appearing out of thin air. It would be rare in his later career for Grant to have a smaller supporting role like this. He would go on to frequently play men confounded and frustrated by eccentric people around him, but here he gets to play the agent of chaos. Grant is great as the jealous ghost-husband of a mischievous ghost-wife, and things come to a head with him going full poltergeist in a hotel lobby, which involves picking up a pair of old English sheepdogs and confounding several policemen. "Topper" was the screwball comedy that launched Grant as a bigger headlining star in Hollywood, and it would be a sub-genre in which he would excel. 
The Eagle and the Hawk (1933)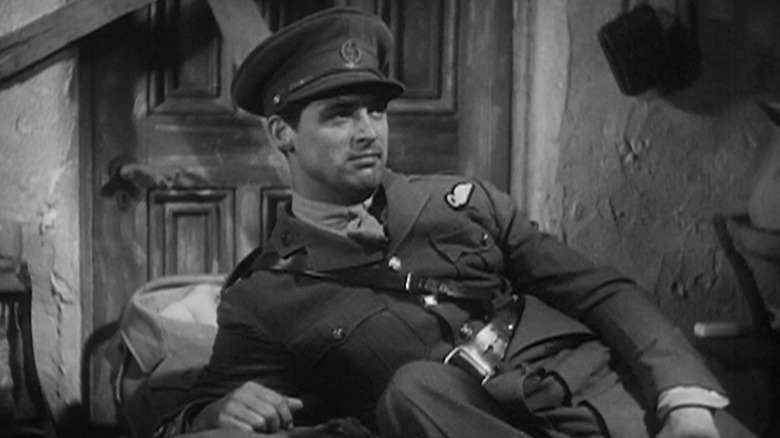 Paramount Pictures
After co-starring with Fredric March in 1932's "Merrily We Go to Hell," the pair re-teamed the following year for a downbeat World War I movie. They were once again pitted against one another, with March as the increasingly bitter Young, and Cary Grant as the more cocksure Crocker. "The Eagle and the Hawk" examines the psychological toll of war as Young gets ground down from losing everyone he flies with. He is eventually teamed with Crocker, forming mutual respect. Carole Lombard has a small role as a woman that Young has an affair with while on leave, providing a listening ear before he is sent back into the fray.
Like "All Quiet on the Western Front," this film is all the more heartbreaking with the hindsight that not long after its release the world would be at war once more. "All Quiet" and "Eagle" are both acutely aware of the mental toil of watching every one of your comrades die. It's also extremely easy to feel survivor's guilt because of the randomness of who is taken and who is left. It all becomes too much for Young, and Crocker ultimately proves himself to be a true friend with a heroic act of kindness. This pre-code gem can be hard to find, but it's worth seeking out on physical media. It makes a fascinating companion piece to the WWII-set "Father Goose" that Grant made at the end of his career.