Black Panther: Wakanda Forever Reveals A Surprising MCU Connection For Everett Ross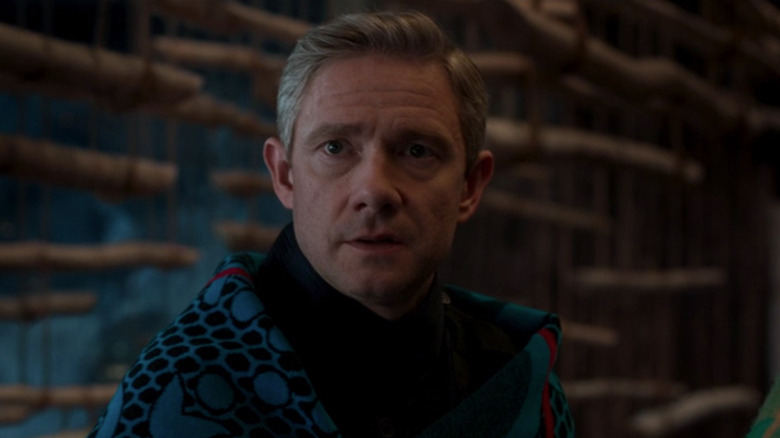 Marvel Studios
Major spoilers ahead for "Black Panther: Wakanda Forever."
"Black Panther: Wakanda Forever" is a story about grief and loss, high stakes, and the discovery that not every society on earth lives on land. It looks at the effects of colonization and of vibranium envy on the world stage. It also gives us a little bit of backstory about a certain CIA agent and his romantic connections. This is your last chance to turn back before the news is revealed. 
Everett K. Ross (Martin Freeman), a friend of Wakanda and a CIA and Joint Counter Terrorist Centre agent, is back in the new film as a source of information about who exactly created the machine that allowed the American government to search under the water for vibranium. Ross, of course, owes his life to Wakanda, and Princess Shuri (Letitia Wright), who saved him from certain death after a battle. He was close to T'Challa (the late Chadwick Boseman) and is willing to help if they can keep his involvement a secret. 
The Wakandans do so, but they're not the only players in the game of superheroes. A certain woman has been recruiting some of the less moral of the bunch to start a team. Yes, we're talking about Valentina Allegra de Fontaine (Julia Louis-Dreyfus), aka Val, but don't call her that.
'You can just call me Val'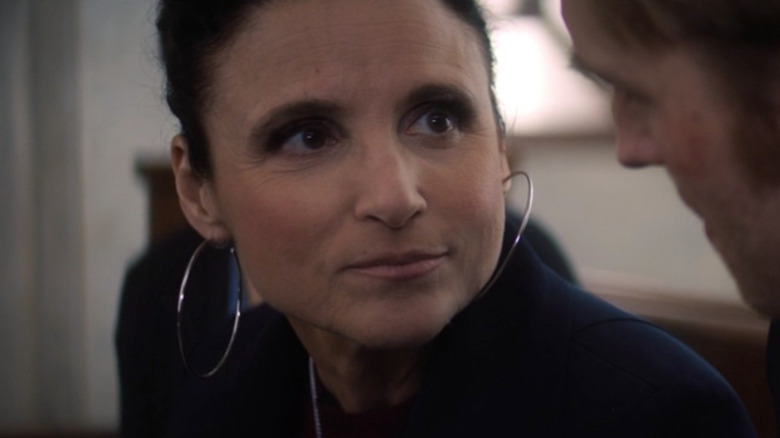 Marvel Studios
As it turns out, these two used to be married, and I cannot make my brain accept that fact. Val is brash, brilliant, and really, really obnoxious. Every time she appears on the screen, I'm immediately exhausted. I mean that in the best way, of course, but it's very hard to imagine Everett Ross choosing a life with her. It also feels like, despite his connections, he wouldn't be enough of a power player for her. It also feels like she'd run over him the second a conversation started, which is exactly what she does in "Wakanda Forever." Plus, she's not exactly a good friend to Everett Ross in this film, getting him arrested. I don't see any future conversations between them going well. 
Val is recruiting for the sort of anti-hero team-up, the Thunderbolts, which will be a part of Phase 5. That means she'll be working with Harrison Ford, who is replacing William Hurt as Thaddeus "Thunderbolt" Ross, which is kind of delightful. Honestly, that seems like more of a pair-up than Everett Ross (no relation, by the way) and Val. She's likely to have a lot of power — not that she doesn't already if she got him arrested and can just walk into buildings and chat with John Walker (Wyatt Russell), aka U.S. Agent — a name she gave him, by the way. 
Hunting down her ex?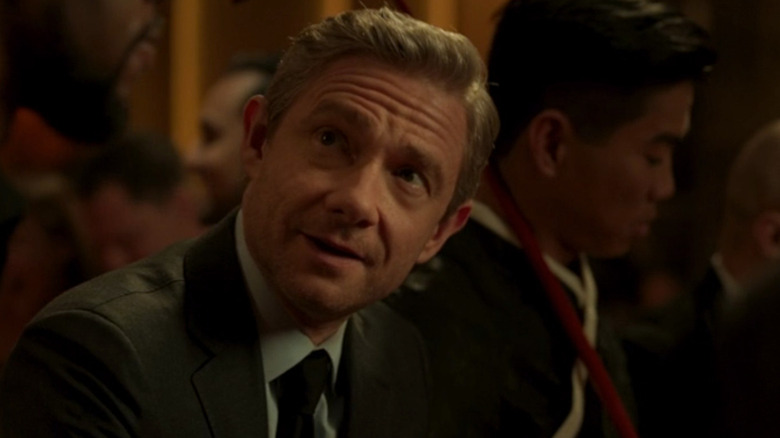 Marvel Studios
So what does that mean for Everett Ross? He was set free by a certain powerful warrior and is going to be on the run unless he's got a really good lawyer (paging Matt Murdock). Now that we know their history, it seems apparent that she'll be hunting him down. How that will play into future projects, we don't know, but Freeman will appear in "Secret Invasion" in the near-ish future, and now that he's a fugitive, she may appear there, despite the fact that she's not listed as a part of the cast. 
Though I'm never a fan of Marvel using a project just to sell another one, it wouldn't be surprising if Everett's appearance in "Wakanda Forever" was not just because he has a history with Wakanda. It might be setting up something for the future, and maybe even in that series. Only time will tell.
"Black Panther: Wakanda Forever" is currently in theaters.