Black Panther: Wakanda Forever's Production Began With A Touching Tribute To Chadwick Boseman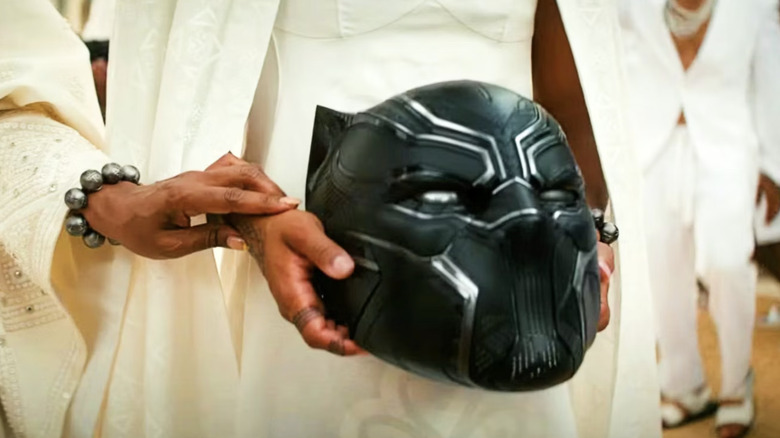 Marvel Studios
"Black Panther: Wakanda Forever" is finally hitting theaters this week, and the follow-up to the critically acclaimed "Black Panther" has all eyes on it. The production has had a troubled history, especially with the passing of Chadwick Boseman, who was initially meant to lead the film in the starring role of T'Challa. Questions immediately arose regarding if the part of the King of Wakanda would be recast, with Marvel Studios President Kevin Feige resolutely deciding to honor Boseman and his performance by not recasting the character of T'Challa. Everything about the marketing and promotion of "Wakanda Forever" feels like it's celebrating the character and actor, with our review of the film calling it "a tribute to both Boseman's loss and legacy."
It's only fitting that when it came to starting production on the film, the cast and crew would take time to acknowledge the loss and honor Boseman. The late actor was not just another co-worker to those involved but a close collaborator and fellow artist who was integral in bringing the first film to life. Boseman's passion for the character and movies would carry over with the rest of the actors involved with the project, who paid tribute to Chadwick Boseman as soon as production started on "Wakanda Forever."
A 'moment of coming together'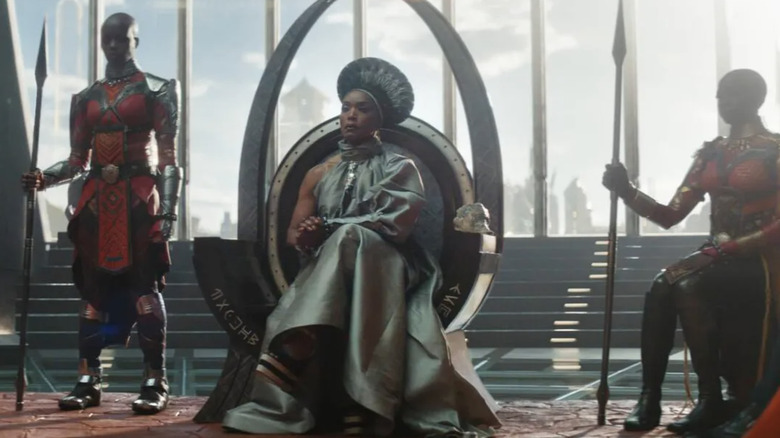 Marvel Studios
In a clip from the Kelly Clarkson Show, actress Angela Bassett (who plays T'Challa's mother, Queen Ramonda) shared a heartfelt story about a trip the cast and crew of the film took to visit Chadwick Boseman's resting place:
"When we arrived on the set, a couple of days before reading through and rehearsals and stuff. It was planned. The producers and director had planned, had rented a plane, and we all flew to South Carolina and went to visit his resting place together. Together. And it was a beautiful day. And his uncles were there—his cousin. And we just spoke from our heart about him, how we felt about him, or times with him. And that was really, really lovely—a great way to just begin because we miss him terribly. Then when we got to the set, it was like, okay, we've had this moment of coming together, and now we've got to come to work. And that's what he would want for us."
It's only fitting that production on "Wakanda Forever" started with a tribute to Chadwick Boseman. Not only would this visit help the actors and director deal with their grief, but it would undoubtedly carry over into their work on making "Wakanda Forever" as timely and compelling as the first movie. The performances of the film will surely have a strong emotional core based on the actors' real relationship with Boseman, and it's touching to know that even though the actor is gone, his passion and dedication to the world of "Black Panther" lives on with the team behind "Wakanda Forever."