The 14 Best Horror Movies About Grief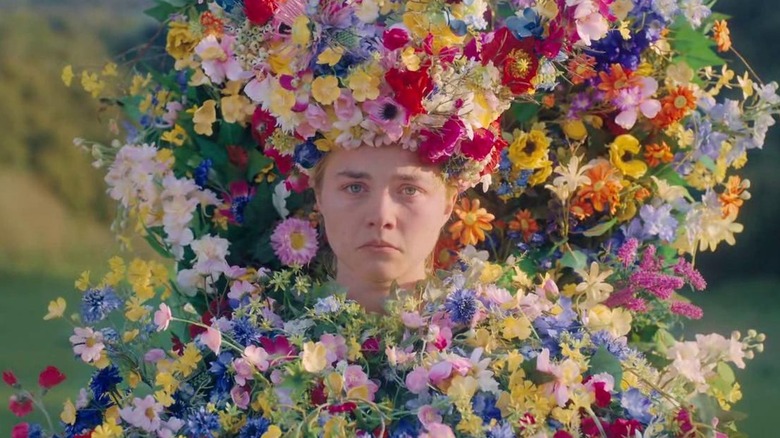 A24
Grief is a common thread in many horror films. It often plays a minor role in the film, or as you'll see from our list, grief lies at the heart of a film's emotional core. It drives the story forward and grounds the character(s) in realism when spooky things start to happen. In dealing with the supernatural, the occult, a masked killer, or any manner of other genre foes, the protagonists learn how to finally process their grief and slay their demons. The external forces are sometimes the least of their worries.
For the sake of our list, we take a look at grief as a direct response to death. Grief, as we know, can result from any sort of loss, from the death of a pet to a lost friendship. Below, we picked through decades of films to compile the 14 best titles depicting grief, each possessing a mood and approach all their own. It's time to pull up a seat and grab a box of tissues. 
The Final Girls (2015)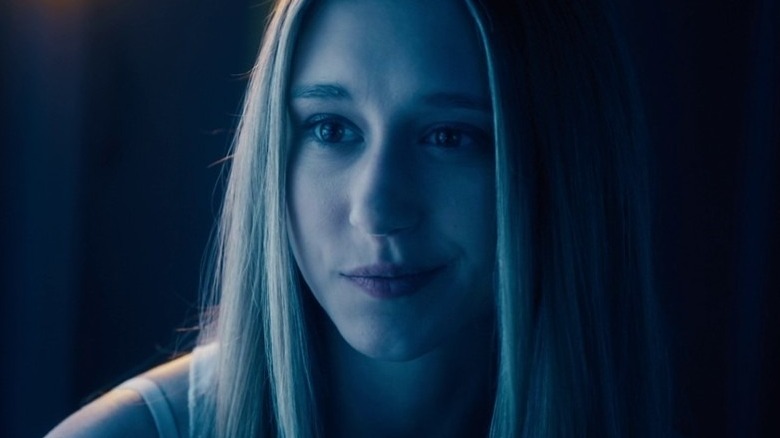 Vertical Entertainment
In "The Final Girls," script writers M.A. Fortin and Joshua John Miller pull from their own emotional experiences with film. Miller, whose father Jason Miller played Father Karras in "The Exorcist," found it "haunting, strange, confusing, and a little bit unnatural to see your parent constantly die in a film," he said in an interview. Through writing the script, the creative team sought to "deconstruct what the effects of that would be, as well as what it would be like if you had a second chance."
With direction by Todd Strauss-Schulson, "The Final Girls" digs deep into these ideas. The story centers around Max Cartwright (Taissa Farmiga), who tries to keep her life together after the death of her mother Amanda (Malin Åkerman) in a car accident. During a midnight preview of "Camp Bloodbath," in which Amanda starred as Nancy, a fire breaks out, and Max and her friends find themselves plopped right into the film. Not only must Max survive the inevitable slayings at the hands of Billy Murphy (Daniel Norris), but she learns a valuable lesson about death, grief, and loss. No matter how hard she tries, she can never replace her mother, even if her visage has been immortalized in film.
While dealing with such heavy themes, "The Final Girls" brings lightheartedness in the process, commenting on slasher conventions, tropes, and character archetypes. Through Max's powerful story, you'll never hear Kim Carnes' iconic hit "Bette Davis Eyes" the same way again.
Pet Sematary (1989)
When their youngest child is killed by a speeding semi-truck, the Creed family is ripped apart in their grief. Gage (Miko Hughes) was a light in the world snuffed out too soon, and any attempts to recover from his death fail. "Sometimes dead is better," neighbor Jud Crandall (Fred Gwynne) tells Louis (Dale Midkiff) upon showing him a burial site behind their newly-purchased home.
After the family cat was buried in the pet cemetery, only to return as a deranged version of itself, Louis decides to bury his son in the same ritual site. It naturally doesn't bring about the result he hoped for, and Gage goes on a murderous rampage, slaying Jud and his own mother Rachel (Denise Crosby). The part of Gage that made him so special has wilted and given way to a ravaging and mindless killing machine.
In many ways, resurrected Gage is a manifestation of grief and the heaviness of loss in our lives. Death is an inevitable part of life; we all must go through pain. While the suffering someone endures can feel overwhelming, keeping a loved one alive in photos, videos, and in spirit may be far better than raising them from the dead. This raises the biggest question of the story, though: Would you have done what Louis did if the grief became too much?
Hereditary (2018)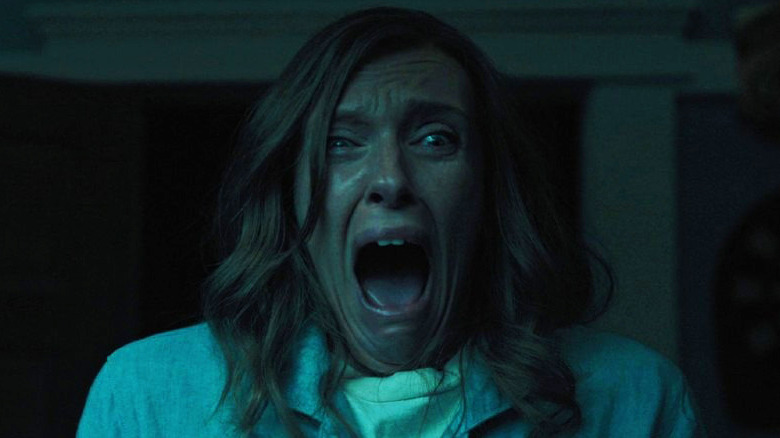 A24
Ari Aster's 2018 film "Hereditary" relies on the psychological breakdown of one family following the death of its matriarch. Annie (Toni Collette) struggles to cope with her mother's untimely passing and pours herself into her work as a miniatures artist. When she's managed to find her footing again, she suffers another emotional blow with the loss of her daughter, Charlie (Milly Shapiro), due to an unfortunate car incident perpetrated by her son Peter (Alex Wolff).
Annie spirals further out of control and even constructs her daughter's death as a miniature. It's morbid, but there's accounting for how everyone grieves differently — this is simply Annie's way of dealing with and processing death. Joan (Ann Dowd) befriends Annie upon meeting her during a grief support group and invites her over for tea and companionship. Joan suggests seeking healing elsewhere, perhaps by reconnecting with Charlie in the afterlife.
In her grief, Annie takes Joan's recommendation and conjures up Charlie, or at least her likeness, in front of her husband (Gabriel Byrne) and son. "Hereditary" involves a bit of witchcraft, yet its emotional backbone hinges upon the lengths someone will go to keep a dead loved one alive. Annie was just doing what she thought was best for her family, whose story ends even more brutally.
Anything for Jackson (2020)
Elderly couple Audrey (Sheila McCarthy) and Henry (Julian Richings) want desperately to resurrect their dead grandson Jackson (Daxton William Lund). Their grief hangs like black smoke in the air, and they turn to Satanism for answers. In their spiritual exploration, they uncover an ancient spell that'll invoke a reverse exorcism. All they need to do is capture a pregnant person so they can perform the ritual, allowing them to transfer Jackson's essence into the fetus.
Throughout the film (directed by Justin G. Dyck), it's their anguish that is most heartbreaking. Their intentions are pure, but their actions raise significant moral questions about life, death, and how grief can blind you to reality. After holding one of Henry's patient's hostage, they tie her to a bed as part of their preparations. Almost immediately, Jackson's presence is made known to all involved and begs the question about the very thin veil separating worlds.
When it comes time to recite the spell, Audrey and Henry unintentionally open a fiery portal to purgatory and a host of other entities emerge from the darkness. It's a symbolic gesture about the futility of controlling grief and the frequency at which it can often dictate our lives, even if we don't even realize it.
The Descent (2005)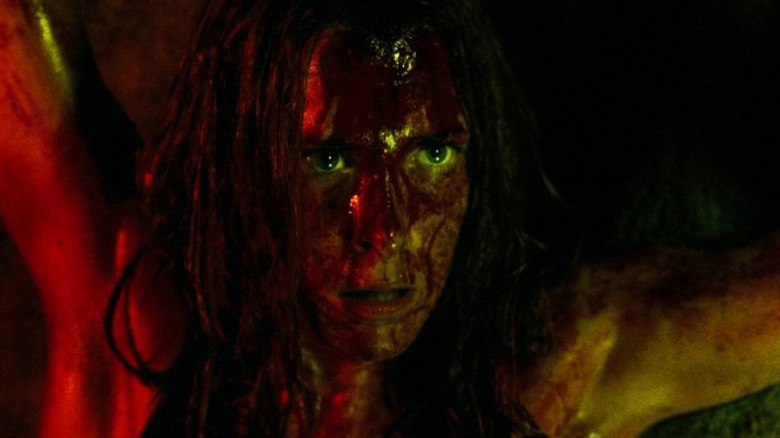 Lionsgate
After her husband and daughter die in a tragic car crash, Sarah (Shauna Macdonald) is left in deep mourning. A year later, her friends Juno (Natalie Mendoza), Beth (Alex Reid), Sam (MyAnna Buring), Rebecca (Saskia Mulder), and Holly (Nora-Jane Noone) invite Sarah along for a spelunking adventure in the Appalachian Mountains. She could use a distraction.
Writer-director Neil Marshall uses the claustrophobic setting to force Sarah to come to terms with her grief. Not only that, but her friendships are tested until someone snaps. There's betrayal, resentment, and revenge, all wound tightly around a story about cave-dwelling monsters with an insatiable bloodlust. Sarah works through and finally lets go of the past, emerging as the film's triumphant heroine.
"The Descent" literally and metaphorically combs the recesses of the human condition, alighting upon ideas about how to process death, cope, and allow yourself to live again. Sarah's entire arc leans into these themes, and it makes her ultimate victory all that more satisfying.
The Night House (2020)
David Bruckner's "The Night House" is a soul-crusher of a film. When her husband Owen (Evan Jonigkeit) kills himself, Beth (Rebecca Hall) is left to pick up the pieces of her life. Everything is in shambles, and she also contends with revelations about his secret double life.
As she unravels the mystery, she learns some dark truths about his urges to strangle and kill women. Beth has been put through enough, so her grief is now intertwined with anger and confusion about who Owen really was. Her best friend Claire (Sarah Goldberg) frequently reminds her that none of it matters in the end; what's most important is his unwavering love for her. But Beth can't let sleeping dogs lie and continues to dig deeper into her husband's hidden skeletons.
What makes "The Night House" a vital horror film is also its dissection of mental health, depression, and suicidal ideation. As Beth admits to a group of friends, she's long suffered from dark thoughts. With Owen's death, she grapples with her own mental health in a way she never had before. Grief and depression often go hand-in-hand when dealing with the worst parts of living. With help from Claire, Beth wrangles both in the end. They may never be totally vanquished, but she has at least taken over the reins.
If you or anyone you know is having suicidal thoughts, please call the National Suicide Prevention Lifeline​ by dialing 988 or by calling 1-800-273-TALK (8255)​.
The Babadook (2014)
IFC Films
In Jennifer Kent's "The Babadook," Amelia (Essie Davis) wrestles with being a single parent to her six-year-old son Samuel (Noah Wiseman) underneath the weight of knowing her husband died when he drove her to the hospital while in labor. She blames herself, and that exacerbates her grief tenfold.
One night, Samuel asks his mother to read from a new pop-up book that's appeared on his bookshelf. It's titled "Mister Babadook" and contains the most ghastly, chilling imagery. It becomes clear it's not just a children's book as weird things begin to happen. Samuel hallucinates about the Babadook and lashes out, his behavior erratic and aggressive. Additionally, Amelia discovers glass fragments in her food and doors mysteriously opening and closing on their own. Try as she might, ripping the book apart doesn't seem to solve the problem. It reappears on her front steps fully intact.
From his pointy hands to the top hat, The Babadook embodies Amelia's grief. Through experiencing his wrath, Amelia slowly, bit by bit, learns how to accept her husband's death. The shadowy monster forces her to relive his last moments, and only when she processes her guilt and grief can she then harness the Babadook. It'll never completely go away, and in fact, she keeps it locked up in the basement and feeds it earthworms from time to time. That's the trouble with grief: it'll always be with you. You just get better at handling it.
Midsommar (2019)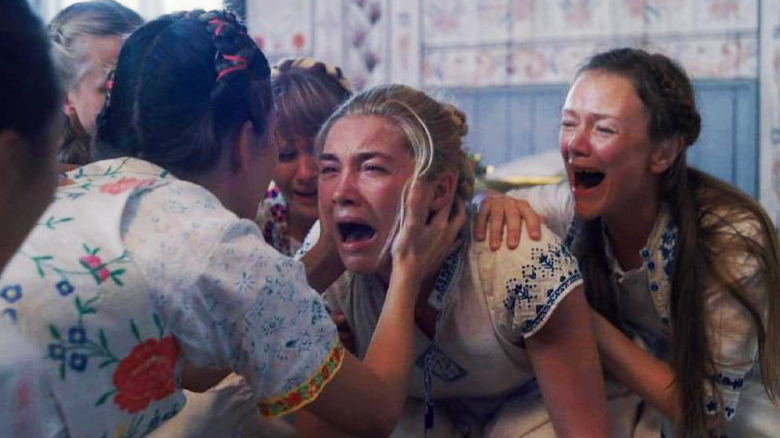 A24
Dani experiences a 1-2-3 sucker punch with the murder-suicide of her sister and parents. Leave it to writer-director Ari Aster to bowl you over in the first 20 minutes, setting up the emotional stakes to make the rest of the film carry greater weight. Mostly containing disturbingly bright cinematography, "Midsommar" looks at grief as a pressurized slow-cooker ensnaring your entire existence. You dream about death, and your every waking moment feels as though the walls are closing in.
To make matters worse, her boyfriend Christian (Jack Reynor) is a textbook sleazeball. He's emotionally manipulative and gaslights her about concerns over her sister's mental illness and their broken relationship. With family tragedy, Christian can't possibly end things anytime soon. Dani's grief becomes the last thread in their relationship, and it's barely hanging on.
Over summer break, Christian, Mark, and his other friends plan a trip to a commune in Sweden, where their friend Pelle (Vilhelm Blomgren) is originally from. Begrudgingly, they invite Dani along. She could use an adventure anyway. When they arrive, things are immediately off about the place, yet there's something weirdly comforting about chosen family and the catharsis in experiencing and exorcizing someone else's pain and grief. While her friends are bumped off one by one, Dani is crowned the May queen and accepted by the community. They say fire is cleansing, and the film's fiery end certainly bestows Dani with a fresh start, renewed spirit, and the strength to forge ahead with her life.
If you or anyone you know is having suicidal thoughts, please call the National Suicide Prevention Lifeline​ by dialing 988 or by calling 1-800-273-TALK (8255)​.
Antichrist (2009)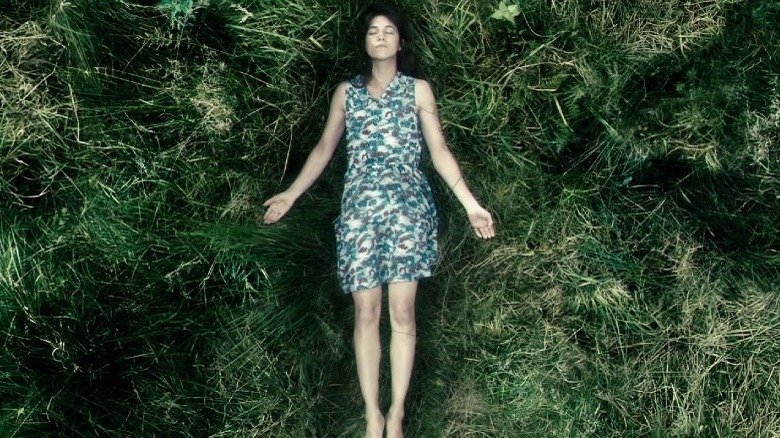 IFC Films
"Antichrist" delves into the darkest parts of humanity. When their young child tumbles out of an open window to his death, the Man (Willem Dafoe) and Woman (Charlotte Gainsbourg) are thrown into a whirlwind of fevered emotions, running from guilt to resentment. Thinking it best to escape city life, the couple venture into the wilderness to a cabin located in the woods known as Eden.
Woman harbors a great fear of nature, and Man hopes to immerse her in psychotherapy as a way to heal and deal with her demons. Together, they reconnect on a deep emotional level, but things quickly go off the rails and lead to a monstrous series of events, as their inner turmoil soon becomes a war between each other. Violence mingles with primal sex; quite the volatile concoction. What could possibly go wrong?
While writing the film, writer-director Lars von Trier spent time hospitalized to treat severe depression and anxiety. This backstory further adds to the film's emotional center and casts greater darkness over the story and tragedy. "Antichrist" highlights what happens when pain and grief are never properly addressed, and those sufferers are left to their own devices, igniting their ultimate downfall.
If you or someone you know needs help with mental health, please contact the Crisis Text Line by texting HOME to 741741, call the National Alliance on Mental Illness helpline at 1-800-950-NAMI (6264), or visit the National Institute of Mental Health website.
Don't Look Now (1973)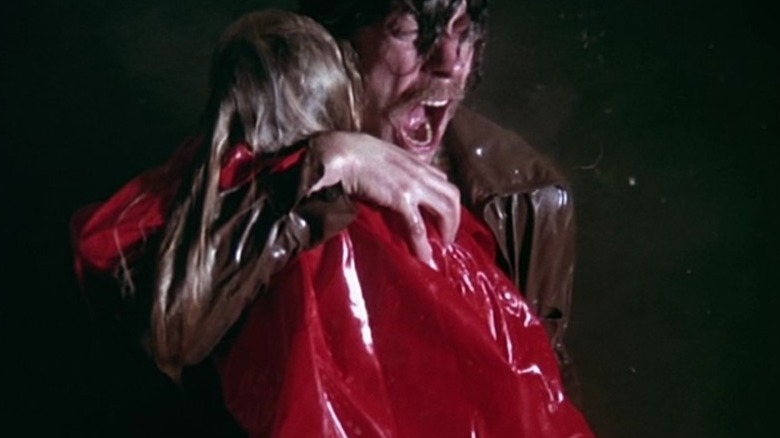 Paramount Pictures
Donald Sutherland and Julie Christie star in Nicolas Roeg's "Don't Look Now," another film depicting the unimaginable loss of a child. When outside playing along a countryside estate, a young girl named Christine (Sharon Williams) falls into a nearby pond and drowns. Her parents John Baxter (Sutherland) and Laura (Christie) are obviously grief-stricken. Despite his emotional state, John takes a position restoring an old church in Venice. John hopes the work can squelch the pain coursing through his chest.
However, John experiences visions of his daughter in her bright red raincoat. He sees his supposed daughter around every corner. He can't seem to escape her, much like his grief that follows him wherever he goes. No manner of distraction can wash away the misery. Meanwhile, Laura has turned to two sisters and self-proclaimed psychics who attempt to help Laura reach out to the other side for contact with Christine.
"Don't Look Now" suggests that people will seek out different avenues to cope and process their grief. John pours himself into his work, and Laura explores clairvoyance. While these things may not solve the deeper emotional issues, they are valid responses in their own right.
The Righteous (2021)
Writer, director, and actor Mark O'Brien tangles issues of faith and redemption with overwhelming grief. In "The Righteous," Frederic Mason (Henry Czerny) and his wife Ethel (Mimi Kuzyk) grieve the recent death of their adopted daughter Joanie. Their pain is so fresh Frederic believes it best to seal off their daughter's room. They compartmentalize their grief rather than deal with it head-on.
When an injured man named Aaron (O'Brien) arrives on their front lawn, Frederic boards him for the night so he can recuperate. Little does he know, Aaron is someone from his past, a past he had long buried and for which he sought forgiveness. Frederic's grief is reopened, and Ethel takes Aaron under her wing, finding Aaron's warmth to be necessary for bringing joy back into their home.
In the end, Ethel and Frederic finally process their grief and confront Frederic's seedy past. While a priest, he sexually assaulted a woman, and the reprehensible act led to her pregnancy. He then abandoned the child, who turns out to be Aaron. Aaron represents both their grief and a long-awaited reckoning. With the flashing meteors pummeling toward earth, Frederic pays the biggest price of all: with his life.
If you or anyone you know has been a victim of sexual assault, help is available. Visit the Rape, Abuse & Incest National Network website or contact RAINN's National Helpline at 1-800-656-HOPE (4673).
The Changeling (1980)
Peter Medak's "The Changeling" supplies an emotional throughline to your typical haunted house story. George C. Scott plays John Russell, a composer living in New York City. After the deaths of his wife and daughter, he decides to leave the city behind and move out west to Seattle. He moves into a rustic mansion with a dark, twisted history.
Immediately, strange things begin to happen, from loud banging to the appearance of a red ball. It's initially unclear whether these occurrences are real or simply manifestations of his grief. When consulting Claire Norman (Trish Van Devere) from the local historic society, it's revealed that the house has been vacant for over a decade. Together, they unravel the mysteries of the house and discover a series of grisly deaths in and around the property. Their research suggests that the peculiar goings-on are very real.
"The Changeling" works on two levels. First, it excels as a spooky haunted house tale, brimming with thrills and chills that'll give you nightmares. Second, it works as a rich excavation of one man's grief, his failure to properly deal with it, and the idea that grief never really leaves you alone. It's always there, and you'll never be totally rid of it.
The Haunting of Julia (1977)
Also known as "Full Circle," 1977's "The Haunting of Julia" stars Mia Farrow as Julia Lofting, a woman who accidentally kills her daughter after performing a tracheotomy when she chokes one morning. As one might expect, the death tortures Julia; she may never recover from the guilt and grief she feels.
Julia separates from her husband and moves into a furnished home in central London. With a new location, she hopes it'll be enough to alleviate the pain, or at least make it bearable. In true haunted house fashion, unusual occurrences begin taking place. Soon, the lines between Julia's perception and reality are blurred, giving the film an extra layer of insight into her psyche. After inviting friends over for a welcome party, she meets a psychic who holds a seance, during which she receives a warning that Julia should not stay in the house any longer.
Julia doesn't heed the medium's advice as she should and decides to stay. Over the following days, those around her start dying. Their deaths are always surrounded by peculiar circumstances, hinting at something far more sinister. As a result, Richard Loncraine's film explores the notion that grief not only affects the direct family and friends but those around the person, too. It's the outward ripples that can wreak just as much havoc.
We Are Still Here (2015)
Anne (Barbara Crapton) suffers a deep depression following the death of her son Bobby. Along with her husband Paul (Andrew Sensenig), she moves to New England for a fresh start. Upon arrival, Anne claims she can feel her son's presence in the house, and you wonder if she is actually experiencing something supernatural or if it's simply a trick of her grief.
In search of answers, Anne invites her spiritualist friends May (Lisa Marie) and Jacob (Larry Fessenden) to further investigate the residence. One afternoon, while Anne and May head to the grocery store, Jacob suggests to Paul that they hold a seance to contact the spirits inhabiting the home. What they uncover, however, is something far more devilish than even Jacob could have anticipated.
The original tenants, the Dagmar Family, were burned and sacrificed to the evil beneath the house when it was exposed that they were selling corpses and burying empty caskets. Their souls were never put to rest, so their charred forms return to Earth to take what is rightfully theirs. Writer-director Ted Geoghegan delivers all the frights you so desire but gives the film a raw emotional tone that grounds it in reality. "We Are Still Here" depicts how grief can often swallow you whole if you're not too careful.