Hereditary Was More Connected To Midsommar Than Even Ari Aster Realized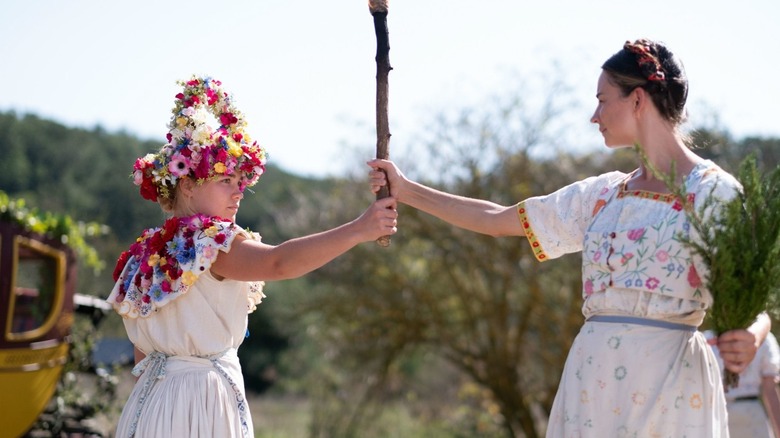 A24
On the surface, Ari Aster's follow-up to his absolutely chilling debut "Hereditary" seems like it exists in stark contrast to the haunted family portrait of that first film. "Midsommar" takes its characters through a psychotropic journey in a strange place in a strange land that leads to a bizarre ritual sacrifice. "Hereditary" traps a family together in a claustrophobic tragedy that ends with them essentially tearing each other apart. "Midsommar" is also brightly sunlit, taking place entirely during the day while "Hereditary" seems shrouded in darkness with scenes taking place mostly at night. Ari Aster, himself, didn't necessarily see any connective tissue between the two films either, usually referring to "Hereditary" as "a horror film, unabashedly," and carefully calling "Midsommar" an "adult contemporary fairy tale."
That description of "Midsommar" from an interview with Fandango was most likely Aster trying to craft a soundbite to describe a very complex story. Going through the gambit of a press tour after gaining acclaim for your first feature can be taxing. Generally, a visionary filmmaker like Aster is probably not going to find any new insights after the fact about how "Hereditary" and "Midsommar" may be similar. He's lived with each film for a very long time, from the early stages of writing both scripts to going into full production on both projects. Interestingly, while Aster was on set during "Midsommar," he did actually discover some interconnection between his films while on the ground on the outskirts of Budapest. 
A midsummer festival epiphany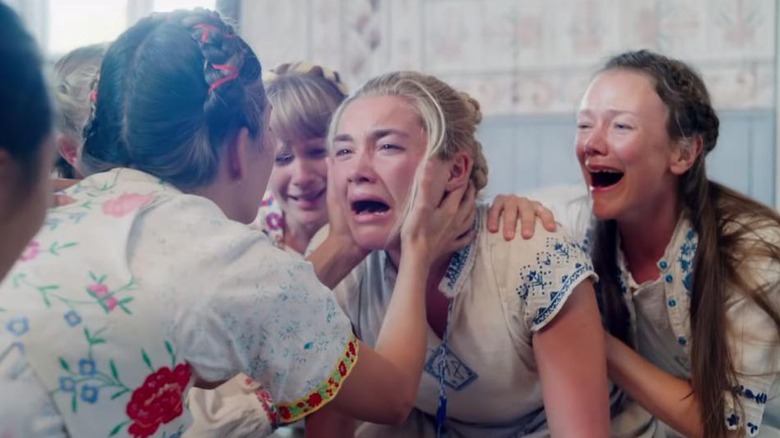 Both films do center around cult activity, although the demonic King Paimon at the heart of "Hereditary" differs greatly from the Scandinavian quasi-cult in "Midsommar" that prefers to commit ritualistic suicide in honor of a Norse bear god. Speaking with Fandango, Aster shot down the theory that both cults are worshipping the same entity, but he was blinded by other connections until he was in production on "Midsommar":
"There's no Paimon involved. But I would say that the film is something of a companion to 'Hereditary,' although the similarities didn't really occur to me until we were on set. And thematic ties became apparent to me. But nothing so overt as Paimon worshipping."
Aster might not have seen some of the through lines between his films because he didn't write the scripts in order. Most screenwriters, including Aster, have a mountain of potential scripts they've written. It's natural to assume that "Midsommar" was conceived of after the great success of "Hereditary" when, in reality, Aster wrote one before the other:
"I wrote 'Midsommar' four or five years ago, before I made 'Hereditary,' and it was the 11th feature script I had written, so at that point I wasn't really writing in response to 'Hereditary.' I was just writing. And then, of course, I just had to reevaluate what I was doing aesthetically here versus 'Hereditary.'
The ties that bind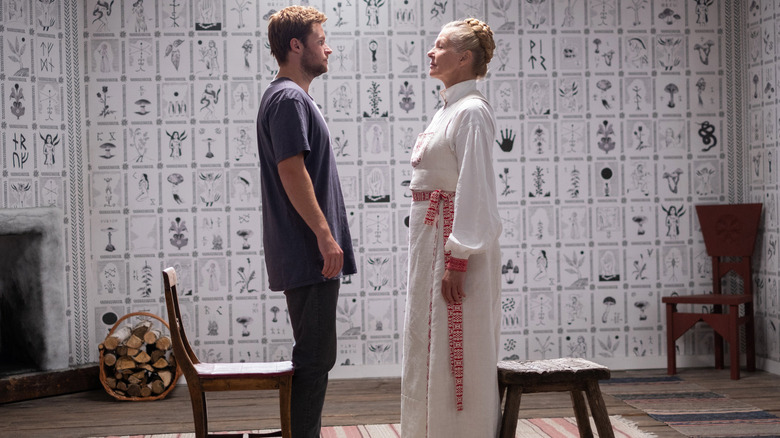 A24
Visually, "Midsommar" is strikingly opposite in look and feel. On a technical level, the production was incredibly challenging because everything had to be "naggingly bright" at all times. "Midsommar" is also one of the most detailed films in recent memory, with dense Norse iconography and runic symbology running throughout most of the backgrounds. On a second watch, a viewer hardly needs to watch the foreground to stay engaged. With that level of art production and the extensive wardrobes in the film, it's no wonder that Aster wasn't busy deciphering the thematic correlations between each film. 
Aster has also referred to "Midsommar" as a breakup movie, with Florence Pugh's character Dani bearing witness to her boyfriend's demise at the hands of the Horka people. "I felt like Dani at the time of writing it, but I definitely have been on both sides of that dynamic," Aster confessed in a Washington Post interview. Considering Aster's relationship status when writing "Midsommar" and the challenging production, he was justifiably distracted. 
The connections are absolutely there, however. Both films are about family tragedies and how these cults slowly invade the lives of both groups until they become victims of dark prophecies. Dani's sister commits suicide in "Midsommar" and Charlie (Milly Shapiro) in "Hereditary" gets decapitated in a horrible car accident when her brother Peter (Alex Wolff) is driving. Dani and Peter feel somewhat responsible for their deaths and their guilt propels them into a state of mind that is more susceptible to cultish behavior in each film, whether it be the witchy worshippers of King Paimon in "Hereditary" or the Horka cult members in "Midsommar." Although Aster was insanely preoccupied during shooting, it sounds like those themes did start to resonate with him eventually.