'Hereditary' Review: An Early Contender For The Best Horror Film Of 2018 [Sundance]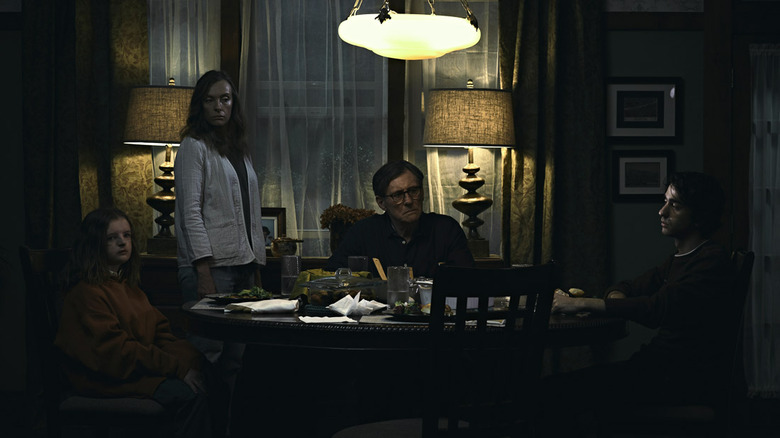 Much like The Witch, another film distributed by indie powerhouse A24, the feature debut from writer/director Ari Aster (probably best known for his darkly comedic 2011 short The Strange Thing About the Johnsons) leaves open the possibility that you are not watching a horror movie but that you're, instead, watching a horrific drama. While the modern-set Hereditary shares little else in common with that period piece, it does show a family in crisis, leaving emotional cracks wide open so something dark — perhaps actually evil — can crawl in an fester and eventually destroy all that was good and sacred about the sanctity of blood relations. In other words, Hereditary takes its deep-seated sense of danger and foreboding quite seriously and with a level of maturity that few of today's horror releases do.
Although Aster does seem to enjoy the idea of audience members falling out of their seats with fright every so often (during the world premiere at Sundance, there is one transcendent moment in particular — involving nothing more than a sound — that resulted in the collective audience screaming and jumping as one), he seems far more interested in carefully constructing scenarios specifically designed to cause nightmares long after you've seen his work. Jump scares seem like child's play in this filmmaker's hands. His scares are sustained; his visuals are more carefully crafted to play off everyday fears, like a recently departed love one visiting you in the night; and his soundscapes feel like cold water being injected directly into your neck.
There's a confidence and maturity to the Hereditary that is undeniable. The film blends ideas whether a family member's twisted psychology can be passed down through the generations, and might this more science-based occurrence be labelled a "curse" by some more included to believe in the supernatural and superstition. But the movie also touches on ideas concerning parents not loving their children, and the crushing guilt that can bring into the family dynamic. And all of this bad energy feeds the horror in devastating ways that don't just scare the audience but drain its emotional fortitude. It's the complete package, folks.
The film opens with a funeral. Annie Graham (Toni Collette, reminding us for the umpteenth time that she is both an exceptional and undervalued actor) is burying her mother, whom she has had a shaky relationship with for years. Annie is an artist who specializes in incredibly detailed models of homes and rooms that resemble dollhouses but are far more intricate. Thanks to masterfully intriguing work by director of photography Pawel Pogorzelski, there are moments throughout the film where Aster makes it deliberately unclear if an establishing shot is of a real room or one of Annie's re-creations. Before long, we get the sense that, regardless, we're looking at spaces and people who are small objects being manipulated by a larger, more ominous force, and the impact adds exponentially to the tension and dread that never truly goes away during the film's fairly lengthy running time of more than two hours.
Annie is married to the more serious-minded Steve (Gabriel Byrne), and the couple have two children—the elder teenage Peter (Alex Wolff, currently in Jumanji: Welcome to the Jungle) and much younger sister, Charlie (Milly Shapiro, best known for playing the lead in Matilda on Broadway), who seems especially awkward and nervous, perhaps fueled by the fact that she sees ghosts. Peter almost seems to resist any other-worldly connections he might have, but as hard as he tries to fit in with his dude-bro friends from school, there's something about him that makes him feel isolated as well.
Annie discovers boxes of books belonging to her mother, covering all manner of spirituality, and eventually she is forced to dive into those pages in an effort to stop what is happening to her family. She also attends grief counseling group meetings (of which Ann Dowd is also a member), and delivers long monologues about how much damage her mother continues to cause even after her death. The fact that this even exists in a horror feature is remarkably bold and makes a massive difference in the audience's connection to these characters. Too often in scary movies, the characters are sketches of human beings and act as fodder for whatever force is out there murdering them. But in Hereditary, Aster wants us to identify with the Grahams, to feel their pain, and have a stake in their recovery (assuming they do recover).
More tragedy befalls the family — some of it horrific and violent, some is more intimate and piercing. As much as the filmmaker wants to make his film unique in so many ways, he's not above applying his expert touch on familiar horror-film tropes, such as a particularly gripping séance or specters who take on a form unlike any others (remember what I said earlier about building nightmares?).
Hereditary also has enough conspiracy-related plot twists to warrant the comparisons to Rosemary's Baby, although this family's descent into despair and madness seems more tied to destiny than being pushed by outside forces. The film's deliberate pacing, commitment to atmosphere over cheap scares, and stellar cast, led by the remarkable Collette, make this work an early contender for one of the best horror films of the year. There's an artistry and level of craftsmanship that is too often lacking in movies designed to scare or otherwise creep us out, and the effort is both effective as hell and greatly appreciated. Arter is a filmmaker less interested in spectacle and more intent on a type of world building that places his audience at the center of this fresh hell — both the last place we want to be, as well as exactly where we want to be for this ride.
A24 picked up Hereditary and will release it everywhere on June 8, 2018.
/Film Rating: 9 out of 10