Taking A Break Between Hereditary And Midsommar Wasn't An Option For Ari Aster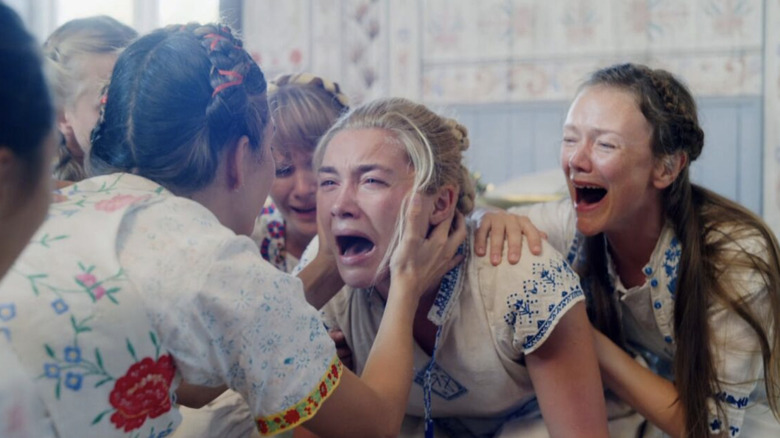 A24
Over the course of just two films, Ari Aster has solidified himself as one of the boldest storytellers in the horror genre, sitting alongside filmmakers like Jordan Peele and Robert Eggers. The director arrived on the scene with 2018's "Hereditary," a horror film that told a frighteningly surreal story about one family dealing with grief and familial trauma. That theme of trauma would carry over into his next horror film in 2019 with "Midsommar." The Florence Pugh-led Swedish folk horror story would find Aster the subject of rave notices once again.
The fact that the two films were released within a year of each other is incredible. Both distributed by A24, "Hereditary" and "Midsommar" each deal with trauma and family dynamics in vastly different ways while still baring that tone and feel only Ari Aster could conceive. The writer/director had developed "Midsommar" during a time of personal turmoil, which led him to make the film hot off the heels of doing press for "Hereditary." 
Unfortunately, such a quick turnaround made taking a break between the two films not much of an option.
Moving from press to pre-production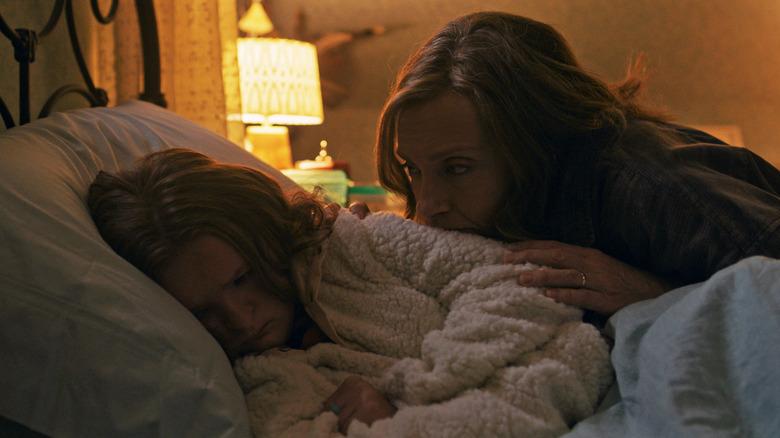 A24
For those curious about what making two films back-to-back would be like, Ari Aster detailed his very hectic horror movie schedule to Collider, revealing the back-and-forth schedule of finishing marketing for "Hereditary" while starting work on "Midsommar":
"I went straight from 'Hereditary' post to scouting for the film, to then having to take a break from scouting to do 'Hereditary' press, then 'Hereditary' came out on June 8th, and I was in Hungary on June 9th, having found the location, and jumping into full pre-production. Then we had two months to build the entire village and start shooting at the top of August, so the first week of August. So we had two months of actual pre-production to build this world. At the same time, I was juggling press. It was my first experience with press, and it was my first film. So it was very surreal. It was a trial for sure."
Ari Aster's first feature-length production would come with a bevy of new experiences. The burgeoning filmmaker added to this hefty schedule with pre-production work on "Midsommar," leading to the lack of time for a break between films. Thankfully, Ari Aster gracefully handled this transition to Hollywood filmmaking, going through this self-made trial by fire. 
Working through a crisis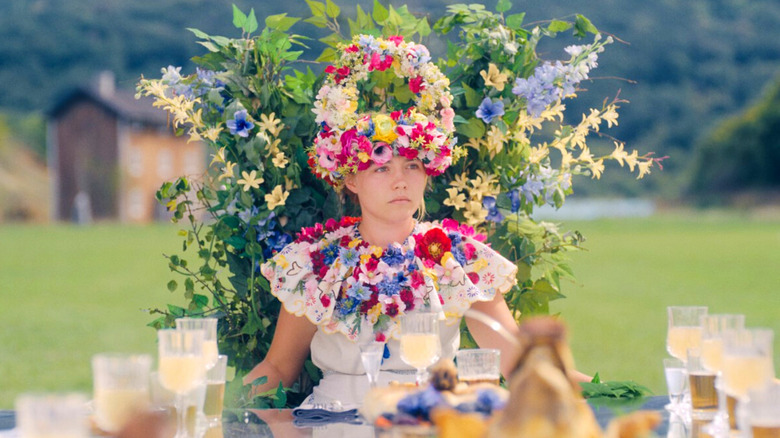 A24
"Midsommar" bore its tragic and darkly comedic story out of Ari Aster's need to vent following a breakup. Movies are more often than not a personal reflection of those creating them, so Aster's script came at a time when the writer/director was going through relationship troubles of his own. Speaking to The Atlantic, Aster talked about how the film came to fruition:
"I'm putting myself into Dani, primarily. But I think we've all been on either side [of a breakup]... I usually find that writing comes easiest to me in a crisis. It becomes a tool for digging myself out of the crisis. Or at least navigating it. Otherwise, I'm just torturing myself. You always want to write a breakup movie when you're in a breakup, and every time I'd been in one, I'd thought, 'I want to write about this, but I'm not inspired. I just wanna die.' And so, this time, I just happened to find the way in. You find yourself parsing through the ruins, blaming yourself, the other person, working through these things."
Ari Aster channeling his personal life into his filmmaking would result in a hectic work schedule. The filmmaker's back-to-back productions are testament to his passion for unique storytelling. "Midsommar" is an incredible follow-up to "Hereditary," with the film giving the folk-horror genre a darkly comedic twist. Aster's next project, "Disappointment Blvd.," will surely contain the same personal Aster touch as his last two films, even as it steps away from the horror genre.