Being A Fresh Face On The Crown Comes With A Fair Deal Of Pressure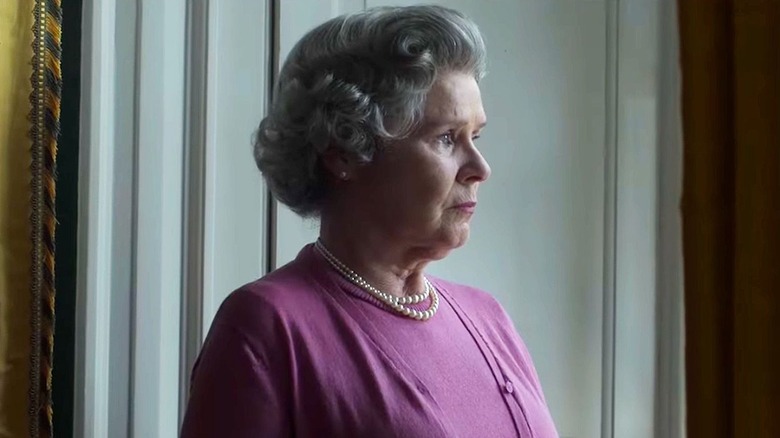 Netflix
When Netflix announced yet another new cast for the series "The Crown," as they do when the show jumps through time, an old memory popped up in my head. A much older friend of mine once looked at a picture of her younger self and said, "I remember her. I haven't seen her in a long time," as though she'd been a different person back then. It made me think about how much people change over the years and sometimes don't recognize their younger selves. 
Recently, Netflix released a new featurette from the series about the British royal family as it moves into the 1990s. It features some comments from the cast and crew about joining this already-established show and the pressure that comes along with portraying a different, older version of these real people.
Joining the cast this season, among others, is Imelda Staunton as the late Queen Elizabeth II, taking over for Olivia Colman, who took the role from Claire Foy. Jonathan Pryce plays Prince Philip after Tobias Menzies and Matt Smith. Lesley Manville is taking over as Princess Margaret from Helena Bonham Carter and Vanessa Kirby before her, with Dominic West playing Prince Charles (now King Charles III) after Josh O'Connor, Elizabeth Debicki as Princess Diana after Emma Corrin, and Olivia Williams as Camilla Parker Bowles (now the Queen Consort) after Emerald Fennell.
Watch the featurette for The Crown season 5
Things change as you age, and sometimes you have to deal with the ramifications of things you've done in the past, as the Queen is learning in the upcoming season. Of course, part of the issue is that people were different when they were younger, so for new actors on "The Crown," that must only help them refine their character as they come in after a time jump. Executive producer Suzanne Mackie thinks having the new cast there is "energizing," calling this a "very quietly rewarding experience."
Staunton spoke about having the past four seasons to draw from for her role and the research she did. She says: 
"We've also seen the first four series of the crown. So, of course, we've got that in our heads, as well as the research, as well as our own history of looking at those characters, those real people. So, all those layers you've got, hopefully will carry us through."
This is a doubly difficult role, of course, with the recent death of the Queen and the country reexamining the role of the monarchy with the ascension of King Charles III. Add to that the fact that there have been some high-profile criticisms of the show imagining the private lives of real people (leading to calls for Netflix to add a note about this being fiction before the episodes), and you have a lot to take on. Plus, the late monarch of the United Kingdom was largely a private person, showing very little in terms of her personal feelings on things. 
'The challenge of it really motivated me'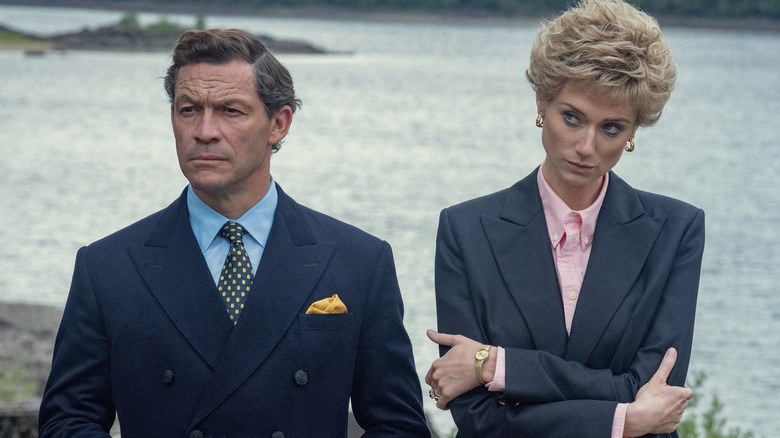 Netflix
This season will also feature Diana 11 years into a difficult marriage. We're also going to see her bombshell interview with Martin Bashir and the continuing affair between Charles and Camilla. Debicki, who looks shockingly like the late Princess, says of her role, "The challenge of it really motivated me. Most of the time, it just keeps pushing you to either find new ways to approach it, or to get around the added layers of pressure." In addition to Debicki's well-received predecessor Corrin, Diana was recently portrayed by Kristen Stewart in the film "Spencer." Just for a little extra pressure, you know?
West seemed excited by it all, saying, "This is such a big show, and has had so many great performances in it. If you can be part of a show like this, you've got to go for it if you can."
We don't often get to see the portrayal of people as they move from young to old, with so much in between. It will be fascinating to see if the new cast is as engaging as the last sets were. 
"The Crown" season 5 begins streaming on Netflix on November 9, 2022.