House Of The Dragon Secretly Switched The Cargyll Twins When One Of Them Caught Covid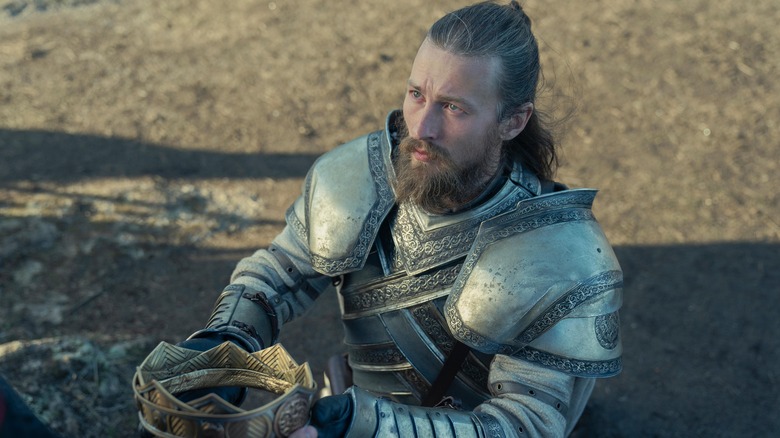 HBO
George R.R. Martin is famous for creating characters with annoyingly similar names, leading to some confusion from both the readers/viewers and the characters themselves. It was bad enough that Alicent (Olivia Cooke) started a war because she assumed her husband was referring to the wrong Aegon, but the first season's final episodes also put a spotlight on the Cargyll twins: two identical knights of the Kingsguard named Arryk (Luke Tittensor) and Erryk (Elliott Tittensor). 
For the show's producers, however, the similarities in the actors/characters proved to be a bit of a blessing. While filming the finale, Elliot Tittensor tested positive for COVID-19 and wasn't able to be on set. Luckily, the show had Luke Tittensor around, who could fill in for him while he recovered. 
"There's that scene, that big scene where Corlys comes down and they're putting the markers on the table and the messenger comes in," director Greg Yaitanes said on Entertainment Weekly's West of Westeros podcast, explaining that it would've been a huge inconvenience if they didn't have a lookalike ready on such quick notice. "We were just about to do all Emma's coverage and he [Erryk] is standing right next to them."
Could you tell them apart?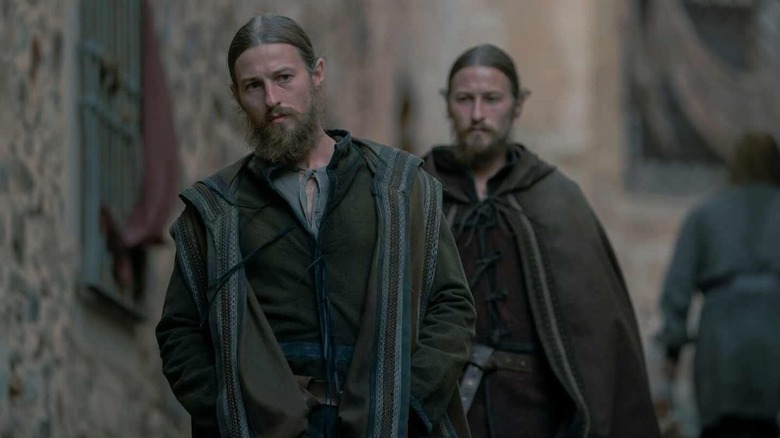 HBO
As much as it's an advantage for the director to have these two actors available, their striking visual similarities do make it a little hard to connect with either character. It's hard to truly care about someone when you spend most of their screen-time wondering if you're mixing him up with his twin, and that feeling of disconnect only grows when you realize that the show has literally switched the actors around for a scene, and you probably didn't notice.
Luckily, the show has made efforts to differentiate the two characters in the audience's minds. Throughout "The Green Council," the twins are at odds with each other over what to make of the Greens' coup in the wake of King Viserys' death. Arryk decides to support the claim of Aegon II, whereas Erryk is appalled by the whole thing. He frees Rhaenys from captivity, takes Viserys' crown, and gives it to Rhaenyra in the finale. 
Going into the next season of "House of the Dragon," the Cargyll twins are now on two opposing sides of what promises to be a complicated, spectacle-filled war. The twins have a minor yet very compelling storyline in George R.R. Martin's original novel "Fire & Blood," as their commitment to their respective Kingsguard and Queensguard oaths forces them into a heartbreaking conflict. At least now that Arryk and Erryk are on different teams, it should be a lot easier for audiences to keep track of them as we head into season 2.