Ace Ventura: Pet Detective Made A Jim Carrey Dream Come True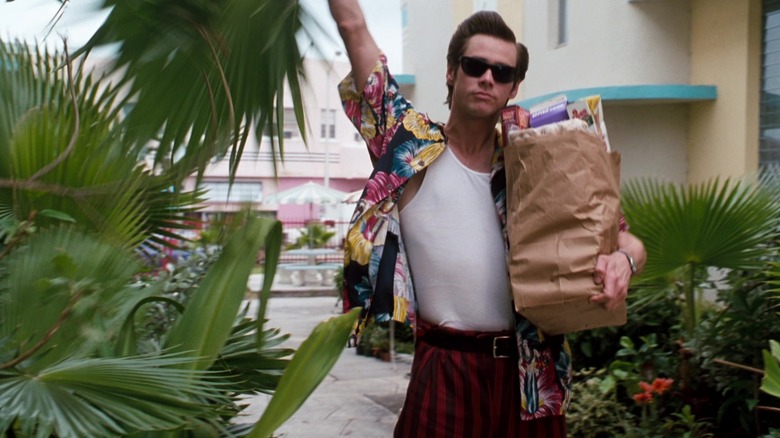 Warner Bros.
A story about Jim Carrey might make him sound like a cheesy 1980s infomercial psychic telling you to "visualize it, dream it, attain it." But how Jim Carrey-esque of him, after all. Carrey exploded onto the scene in 1994 with "Ace Ventura: Pet Detective." But he'd been plugging away at comedy since the 1970s — first with standup and then small movie roles throughout the 1980s. His profile began to grow with a starring role on Fox's sketch show "In Living Color."
In 1994, Morgan Creek Entertainment put down $450,000 on a lottery ticket with Carrey as the lead in "Ace Ventura: Pet Detective." It was a gamble, as some thought Carrey's over-the-top style might not work. Spoiler alert: It did.
Morgan Creek Entertainment cashed in their lotto ticket to the tune of $100 million at the box office, and Carrey became a bona fide Hollywood A-lister. He had a string of hits including "The Mask" and "Dumb and Dumber" and became the first actor to earn $20 million with the 1996 comedy "The Cable Guy."
And the whole time, Carrey was doing it with a dream in his pocket, literally.
Carrey went from token to superstar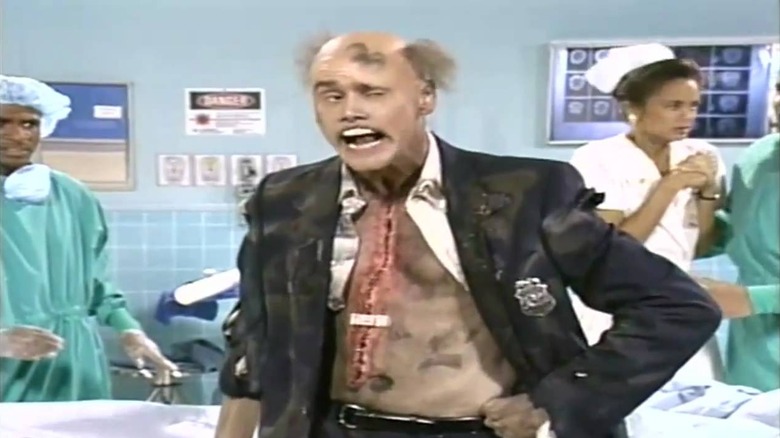 Fox
Jim Carrey's meteoric movie star rise was coming as "In Living Color" was coming to an end. In 1990, a young Fox network launched a new sketch show steeped in edgy comedy and African American culture. The show was the brainchild of comedian Keenen Ivory Wayans and pitched as a black "Laugh-In" or "Saturday Night Live."
Wayans was given creative carte blanche by Fox, which led to memorable sketches like Homey the Clown and Whiz & Iceman's Homeboy Shopping Network. The show was an instant success. Cast member and production assistant Shawn Wayans told The Hollywood Reporter:
"We were hot. Everybody in the industry would pop up on our set, from Eazy-E to Bruce Willis and Demi Moore. Sinead O'Connor came by. They just wanted to tell everybody what a wonderful show it was."
"In Living Color" was also a launching pad for future megastars. Jennifer Lopez was a member of the show's dance troupe, "The Fly Girls." The show featured budding stars like Jamie Foxx and Damon Wayans. Carrey was cast as the token white cast member. He entertained audiences for all five seasons of "In Living Color" with memorable impressions and original characters like Fire Marshall Bill.
When Keenan Ivory Wayans abruptly left the show after a fallout with Fox, it left "In Living Color" executive producer Pam Veasey struggling to keep a sinking ship afloat. She thought Carrey might be the next to leave. That's when he revealed the hidden motivation that was keeping him going.
Carrey kept a million-dollar check in his pocket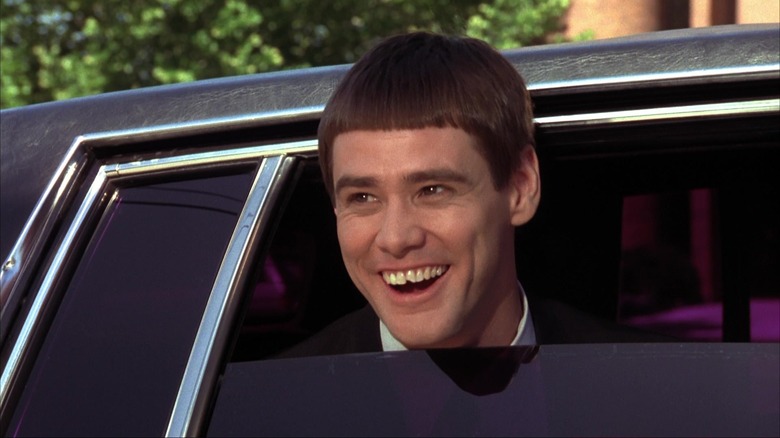 New Line Cinema
As trouble on "In Living Color" continued to mount, Pam Veasey expected the worst during a meeting called by Carrey. After all, she knew his importance to the show. "You had to get used to Jim's mind moving faster than you as a writer could write," Veasey said. "But then once you understood that it was a blessing. Because he would make the most of everything."
Rather than quit, Carrey was there to share the best news of his career. He pulled an old check from his wallet, one he'd written to himself years earlier for "acting services rendered." The amount was in the millions. It signified his dream, and he was there to tell Veasey that his dream had just come true. Veasey remembered:
"I would be in my office writing and they [Carrey and 'In Living Color' writer Steve Oedekerk] would be in their office writing, and I remember Jim would scream, 'Junk food time!' And they'd come in and it was like going to the movie theater. And I vividly remember Jim acting out the scene where he put the plunger on his face. And it's one or two in the morning. I'm like, 'Yeah, that's funny!'"
The project Carrey and Oedekerk were working on was "Ace Ventura: Pet Detective." The movie turned Carrey into an overnight star and allowed the actor to negotiate his salary for "Dumb and Dumber" up from $350,000 to a whopping $7 million.
Carrey called the meeting with Veasey to share with her that he finally made it. The beat-up check he'd carried around for who knows how long, physical evidence of his long road to success, was now ready to cash. Like it had for so many others, much of Carrey's success began in the back offices of "In Living Color."