Shotgun Wedding Trailer: Well, That Took An Unexpected Turn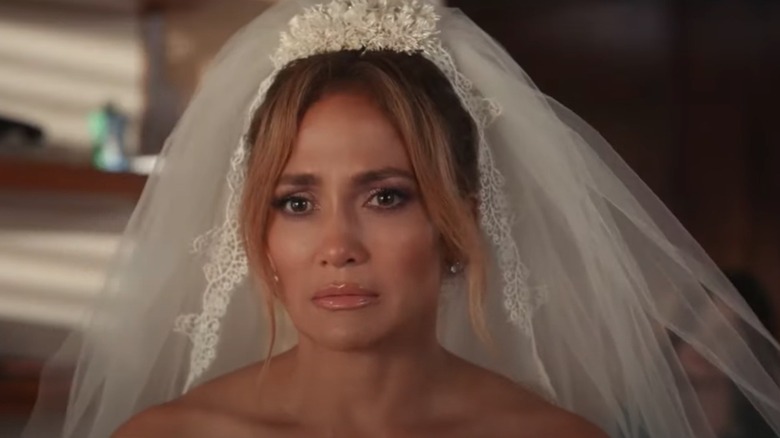 Prime Video
Today Prime Video has released a new trailer for the upcoming Jennifer Lopez film "Shotgun Wedding." Yes, JLo is in a wedding dress yet again, as she was in the recent movie "Marry Me," as well as her real-life wedding to Ben Affleck. Lopez plays a woman named Darcy engaged to Josh Duhamel's Tom, dealing with his mother, played by Jennifer Coolidge. You can practically hear the jokes in your head, can't you? A woman dealing with a nosy and bossy future mother-in-law, having wedding jitters, and from the title, maybe pregnant? (Wow, the term "shotgun wedding" is really awful.) It all sounds like the usual fare for a film about impending nuptials, right? 
It is not, as you may have guessed from the title of this article. I don't want to spoil anything for you, but this trailer takes an unexpected turn a little under a minute in. Things are not as they seem. You think you've seen some crazy wedding video disasters on YouTube? You ain't seen nothing yet!
Watch the Shotgun Wedding trailer
Unlike her recent film "Marry Me," though, there are hostages involved in "Shotgun Wedding." The shotgun here is not to force a marriage but to defend the lives of the wedding party! I went into the trailer thinking that this was going to be another romcom and wondering why Lopez would do this right after "Marry Me" or if it was just an unfortunate casualty of studio scheduling. I was wrong, and now I really need to know what happens. It's interesting to note that Armie Hammer was initially supposed to play JLo's groom.
"Shotgun Wedding" stars Lopez, Duhamel, Coolidge, Sônia Braga, Cheech Marin, Selena Tan, D'Arcy Carden, Callie Hernandez, Desmin Borges, Steve Coulter, Alberto Isaac, and Lenny Kravitz, who makes quite an entrance. Here is the official synopsis for the film:
In "Shotgun Wedding," Darcy (Jennifer Lopez) and Tom (Josh Duhamel) gather their lovable but very opinionated families for the ultimate destination wedding, just as the couple begin to get cold feet. And if that wasn't enough of a threat to the celebration, suddenly everyone's lives are in danger when the entire party is taken hostage. "'Til Death Do Us Part" takes on a whole new meaning in this hilarious, adrenaline-fueled adventure as Darcy and Tom must save their loved ones—if they don't kill each other first.
"Shotgun Wedding" will be released on Prime Video on January 27, 2023.