Andy Serkis Was The Only Option When It Came To Casting Andor's Kino Loy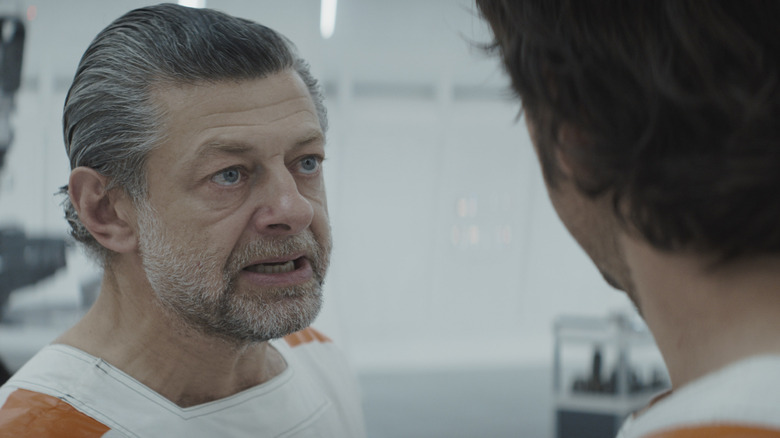 Lucasfilm
You may have heard that last week's episode of "Andor" caused a bit of a stir among certain circles, but not for reasons you may have expected from this unapologetically adult-skewing and serious-minded "Star Wars" series. After spending several episodes soundly rejecting the urge to fill this series with the usual assortment of Easter eggs and deep-dive lore references and distracting cameos that remain so prevalent in other franchise media, "Andor" creator Tony Gilroy made a surprise casting decision in episode 8 that reverberated throughout the fanbase.
After first appearing in the sequel trilogy under motion-capture as Supreme Leader Snoke, the return of Andy Serkis in "Andor" as a completely different character altogether — a prison inmate and supervisor who crosses paths with Cassian Andor, known as Kino Loy — immediately sent viewers running to connect the tenuous dots for their fan theories. But while some found this to be an odd swerve right back towards the kind of fan service that this series has always stayed away from, the decision to bring back the same actor in another role turned out to be even more evidence of how "Andor" has resolved to chart its own path.
Episode director Toby Haynes ("Doctor Who," "Sherlock," "Black Mirror") opened up and revealed the decision-making process that went into bringing Serkis back, despite the potential for confusion. As it turns out, nobody else was ever really considered for the role. Given what we've seen in the past few episodes, even the most conspiracy theorist-minded among the "Star Wars" fandom would have to agree.
'It had to be Andy'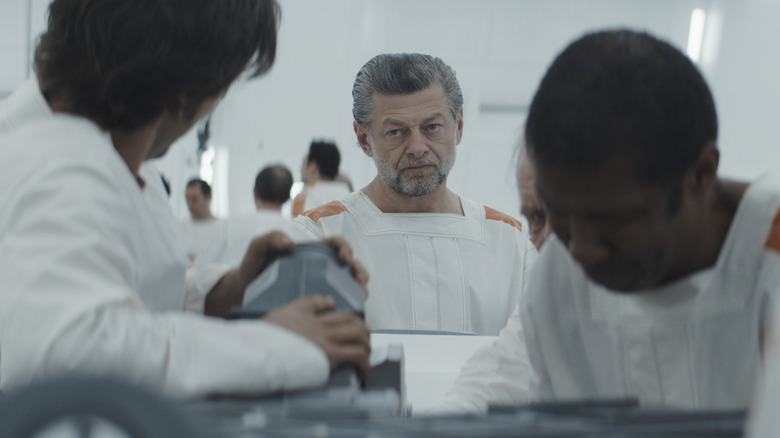 Lucasfilm
Though primarily known among genre nerds for his motion capture work as Gollum in "The Lord of the Rings," King Kong in the Peter Jackson remake, or Caesar in the recent "Planet of the Apes" trilogy, Andy Serkis has proven himself as a supremely talented performer even without the assistance of VFX, appearing in the flesh in "Avengers: Age of Ultron" and "Black Panther" as well as in Matt Reeves' "The Batman" as the loyal butler Alfred. "Andor" provided Serkis with yet another traditional performance for him to sink his teeth into.
Series director Toby Haynes spoke with The Hollywood Reporter to explain how this particular casting came about:
"Tony had been talking to Andy for a while. He was trying to line him up, but he was unsure whether he was going to do it or not ... It all came together in a very short space of time, and he had some big ideas of what he wanted to do with the character. And now I can't imagine it being anybody else. There was never any other option, really. It had to be Andy."
But what about that Snoke-sized elephant in the room? Haynes goes on to reveal that Serkis' previous role in "Star Wars" had absolutely no bearing at all, saying that, "The fact that he has 'Star Wars' heritage was neither here nor there for us. To us, he was Kino, and it was all about him and what he could bring to it." The latest episode of "Andor" gave Serkis perhaps his best showcase yet and next week promises even more to come, further convincing doubters that he was simply the right person for the job.
"Andor" streams new episodes on Disney+ every Wednesday.