His Dark Materials Season 3 Trailer: The Dead Speak!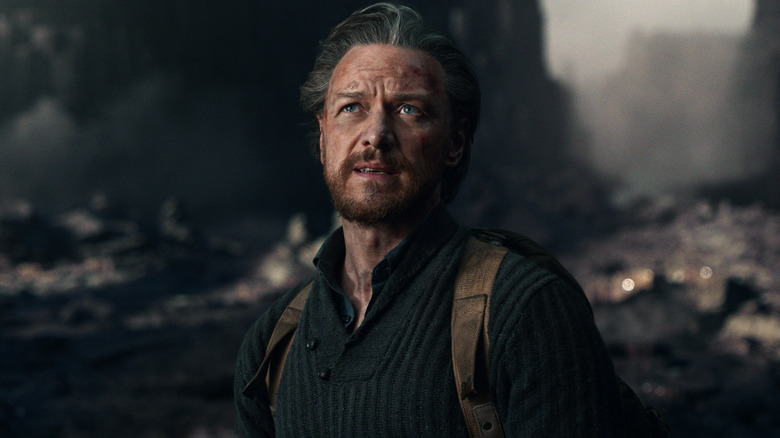 HBO Max
After a murderous and revelatory season 2 finale, "His Dark Materials" enters its endgame by preparing for an all-out war. The series, based on the trilogy of novels of the same name by Philip Pullman (that were heavily inspired by John Milton's epic "Paradise Lost"), is ending with its upcoming third season, but the show is making sure to end on a high note.
Expanding on the previous teaser by focusing on the war ahead and the trials and tribulations Lyra is about to endure, the trailer shows Dafne Keen's Lyra heading to the land of the dead to find something that can save the world. More importantly, however, it seems she could be reunited with her long-dead best friend Roger. This may also explain the apparent return of Lin-Manuel Miranda's aeronaut cowboy Lee Scoresby who had met his tragic demise at the end of last season — until now, I guess? 
Elsewhere, it's an all-out war between Heaven and Earth, literally, as Lyra's horrible dad Lord Asriel (James McAvoy) gathers a great army to kill god (well, the Authority, which is basically the same thing now) with the help of warriors from every world, including actual angels. Oh, and there is also Lyra's equally mad mom Marisa Coulter (Ruth Wilson) who may or may not be teaming up with Asriel to save Lyra from the Magisterium, who is hunting her because she has a power beyond what Asriel's rebellion can even hope to accomplish.
The final chapter is here
Before the end, "His Dark Materials" aims to deviate from the books in one significant way, as it promises to expand on Lyra's hot parents and their turbulent relationship by showing us what they are up to when not dealing with their daughter. Meanwhile, the showrunners tease we'll see more worlds and a final season with a much bigger scope than we've seen so far, which the trailer definitely shows. 
We're entering the mandatory final rebellion of every YA novel, but with the sacrilegious undertones of the original source material, "His Dark Materials" can provide a different, yet equally exciting and emotional final confrontation.
"His Dark Materials" season 3 premieres on HBO Max on December 5, 2022, with two back-to-back episodes, before airing two new episodes every week until the series finale on December 26, 2022. 
Based on "The Amber Spyglass," the final novel in Philip Pullman's award-winning trilogy, in the final chapter of this epic fantasy series, Lyra (Dafne Keen), the prophesied child, and Will (Amir Wilson), the bearer of The Subtle Knife, must journey to a dark place from which no one has ever returned. As her father's great war against the Authority edges closer, they will learn that saving the worlds comes at a terrible price.