His Dark Materials Season 3 Trailer: This Is The Final Rebellion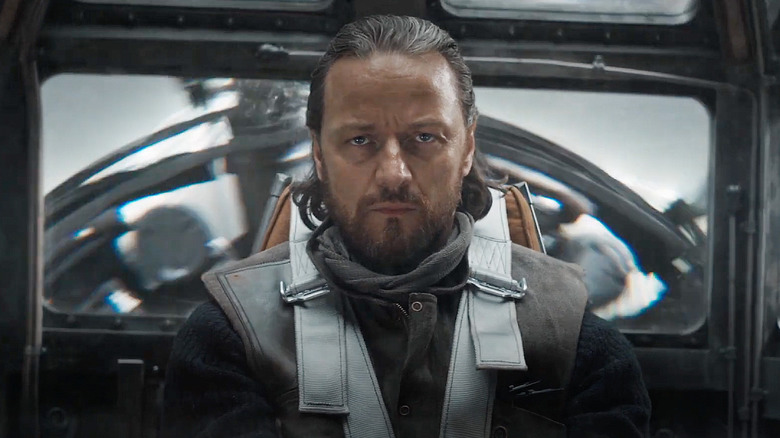 HBO
"There are forces out there, Lyra, that you can't begin to understand."
So says everyone's favorite bad mother, Marisa Coulter (Ruth Wilson), at the start of the long-awaited trailer for "His Dark Materials" season 3. The promo makes good on that promise, too, showing the series' heroes Lyra (Dafne Keen) and Will (Amir Wilson) getting caught up in the middle of a war between Lyra's equally bad dad Lord Asriel (James McAvoy) and all the powers at the Authority's disposal. Also, there are angels, some familiar witches, and Lin-Manuel Miranda as Lee Scoresby (!), who's (sorta?) back from the dead after his tragic demise at the end of season 2.
All this and more awaits us in season 3, which adapts the third and final entry in Philip Pullman's "His Dark Materials" novel trilogy "The Amber Spyglass," aka the weirdest (and, some might argue, most sacrilegious) chapter in Pullman's subversive re-imagining of John Milton's epic poem "Paradise Lost." Keen echoed that sentiment in a recent interview with Entertainment Weekly, calling season 3 "100 percent the weirdest thing I've ever shot in my entire life." The season's official synopsis reads as follows:
Based on "The Amber Spyglass," the final novel in Philip Pullman's award-winning trilogy, in the final chapter of this epic fantasy series, Lyra (Dafne Keen), the prophesied child, and Will (Amir Wilson), the bearer of The Subtle Knife, must journey to a dark place from which no one has ever returned. As her father's great war against the Authority edges closer, they will learn that saving the worlds comes at a terrible price.
Watch the trailer for His Dark Materials season 3
Other season 3 cast members include Simone Kirby as Mary Malone, Will Keen as Father President McPhail, Jade Anouka as Ruta Skadi, Ruta Gedminstas as Serafina Pekkala, Adewale Akinnuoye-Agbaje as Commander Ogunwe, Jamie Ward as Father Gomez, Amber Fitzgerald-Woolfe as Ama, and Kobna Holdbrook-Smith, Simon Harrison and Chipo Chung as the rebel angels Balthamos, Baruch and Xaphania. Head writer Jack Thorne has also created a brand-new Angel character, named Alarbus, who will mainly interact with Asriel and "help contextualize what's going on in the kingdom of Heaven," as show-runner Jane Tranter informed EW.
As you may recall, "His Dark Materials" season 2 was originally going to feature an additional episode (one composed of brand-new material written by Thorne) devoted to revealing what Lord Asriel was up to all season long, laying the foundation for his much-larger role in season 3 and, by the sound of it, partly filling the role it seems Alarbus will now serve. But even without that extra hour, which sounded fascinating but was scrapped due to the pandemic, season 2 was a significant improvement on season 1, and it looks as though the fantasy series' third and final outing might be its best one yet. The fact the trailer alone features just as much Iorek Byrnison as season 2 means it's off to a grand start.
"His Dark Materials" season 3 will debut two back-to-back episodes on HBO on December 5, 2022, with two new episodes debuting each week after leading to the series finale later that month on December 26.