J. Lee Took The Long Road To His Leading Role In The Orville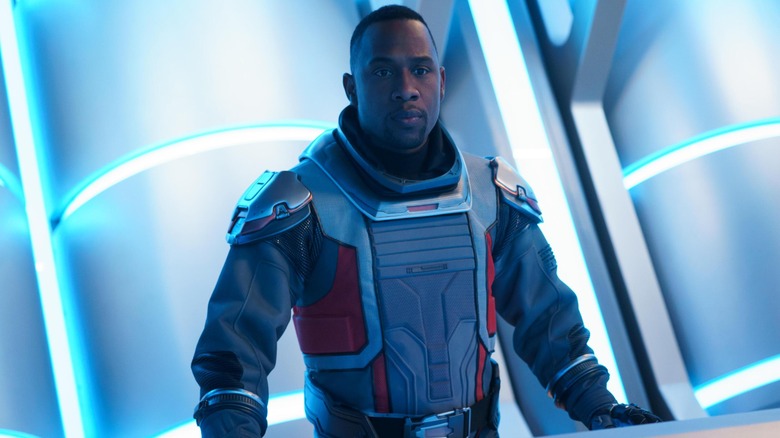 Hulu
Everyone in Hollywood seems to have a unique story about how they got there. J. Lee, who plays Lieutenant Commander John LaMarr in "The Orville," is no different. He's bounced around Hollywood since 2005, mostly getting bit parts with generic titles like "Partygoer 1" and "Bouncer" — or even worse, uncredited appearances.
In 2017, Lee finally got his big break. He was cast as LaMarr in Seth MacFarlane's sci-fi comedy/drama and loving homage to "Star Trek." The role has allowed Lee to show off his range with a character that is both bright and charismatic. "I think it's cool to see different sides of John," Lee said discussing his character while on the Quantum Drive podcast. "I kinda made a joke in the first few episodes, like 'Leave it to LaMarr' because he's scrambling, trying to figure out ways to fix things, fix a problem, whatever, so it's been cool."
Although Lee has finally found success as an actor, it was a non-acting job that he took shortly after arriving in Los Angeles that paved the way for eventual onscreen success.
He started as a receptionist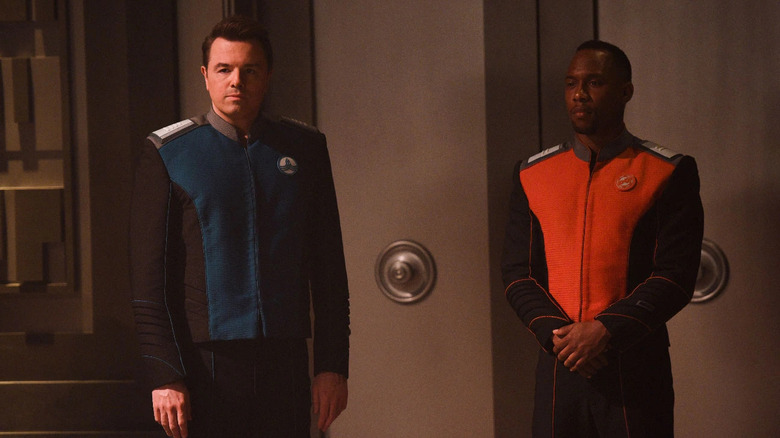 Fox
Lee is a bit of a renaissance man, skilled in acting, writing, and music. He explained to British Thoughts Magazine why he was drawn to the entertainment industry. The actor said:
"My father used to always take me to the movies as a kid. I believe the ability to use art to touch and impact other people is extraordinary, which is why I also write, direct, produce, and still play the piano. I love doing all of it and still find myself learning and trying to get better every day."
The St. Louis native majored in theater and piano at Indiana University. After graduating, he set his sights on Hollywood with the expectation of making it big right away, but as is often the case, that didn't happen.
With just $200 in his pocket and a failure to land any roles in his first month there, Lee took a job as a production company receptionist. He wasn't even familiar with the company's work, he just needed a job. The big show was "Family Guy" and the production company was Seth MacFarlane's Fuzzy Door Productions.
But even as MacFarlane's entertainment empire grew, Lee had to continue waiting for his opportunity.
He wasn't taken seriously as an actor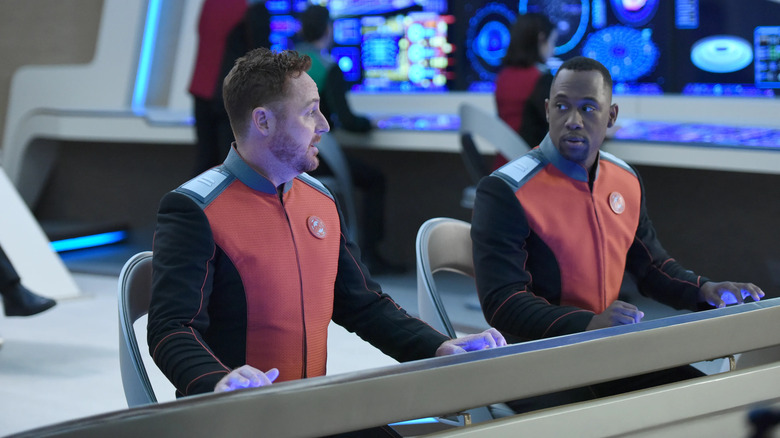 Fox
You might think working for a production company might give an actor a leg up for a role, but that wasn't the case for Lee. Even after doing some voice work and writing for "Family Guy" and "The Cleveland Show," some at Fuzzy Door still only saw Lee as the receptionist.
According to "The Orville" co-star Scott Grimes, Lee's job at the company was a roadblock of sorts. "I think the hurdles you had to go over to get this part were even bigger," Grimes said to Lee in an interview with Screen Rant. "But you [Lee] still had to talk 20 other people into hiring you who knew you were a receptionist, just because they went, 'Oh, so he's not an actor?' and it was like, 'No, he is an actor!'"
Lee eventually got the part, his first major onscreen role, 12 years after moving to Hollywood.
Lee's $200 bet on himself in 2005 is finally paying off. In addition to his role in "The Orville," Lee wrote, directed, and starred in the 2020 dark comedy "aTypical Wednesday." It was Lee's feature directorial debut, but with his penchant for creating art, likely not his last.
"If you would have told me then that this would have been my trajectory, I would have laughed," Lee said. "There's no way I would have thought this would have happened. It's been an interesting ride."