Ranking Every Season Of Family Guy From Worst To Best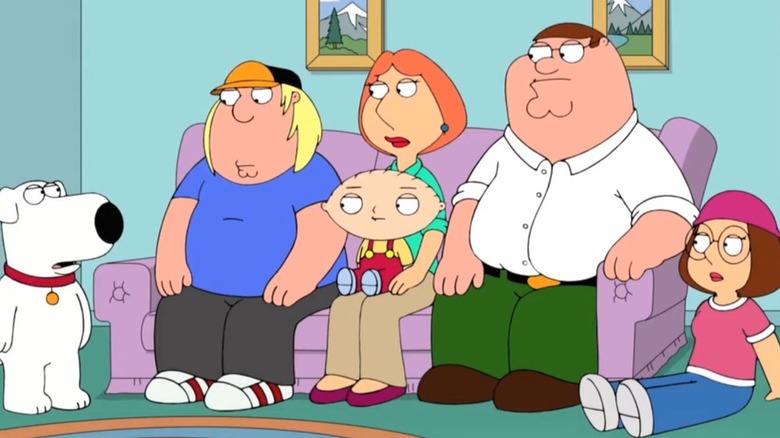 Fox
Since 1999, "Family Guy" has been a staple of Fox's adult-animation programming block. Inspired by "The Simpsons," Seth MacFarlane's "Family Guy" initially aired for three seasons on Fox. Due to its low ratings, Fox canceled "Family Guy" twice — once in 2000 and again in 2002. However, the show's DVD and Adult Swim syndication sales performed well, leading the network to revive the show for a season 4 in 2005. The revival history of "Family Guy" solidified the show's network home — even if creator Seth MacFarlane now regrets the show's connection to the Fox network.
"Family Guy" follows Peter Griffin's (Seth MacFarlane) family: his wife Lois (Alex Borstein), his daughter Meg (voiced by Lacey Chabert in season 1 until Mila Kunis took over the role from season 2 onward), his sons Chris (Seth Green) and Stewie (MacFarlane), and his dog Brian (MacFarlane). MacFarlane's series is famous for its irreverent and boundary-pushing humor. While not all of the show's crass comedy works, "Family Guy" has endured despite (or because of) its bawdy humor. Here's a list of all 20 seasons of "Family Guy," ranked from worst to best. Every season has high and low points, but here's why some are considerably stronger than the rest.
20. Season 11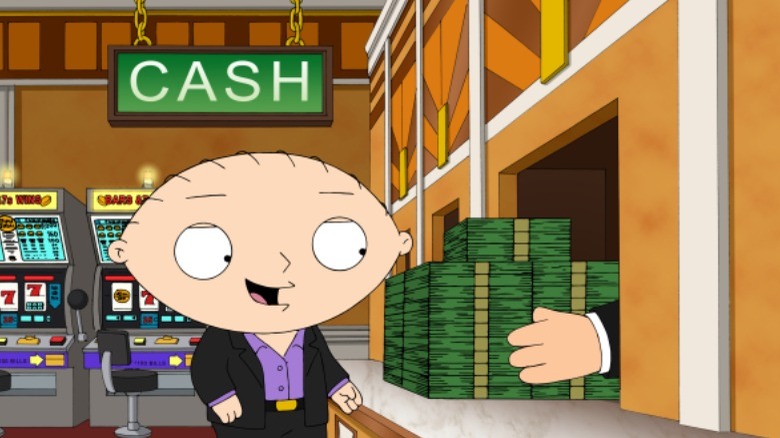 Fox
"Family Guy" is unique, vacillating wildly between a grounded family sitcom and an irreverent spectacle. While fellow animation bedfellows like "Bob's Burgers" are constrained by similar rules — for the comedy to work, explicit character growth must remain ephemeral — "Family Guy" plays it considerably looser. As the citizens of Quahog, Rhode Island amble about, a "Family Guy" episode is just as likely to narrow in on one character arc as it is to devolve into whatever ridiculous mess MacFarlane has envisioned for the Griffin family's world.
However, "Family Guy" season 11 is a weak batch of episodes. Season 11's premiere episode, "Into Fat Air," follows the Griffin family scaling Mount Everest, but it ends with mixed results. The themed episode "Valentine's Day in Quahog" had the potential to work as a meta-exercise, as it features all of Brian's ex-girlfriends. However, it feels half-baked — replacing genuine humor with surface-level awareness. Sure, audiences might recognize faces and series callbacks, but that doesn't make a show funny. Still, the season 11 finale, "Road to Vegas," is noteworthy. There, Brian and Stewie travel to Vegas in dual timelines. As with past "Road to..." episodes, there's a subversively dark approach that showcases the gallows humor "Family Guy" excels at doing.
19. Season 1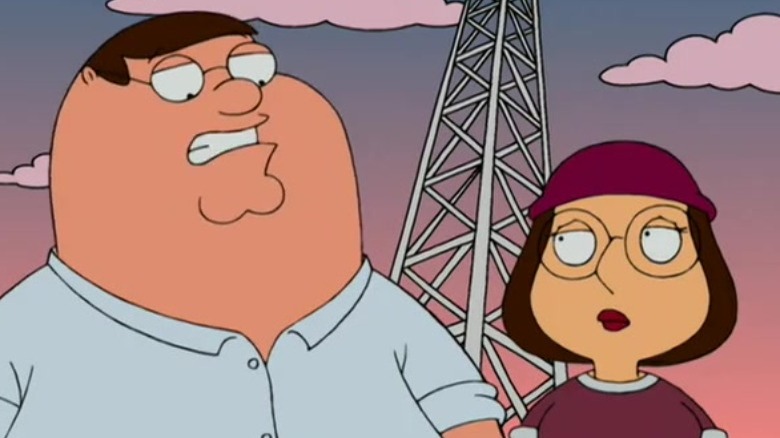 Fox
Millennial fans of modern-day "Family Guy" might have (understandably) missed watching the first three seasons. Truthfully, they're not missing that much. A product of its time, the early seasons of "Family Guy" are difficult to reconcile with the show in its present form. The animation is ugly, and the voice acting lacks that committed verve that abounds in the series' later seasons. Notably, Alex Borstein received several Emmy nominations and won one Emmy for her voiceover work as Lois Griffin and Tricia Takanawa during the show's later seasons.
Contemporary "Family Guy" episodes shifted character traits from earlier seasons. Season 1 Stewie sheds his "uncertain" sexuality (as "Family Guy" writer Gary Janetti noted to TVLine in 2018), for a lackluster sinister baby routine. All Stewie wants to do in season 1 is kill his mother, and there's little character development beyond that. While some of the cutaway jokes work well, the truncated season order of seven episodes is unconvincing. Overall, season 1 feels more akin to a trial run of what the show could be — despite not coming anywhere close to where it eventually lands.
18. Season 12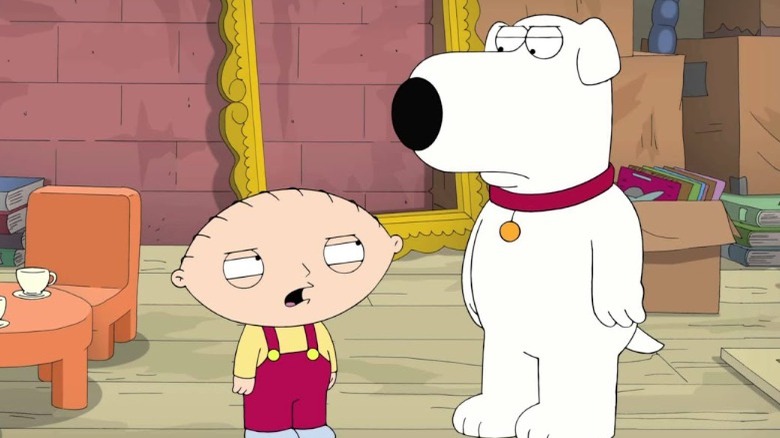 Fox
While season 11 is the weakest of what "Family Guy" has to offer, it did go out on a high note with "Road to Vegas." As a result, expectations were reasonably high for its season 12 return. "Family Guy" faced controversy with the previous season's release of "Turban Cowboy," an episode depicting Peter running over Boston Marathon runners one month before the Boston Marathon bombing. Season 12 aimed to recalibrate the show's comedy and get the series back on track.
Unfortunately, anything but that happened. The "Vestigial Peter" episode is gross, and international forays to Italy with the episode "Boopa-dee Bappa-dee" scrape the bottom of the barrel with its anti-Italian sentiments and jokes, never elevating the material beyond cheap Mario and Luigi gags. Notably, however, season 12 temporarily killed Brian in "Life of Brian." Over 127,000 fans signed an online petition to bring Brian back — despite the "Family Guy" creative team's secret plan to revive Brian. While keeping Brian dead would have been the wrong call, "Family Guy" finally tried something different. It's a shame they were so quick to reset the show's landscape.
17. Season 17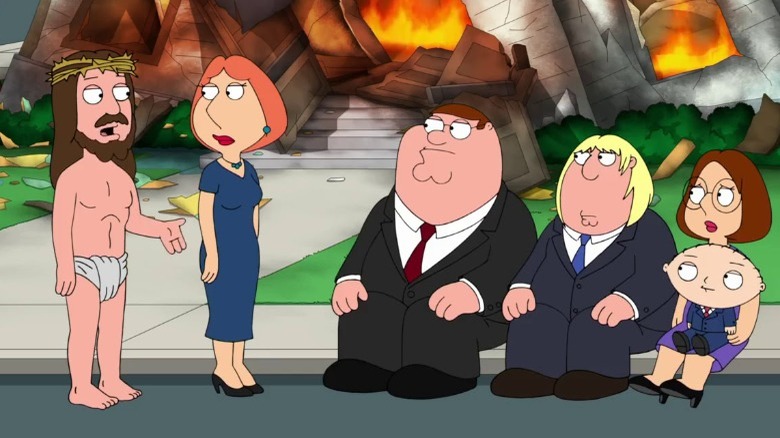 Fox
At least, season 17 of "Family Guy" mixes up its formula. Notably, this season features not just one but two different two-episode arcs. In "Married With Cancer," Brian marries a dying woman named Jess (Casey Wilson). It's not incredible stuff, but it's more of the grim humor "Family Guy" does best. In "Trump Guy," Peter gets a job as President Trump's press secretary. While it never probes as deep as it could — regressing into predictable "Trump is a buffoon" comedy that defined 2016's electoral landscape — it does prove it's more willing to try contemporary satire.
Unfortunately, the rest of the season is nowhere near as strong as its premiere. At times, season 17's comedy veers toward offense for offense's sake. In "Trans-Fat," Peter identifies as transgender. In "You Can't Handle the Booth," the show becomes a meta-exercise in self-awareness with its characters playing themselves as they record commentary for a forthcoming "Family Guy" DVD release. While this season has good ideas, weak jokes, offensive jabs, and repetition constrain their potential.
16. Season 15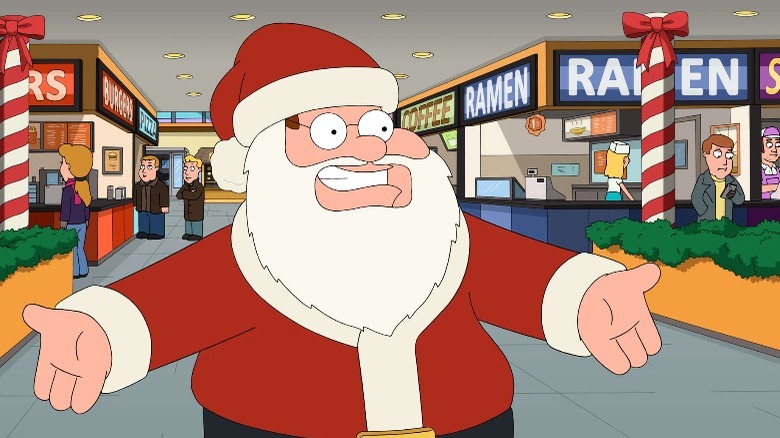 Fox
"Family Guy" ratings for season 15 dropped, bringing in an average of 3.93 million viewers, whereas season 14 (not counting its encore episodes) brought in 4.2 million viewers. This season does, in theory, endeavor to return to its original form, releasing several self-contained episodes tied into contemporary pop culture. In "Chris Has Got a Date, Date, Date, Date, Date," Chris dates Taylor Swift, a mildly amusing jab at the then-trend of asking celebrities to prom. Rob Gronkowski moves next door to the Griffins in "Gronkowsbees," and while it's little more than an opportunity for a celebrity cameo, it's harmless fun.
Yet, like the earlier seasons of "Family Guy," the jokes here vacillate wildly, shifting from mildly offensive to not funny. "Family Guy," once on par with the likes of the ahead-of-its-time animated series "South Park" and "The Simpsons," has struggled to retain that success. Unlike the comedy of "South Park," its satire veers wildly off-course and loses focus. A lot of season 15 yields promise, though it never takes its premises all the way.
15. Season 3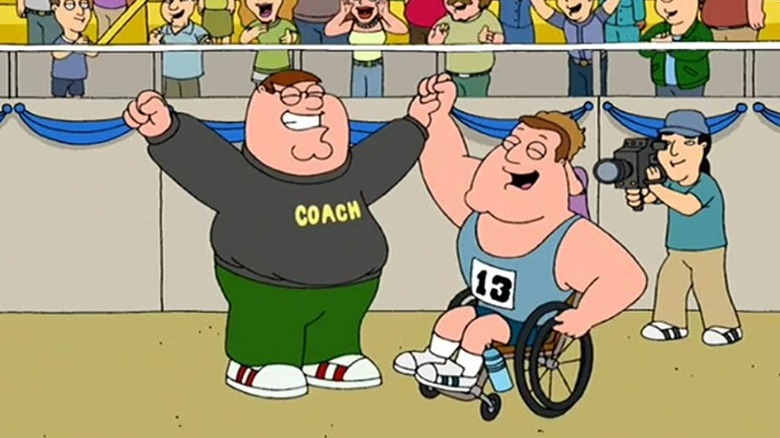 Fox
After its second season, Fox canceled "Family Guy." Although the show would be canceled again after season 3, this season still marks the first time "Family Guy" resurrected itself to inundate the world with irreverent humor. While season 3 yields considerably more promise than the show's first season, it still feels like an incomplete show, especially following a strong season 2.
While "Brian Wallows and Peter's Swallows" won an Emmy award for best original song, season 3's narrative is inconsistent. Notably, this season includes several unaired episodes produced for season 2, which might explain the narrative gaps. Compared to season 2, season 3 has "Family Guy" resting on the laurels of its past season rather than looking to innovate its humor with clever incorporations of cutaway gags and pop culture references. Still, the likes of "Mr. Griffin Goes to Washington," where Peter takes on big tobacco, and "Road to Europe," the second in the "Road to..." series of episodes, are classic "Family Guy." Sadly, those episodes don't compensate enough for this season's recycled material. If the show ended at this point for good, it likely wouldn't be missed.
14. Season 4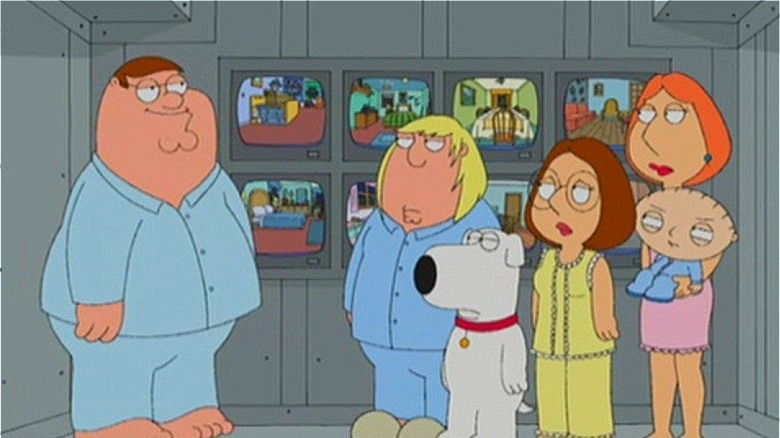 Fox
Season 4 is a considerable improvement for "Family Guy." Compared to earlier (and later) seasons, season 4 resembles the parts of the show fans know and love most. Its animation is tighter, the voice cast feels committed, and the show's structure is solid. Irreverent jokes, cutaway gags, and quasi-overarching stories are the crux of the series: here, these elements shine. Overall, this formula leads the show's future seasons to success.
With two cancellations under its belt, season 4 has some growing pains. Throughout its 30 episodes (the longest of any season), it has more winners than losers. Season 4's premiere episode, "North by North Quahog," where Peter teams up with Mel Gibson, is one of the show's best episodes ever. "Breaking Out Is Hard to Do" depicts the show's burgeoning interest in exploring character arcs beyond Peter, Brian, and Stewie. "Petergeist" has the show playing with holiday specials, and "Stu and Stewie's Excellent Adventure" is a dour, existential two-part story that represents the best of what "Family Guy" can do.
13. Season 13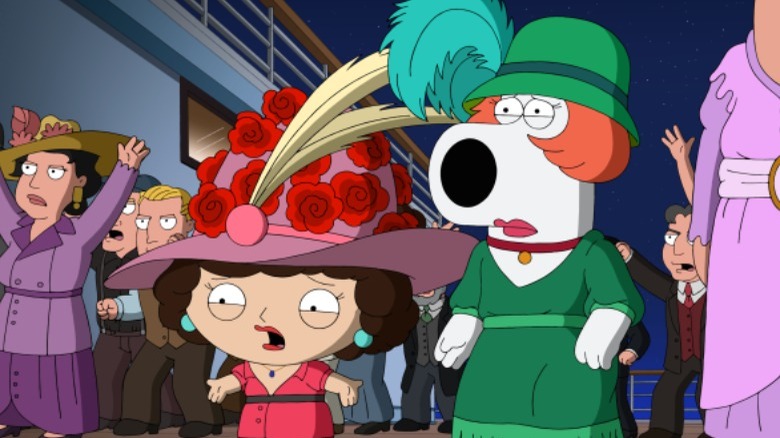 Fox
"Family Guy" season 13 has what could have been a memorable episode for the show. In "The Simpsons Guy," the Griffins find themselves in Springfield, spending time with various characters from Fox's "The Simpsons" in a 44-minute crossover event. Unfortunately, it doesn't show either series at its strongest. While there's promise in its pairings — Meg and Lisa (Yeardley Smith) and Stewie and Bart (Nancy Cartwright) – it amounts to little more than a singular protracted gag: everything the characters of "Family Guy" do, "The Simpsons" claim to have done it first.
Following its premiere, season 13 settles into a guest-star-focused routine, featuring actors like Julie Bowen, Liam Neeson, and Maya Rudolph. But the focus on these guest roles doesn't amount to much — like in "Fighting Irish," Peter insists on fighting Neeson. That's all there is to that episode. While its season finale, "Take My Wife," probes the rocky state of Peter and Lois' marriage, it resets quickly — never unearthing the all-too-real humor "Family Guy" expertly doles out. Season 9 is more middling than anything. However, the show's animation and voiceover work remain top-notch. While this season doesn't soar, it's passably compelling and funny. Compared to season 4, this middle-of-the-road season ranks higher for having a few more solid episodes.
12. Season 18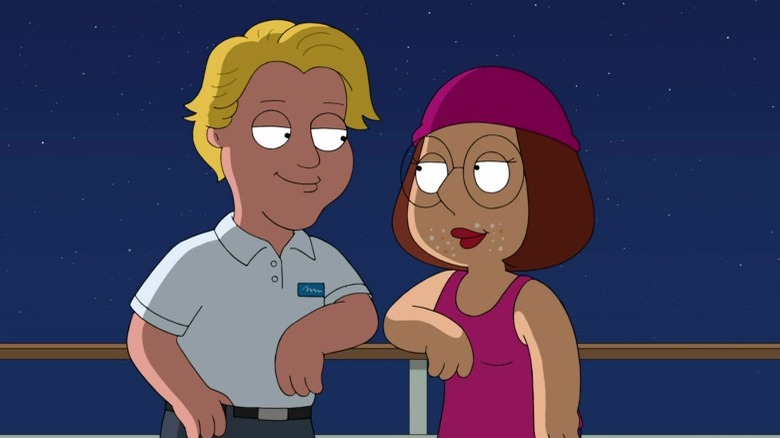 Fox
Animated shows have a unique capacity to endure. Where live-action shows like "Modern Family" face the constriction of cast members aging in real life, "Family Guy" can keep characters locked into the same age. Stewie doesn't need to age. Peter and Lois remain the same. For animated programs, that's a boon and a curse. At times, having characters stay the same age forever can lead to a lot of narrative wheel-spinning.
Sadly, season 18 of "Family Guy" is definitely spinning its wheels. Like some of the later seasons, nothing is outright terrible. But the show lacks the kind of irreverent charm and gangbuster gags the early seasons deployed so well. "Yacht Rocky" is a weak way to start the season, coasting by the skin of its licensed soundtrack alone. Meta-episode "Disney's The Reboot," a commentary on Disney's purchase of Fox, never probes as far as it could. Only "Rich Old Stewie" and "Baby Stewie" (notice the pattern here) have that perfect balance between ridiculous humor and genuine pathos. Season 18 is just the slightest bit funnier than season 13, though. Stewie deserves most of the credit, hinting at what later seasons will do better. Eventually, "Family Guy" recognizes that Stewie is the show's MVP.
11. Season 14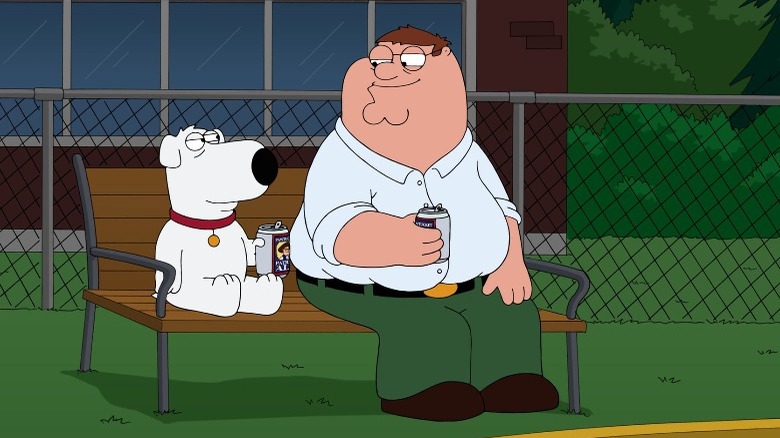 Fox
Season 14 of "Family Guy" was another veritable hodgepodge of unusual guest stars. Stars like Liam Payne, Kyle Chandler, Glenn Close, and John Mellencamp pop in for bit parts here and there. While not outright bad, Season 14 still doesn't quite reach the level of being consistently entertaining. For every animated winner, there's a dud among the bunch.
"Pilling Them Softly" has some noteworthy social commentary as Stewie is diagnosed with ADHD and prescribed medication. "Peternormal Activity" shows Peter trying to make a horror movie. While they're not quite classic episodes in any respect, they're fun for what they are, occasionally reaching the vicious satire the show can achieve when it really sets its mind to it. Yet, the duds spoil the bunch, and "A Shot in the Dark," a foray into police violence and systemic racism, barely grazes the surface. "Family Guy," like "South Park," is in a unique position when it comes to handling sensitive topics with aplomb, but 14 seasons in, it amounts to being as insightful as Facebook post someone's great aunt shared.
10. Season 16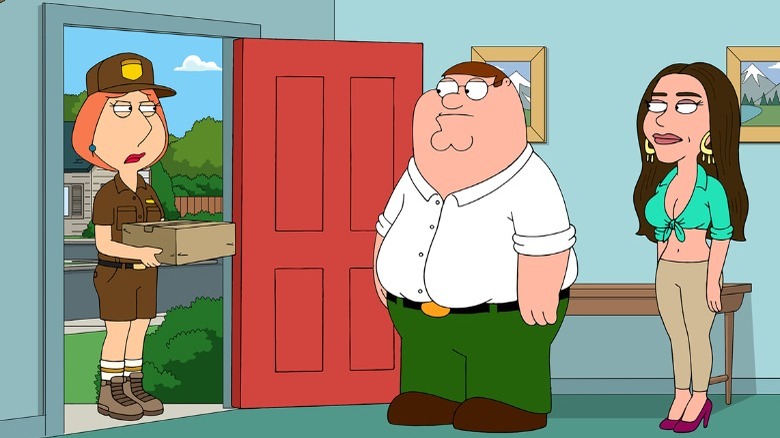 Fox
Season 16 is an arguable high point in the later years of "Family Guy." While that might seem like faint praise, the inconsistency of the show's foray into the new decade renders that a compliment for this season. A huge component of its success goes to "The D In Apartment 23," the first of a three-episode arc that sees Brian branded a social pariah after sending an offensive tweet. Unlike "A Shot in the Dark," Seth MacFarlane and company genuinely probe Brian's predicament. The episode never lets Brian off the hook and never devolves into exhaustive "cancel culture" territory.
While the rest of the season isn't quite as strong, there are still some winners. "Dog Bites Bear" sees the show's final appearance of the late Adam West and Carrie Fisher. "Send in Stewie, Please," while controversial, sees Stewie meeting with a child therapist in a meta-exploration of Stewie and show creator MacFarlane. Season 13 took bold risks. If nothing else, that's admirable for a long-running series like this one.
9. Season 2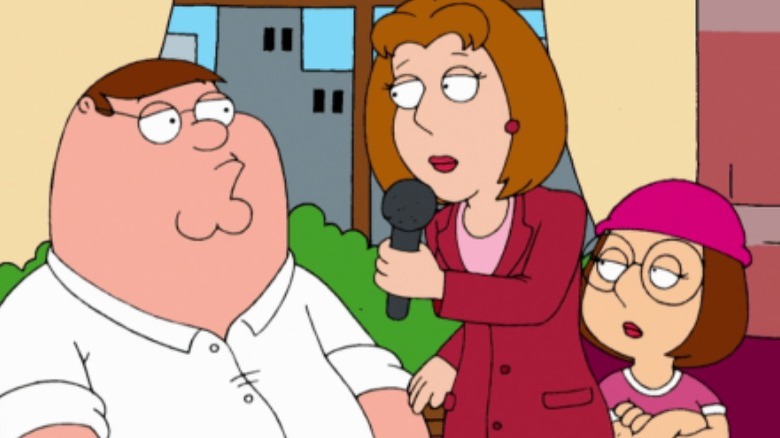 Fox
Arguably, season 2 is what saved "Family Guy" from its first cancellation. Despite being the season that resulted in the show's cancellation, its episodes were strong enough to perform well in syndication, prompting the network to pick the show up for a third (and again, ostensibly last) season years later.
Season 2 is the strongest of the original three-season run of "Family Guy." Yet, the series still hadn't developed into what it would be. But when the jokes are so consistently funny, it's hard to mind. "Road to Rhode Island" is the show's first "Road to..." episode, a consistently winning formula that has Stewie and Brian embarking on some wild quest together. Objectively, their pairing is the show's strongest dynamic. "Family Guy" rarely misses when Brian and Stewie — with both roles portrayed by MacFarlane — team up. "The Story on Page One" is clever, with Meg inadvertently outing actor Luke Perry as gay. "He's Too Sexy for His Fat" has "Family Guy," perhaps for the first time, endeavoring to be body positive. This season is strong enough to justify fan interest and represents the starting point of "Family Guy" figuring out its identity in a crowded adult-animation landscape.
8. Season 19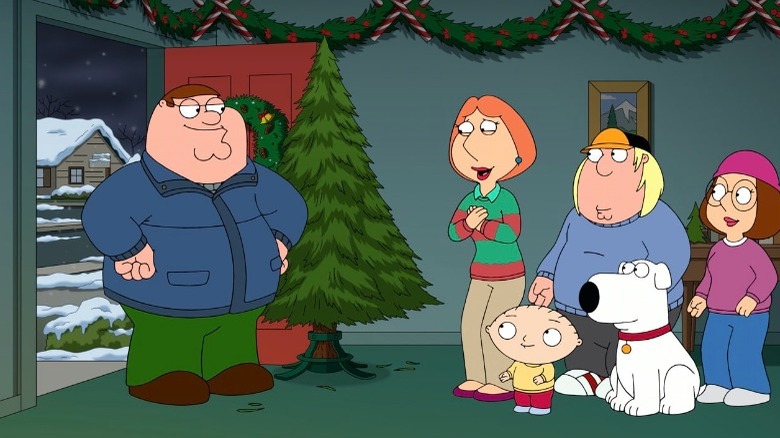 Fox
Season 19 of "Family Guy" is one of the strongest since its post-revival heyday. While season 19 might not be classic television, it is consistently solid. This batch of episodes closely resembles what The New Yorker once described "Family Guy" as "laugh-out-loud" and "timelessly loopy." Changing things up a bit with the arrival of Sam Elliot (portraying himself) as the new mayor of Quahog, season 19 was a critical season for the show. After being on the air for almost two decades, this season delivered fresh and funny material.
Episodes like "Stewie's First Word" is the kind of standard fare "Family Guy" usually avoids, but it works as a gangbuster-season-opener. "The Talented Mr. Stewie," a riff on "The Talented Mr. Ripley," is dated, sure, but it's abounding with the kind of pop culture love that elevates Seth MacFarlane's commentary work. Later season episodes like "Meg Goes to College" and "Family Cat" pull-off considerable laughs with simple premises. While season 19 ends on a low note with "Tales of Former Sports Glory," one of the show's weakest anthology episodes, it's hard to care when so much of what came before was exceptional.
7. Season 20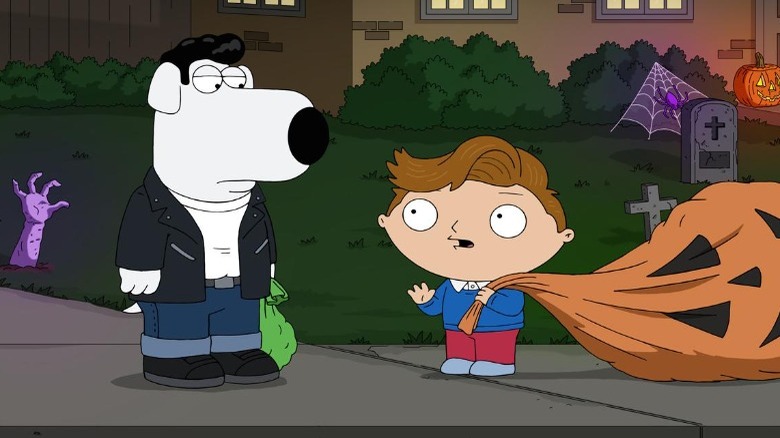 Fox
Bold as it might seem to say, season 20 of "Family Guy" was one of its strongest showings ever. That's no small feat for any show, let alone a show like "Family Guy," one untethered to anything but the whims of the creative forces behind it. Despite the season's declining ratings, season 20 solidifies "Family Guy" as being as relevant as ever. In other words, it deserves to hang around for a little while longer.
Much like the season that came before, season 20 doesn't reinvent the wheel so much as it churns it consistently. The jokes land considerably more often than they miss. While there are no big narrative shakeups, the sociopolitical landscape of 2020 created fertile ground for comedy that, more than ever, punched up than it punched down. "80's Guy" sees the show tackling Hollywood's current wave of 1980s nostalgia in shows like "Stranger Things" with self-referential wit. "Family Guy" culls from that decade more than any other show has. Following HBO's ongoing debate on how much content (if any) HBO Max will have, "HBO-No" is more relevant than ever. "Prescription Heroin," in its own way, shows more courage in tackling prescription painkiller addiction than most network dramas ever have.
6. Season 7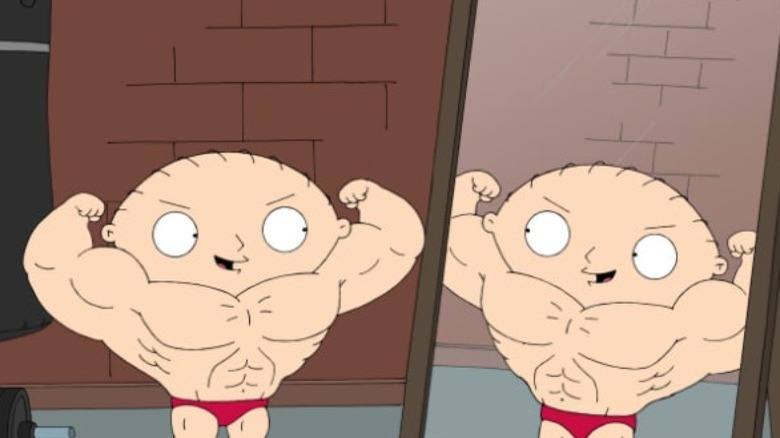 Fox
Season 7 exists within the "Family Guy" sweet spot of classic episodes. The entire slate of seasons 5 through 10 is the best example of what "Family Guy" fans mean when they say they love "Family Guy." These seasons are the ones that make it easier to endure a repeat cutaway gag here or a lazy joke there. If there's any chance of the show achieving these same heights again, it's worth trudging through the mire of something like season 17. With more focus on narrative arcs and ongoing storylines, this season became its first (and only) season to transcend its animated status and receive a Primetime Emmy nomination for outstanding comedy series.
"Road to Germany" is arguably the best "Road to..." entry ever. The iconic episode "Stew-Roids" has been memed to death for a good reason. "Three Kings" cleverly adapts Stephen King's texts, and "We Love You, Conrad" is abounding with genuine pathos — showing Brian struggling to accept that his ex, Jillian (Drew Barrymore), is getting married. Truly, this season barely breaks away from the pack. Comparatively, season 5 is more consistently funny, and season 10 has ongoing arcs that easily beat season 7. Make no mistake, though: Season 7 contains impressive work, just not as a collective whole like the series pulled off with other seasons. Also, "I Dream of Jesus" is an episode that's so infuriatingly grating that it somewhat mars the season writ large.
5. Season 5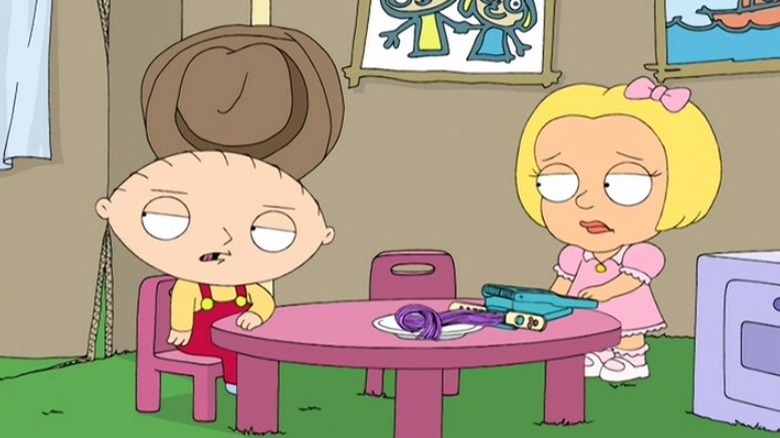 Fox
As strong as season 7 is, season 5 just edges it out. The second season to air following its double revival, season 7 was a make-or-break moment for Seth MacFarlane's work. With two cancellations under its belt, the novelty of "Family Guy" simply enduring wasn't enough anymore. Here, the show needed to prove its muster in a crowded adult-animation landscape. Luckily, it did so with aplomb.
"Barely Legal" has Meg becoming obsessed with Brian after he takes her to prom, delving into the icky and look-away-if-you-dare humor the show does best. "Stewie Loves Lois" is a comedic masterclass, showing a clever reversal of Stewie's ethos as he becomes obsessed with Lois, briefly treating her as any infant would treat their mother. "Road to Rupert" is another successful "Road to..." outing, and "No Chris Left Behind" is a caustic, noteworthy response to Bush-era politics. In 18 episodes, "Family Guy" proved it's more than an ephemeral novelty show.
4. Season 10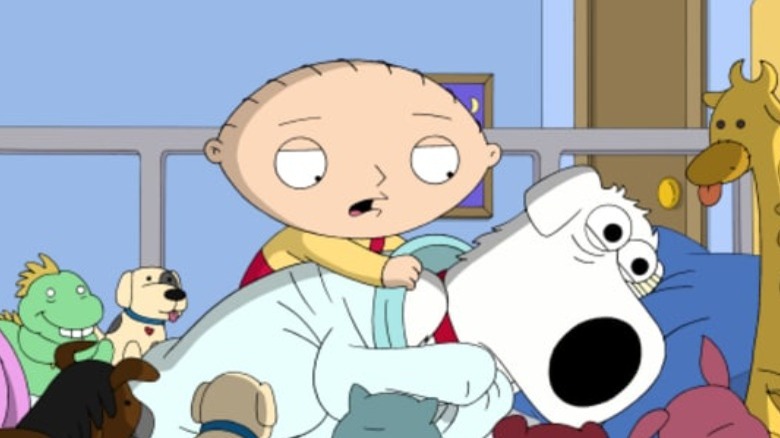 Fox
Season 10 of "Family Guy" has some of its most harrowing episodes ever. While the show has never necessarily shied away from sensitive topics, season 10 was an entirely different beast — delving into territory the show never visited before and hasn't returned to since. In the controversial episode "Screams of Silence: The Story of Brenda Q," Quagmire (Seth MacFarlane) endeavors to save his sister Brenda (Kaitlin Olson) from an abusive relationship with her boyfriend Jeff (Ralph Garman). However, the episode culminates in Jeff's death at the hands of Peter, Joe (Patrick Warburton), and Quagmire. The episode attracted a lot of negative feedback for its tonal whiplash, shifting between irreverent comedy and depictions of interpersonal violence.
Famously, season 10 also includes "Seahorse Seashell Party," a crossover event that saw "American Dad" and "The Cleveland Show" tackling hurricane-themed episodes. Overall, it's an explosive episode, showcasing Meg snapping at her bullying family. She viciously accosts them during a long beat that isn't funny at all. While "Family Guy" is trying to have its cake and eat it too this season, there's no denying it represents the show at its darkest.
If you or someone you know is dealing with domestic abuse, you can call the National Domestic Violence Hotline at 1−800−799−7233. You can also find more information, resources, and support at their website.
3. Season 6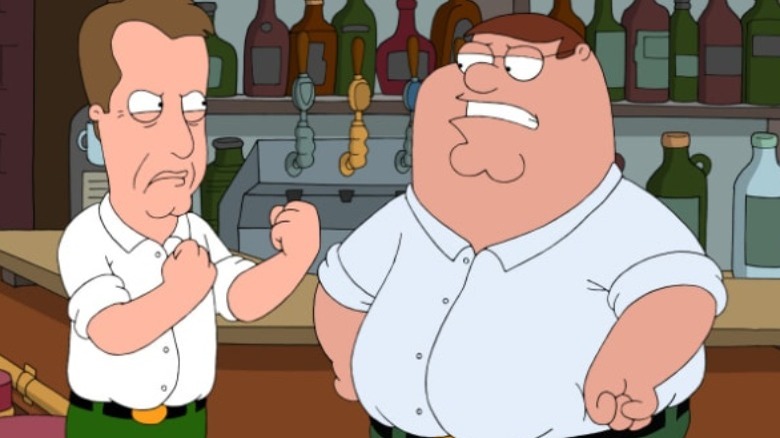 Fox
Whether or not "Family Guy" or "Robot Chicken" handled their "Star Wars" parody episodes better is debatable. Though, it's worth adding that George Lucas was a fan of what "Family Guy" accomplished. It also marked the show's first shot at parody. Aptly titled "Blue Harvest," the episode is considered a success — even the show's detractors are likely familiar with it. Overall, season 6 is a consistently strong season, indicative of Seth MacFarlane's growing confidence in his world and its opportunities to distinguish itself from "The Simpsons."
"Stewie Kills Lois," the first in a two-episode storyline, follows Stewie finally succeeding in his plan to kill Lois. Although the episode backpedals in its final moments, it's still a searing bit of fan service and funny enough to justify its existence. "Play it Again, Brian" features Brian confessing his love for Lois during a weekend away in Martha's Vineyard, causing a schism between him and Peter. With fantastic jokes, solid storylines, and a commitment to character over plot, season 6 is close to the strongest "Family Guy" has ever been.
2. Season 8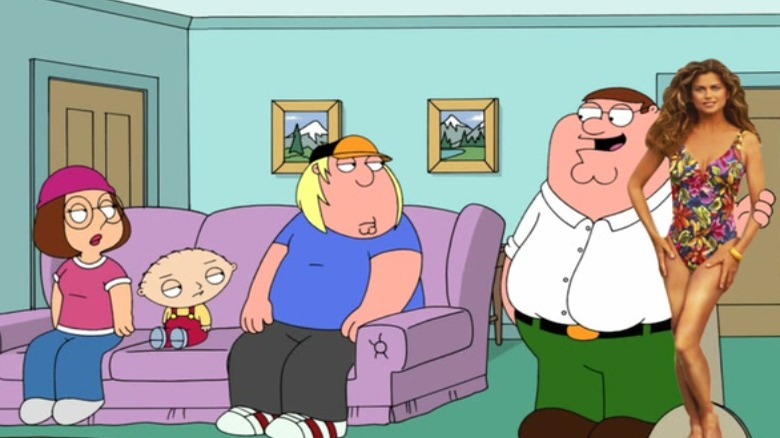 Fox
Yet, for as strong as season 6 is, season 8 is even stronger. Known as deeply controversial, season 8 of "Family Guy" found itself in hot water for jokes over Terri Schiavo, Sarah Palin's daughter, and how it tackled the gender transition of Ida Davis (Seth MacFarlane). Even its season finale, "Partial Terms of Endearment," faced blowback for tackling abortion and Fox banned it from airing in America. While controversy doesn't make a show, it does represent "Family Guy" pushing boundaries with intent. Rather than arbitrarily offending, there are genuine sociopolitical reasons behind its most controversial beats. If nothing else, it's commendable to see a show like "Family Guy" endeavoring to comment on issues with comedy — as it did recently with its "Family Guy" COVID-19 PSA.
The rest of season 8 is a funny mix of disparate threads and bold beats that nevertheless deliver solid comedy. "Something, Something Dark Side," the second in the show's "Star Wars" parody trilogy, is as funny as the first. "Road to the Multiverse" is one of the show's strongest episodes to date. Brian and Stewie travel to several parallel universes in a half-hour abounding with laughs and impressive animation.
1. Season 9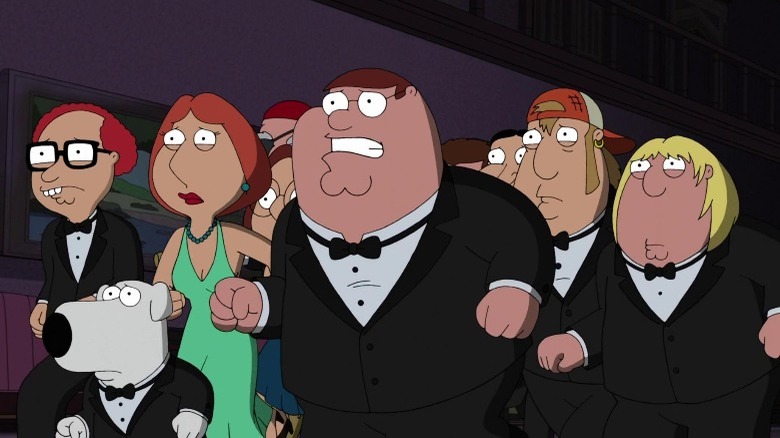 Fox
Season 9 of "Family Guy" is the show's best season and features its best episode: "And Then There Were Fewer." Here, the show riffs on Agatha Christie's controversial novel of the same name, a book that boldly killed off its main characters and followed through on that decision. Animated shows are especially reluctant to kill off characters. But here, "Family Guy" follows through with its decision and brings together a ridiculously-funny cast of guest stars for a weekend of murder and mayhem.
Season 9 ends with "It's a Trap," the final entry in the "Star Wars" trilogy. Other stand-out episodes include — "Brian Writes a Bestseller," a painful foray into Brian's writing dreams, and "Road to the North Pole," one of the darkest "Road to..." episodes the show has done. More than being funny, "Family Guy" is as self-assured as ever within this season. While the show's confidence would wane in later years, it has never reigned as universally strong as it does here.