Stranger Things Has A Secret Weapon For Getting Its '80s Period Details Right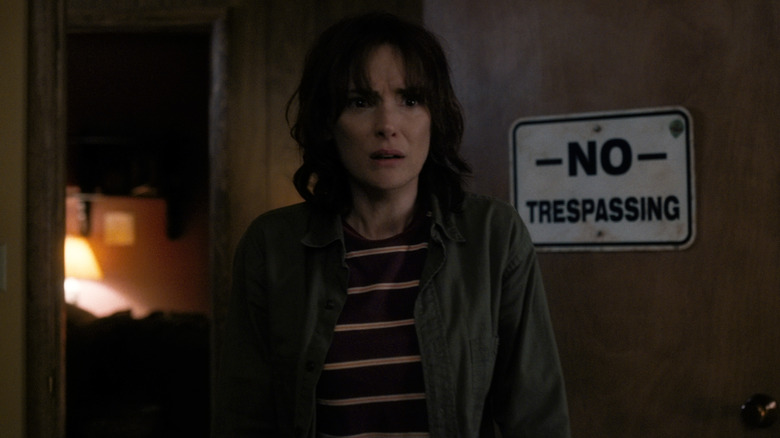 Netflix
As anyone who's seen a period piece knows, the secret to getting the era right lies in the details. However, as anyone who's worked on a film or television set before knows, making sure of the details can be a monumental task. After all, there exists a position on most production crews where someone just watches the sets, props, and dialogue for internal continuity, never mind for historical aspects.
Netflix's "Stranger Things" is a show where its chosen period of 1980s America acts like a character unto itself, but it's certainly far from the only defining element. The series also juggles such unwieldy concepts like teen melodrama, adult angst, shady government conspiracies, creepy crawlies from another dimension, telekinetically powered human beings, and Dungeons & Dragons lore, so there's a lot for any given writer, actor, director, or continuity person to keep an eye on.
Fortunately, the show has its own secret weapon: Winona Ryder, a leading actress whose persona arguably helped define part of the 1980s. Playing the perpetually anxious mama bear Joyce Byers is only one of Ryder's roles on the show, as she also apparently helps advise the creators, Matt and Ross Duffer, on the important details of the decade.
Ryder keeps Stranger Things honest to the '80s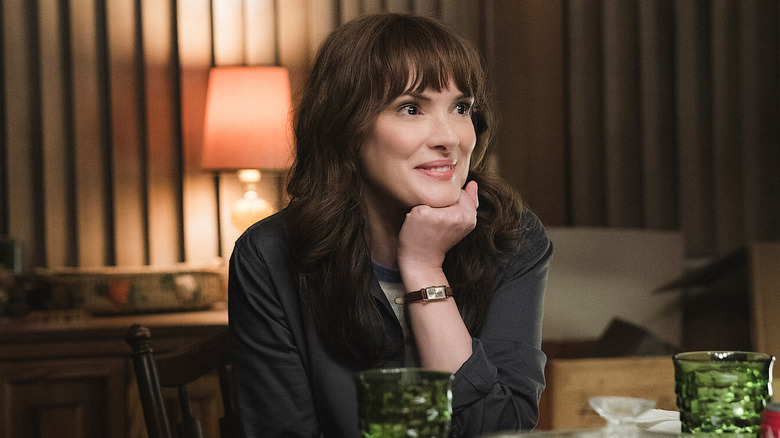 Netflix
Winona Ryder spent almost the entirety of her teen years during the 1980s, which are arguably the most formative years of a person's life. During such years while one's tastes are formed and interests are born, every moment feels like a milestone. In addition to that aspect causing the days of youth to feel special (a quality in which the nostalgia-laden "Stranger Things" revels), it makes things easier to remember, too — like, say, the year a particular movie or song was released.
Ryder is clearly drawing on that memory on the set of "Stranger Things," making sure creators Matt and Ross Duffer (who were much younger than Ryder was during the '80s) pay attention to the period details. As Ryder's costar David Harbour observed in a recent interview with Harper's Bazaar, "It's just kind of epic how wild her mind is and how it goes to all these different corners." Harbour explained how Ryder will often correct the Duffers about the musical anachronisms in some of the scripts: "She'd tell them, 'This song actually came out in '85, and you have it in '83.'"
According to Harbour, Ryder's intimate knowledge of the '80s extends beyond knowing what year a particular song debuted, with the actress helping the Duffers stay honest on a range of period topics. "She knew all of these minute, tiny details they didn't even know, and they had to change things in the script based on that" he told Harper's.
Stranger Things aims not for complete historical accuracy, but for nostalgia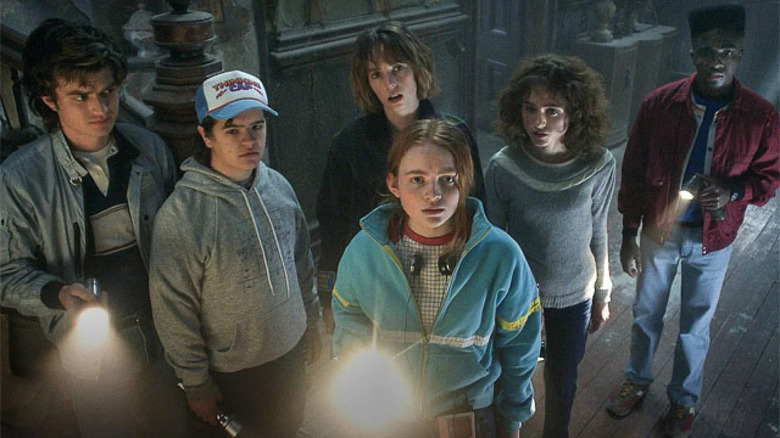 Netflix
Winona Ryder's efforts have mostly paid off for "Stranger Things," the show generally being correct about the release of certain songs, movies, and trends during the '80s. Yet it's clear the series doesn't intend to be a rigid historical document about the decade, either — after all, there is no such thing as the Upside Down.
Just like any given movie or TV series' continuity, "Stranger Things" has ended up with a set of anachronisms. The show's historical accuracy is ultimately difficult to keep straight, especially with regard to needle drop music cues, as some songs are used diegetically (like Kate Bush's "Running Up That Hill [A Deal With God]") while others are not (such as Peter Gabriel's cover of David Bowie's "Heroes" seen in season 1 and 3, a version Gabriel recorded in 2010).
While as much accuracy in detail as possible can only help evoke the show's chosen period, the real aim of "Stranger Things" is to provide a general nostalgic sense of the decade. Letting a few anachronisms slip by every now and again helps the series create a fantasy version of the time period, an '80s that both was and never was, one where a girl can save her friends from deadly monsters with her psychic powers. Still, for those who remember the '80s well or wish to learn more about it, at least we — and the show — have Ryder.