Family Guy Spreads COVID-19 Vaccine Awareness In A New PSA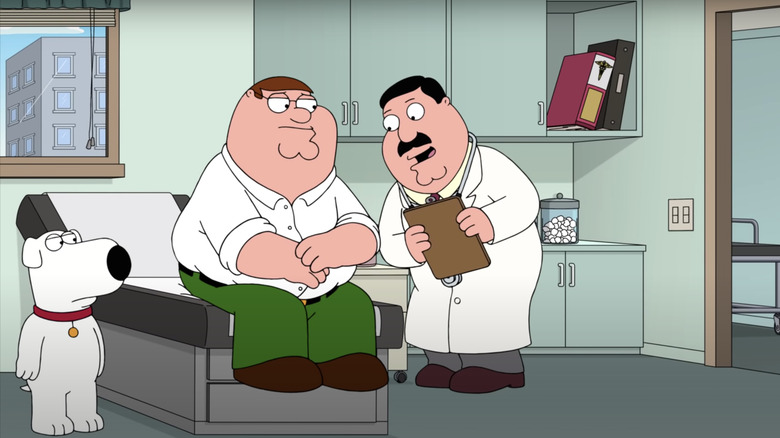 Fox
Conventional methods of convincing people to get a life-saving vaccine during a deadly pandemic that has completely upturned the lives of the global population just aren't cutting it anymore, and it's high time that we take more drastic measures. Inspirational commercials from past presidents are no match for the rampant misinformation flooding social media channels, but an unlikely hero has emerged from the shadows to try and make a difference.
Seth MacFarlane and the producers of "Family Guy" released a humorous three-minute public service announcement starring the Griffin family to educate, entertain, and encourage the millions of unvaccinated people out there to do what is in their and the rest of the population's best interests.
What Happens in the PSA?
The short PSA has all of the staples of an episode of "Family Guy" but crossed with some fourth wall-breaking "Schoolhouse Rock!" educational information and stylized like that episode of "The Magic School Bus" where Ms. Frizzle and the rest of the class shrink the bus down and enter the body of their sick classmate, Ralphie.
Peter Griffin shows up at Dr. Hartman's office feeling a little skeptical about getting vaccinated against COVID-19 when Stewie and Brian teleport inside of Peter's body and explain how the vaccines work. The virus is, of course, modeled after perpetual punching bag Meg Griffin, who gets the crap kicked out of her by the buff animated versions of the vaccine.
Seth MacFarlane co-wrote the episode with the "Family Guy" team of writers, in collaboration with scientific experts and epidemiologists, with "Family Guy" executive producers and showrunners Rich Appel and Alec Sulkin stating in a press release, "We were proud to work with some of the nation's leading immunologists and epidemiologists on this PSA. And while we never understood a single note they gave us, we took them all."
This means that you can trust and believe the "Family Guy" pro-vaccine PSA is filled with more legitimate scientific accuracy than anything that guy who got a C- in your high school biology class who won't stop screaming about "freedom" on Facebook has posted in over two years. Facts.
But Why Family Guy?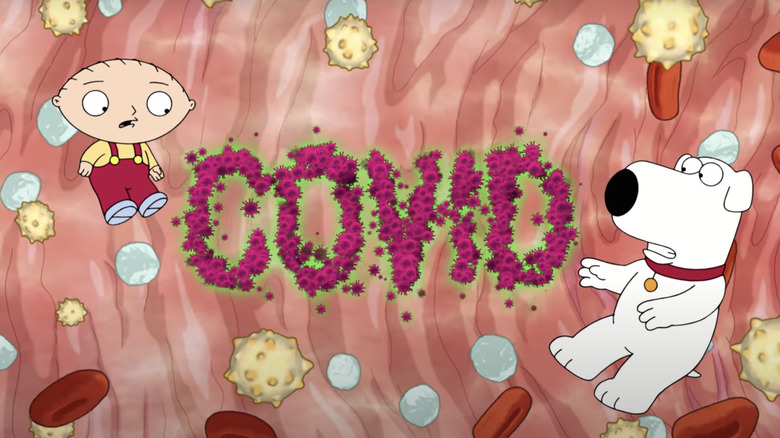 Fox
The "Family Guy" team made the short as a joint production of Fuzzy Door, 20th Television Animation, FOX Entertainment and the Ad Council's "It's Up To You" COVID-19 vaccine education initiative. Lisa Sherman, President and CEO of the Ad Council stated in a release:
With millions of Americans still unsure about getting vaccinated against COVID-19, it's more important than ever that we have smart, informative and entertaining messages like this that will boost confidence in the vaccines. This new work from Seth MacFarlane and the team at FAMILY GUY is bringing critical vaccine information to audiences in a fresh and hilarious way that will surely inspire people to take the next step in slowing the pandemic. We are grateful to our partners at Disney and Fox for their passion and collaboration at this pivotal moment in time.
Since debuting in 1999, "Family Guy" has become an American adult animation staple. Seth MacFarlane is currently tied for the most voice-over Emmy wins of all time for his work on the show, and the series is pending it's upcoming season premiere with its 375th episode. The show is still incredibly popular, so here's hoping these familiar faces can help inspire people to protect themselves and get vaccinated.