Álex De La Iglesia's The Day Of The Beast Originally Read Like A 'Bad Tobe Hooper' Script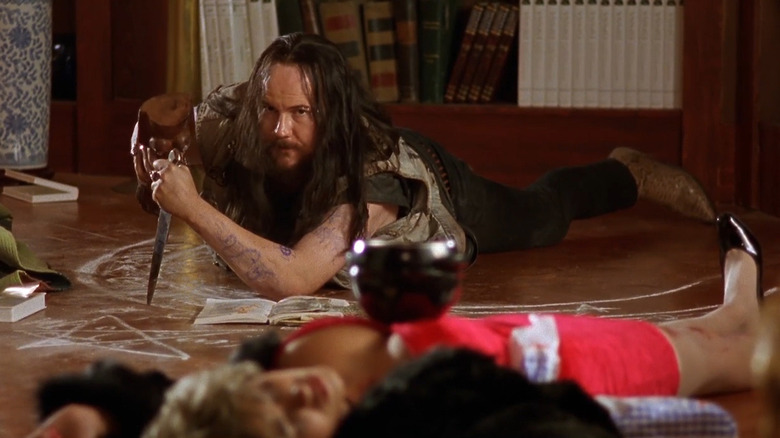 Trimark Pictures
After running through the "Omen" movies, a horror fan might work their way through exorcism movies and the occasional haunted house story to get their occult fix. And there lies an under-seen Spanish-Italian gem. "The Day of the Beast" is touted as a Satanic comedy, and co-writer/director Álex de la Iglesia delivers on that front.
Picking up the absurdist slapstick of past works like "Mutant Action," "Beast" operates at a more frenzied level as it observes a Basque priest (Álex Angulo) on a madcap Christmas Eve mission to foil the birth of the Antichrist. Father Ángel Berriartúa teams up with a metalhead (Santiago Segura) and a paranormal charlatan (Armando De Razza) to enable the clergyman to sell his soul to the Devil, which would grant him a front-row seat (and arms-length access) when the Antichrist emerges. It's a morbid but a fun ride that features a priest getting crushed by a giant cross like a Buster Keaton stunt gone horribly wrong. Nearly three decades beyond its 1995 release, "The Day of the Beast" has become a cult classic and an unexpected movie recommendation for holiday movie night.
Speaking with Dread Central, Iglesia reveals that his film had originally played its horror straight:
Our first scriptwriter was terrible. Like a bad Tobe Hooper. We had to change it because I can't think in a serious way. It's a problem. Audiences usually don't believe in anything, so when they go to serious horror movies, they say, "I'm going to see the monster and laugh at it." I don't like that. If you shoot something like this in a comedic way, you can show the monster and do whatever you want without fear of making something stupid.
What's Next?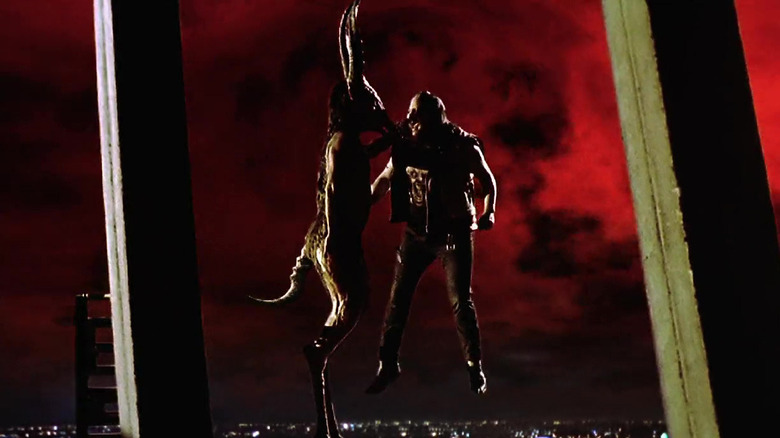 Trimark Pictures
Though he directed "The Last Circus" and a handful of beloved dark comedies, Álex de la Iglesia isn't as well-known as he should be, even among horror fans. From 1993 onward following the debut of "Mutant Action," De la Iglesia has fused his lifetime of comic book art experience with a resistance towards religion (gleeful blasphemy might be the better term) and a fascination with ultraviolence and lore. The end product is often disturbing, and always engrossing. Last year, cult film restoration boutique Severin Films gave a couple of Iglesia works the physical media treatment, releasing both "The Day of the Beast" and 1997 action-crime extravaganza "Perdita Durango" on 4K (Sidenote: "Brand New Cherry Flavor" co-creator Nick Antosca cites "Perdita Durango" as a heavy influence on the energy of the series).
For more recent Iglesia storytelling, the rather rude HBO Max horror series "30 Coins" is guaranteed to entertain. /Film's Chris Evangelista caught the show during quarantine and was blown away by its vulgarity and hyper-stylized sacrilege; he describes the viewing experience as "30 different horror movies packed into one series" and teases a gnarly crucifixion sequence in the opening credits of the show. Season 2 is on its way in 2023.
Coming up next for Iglesia is a "Purge"-esque feature, which will assuredly be as wild as the filmmaker can make it. "Veneciafrenia" is the first entry in "The Fear Collection" series, a joint-release venture courtesy of Prime Video and Sony Pictures International. It concerns a group of Spanish tourists in Venice who soon find themselves at the mercy of disgruntled Venetians enraged over tourism literally sinking the city and disrupting daily life. Stay tuned for the North American release date.