Things Got Sweaty For Cillian Murphy On The Set Of Peaky Blinders Season 4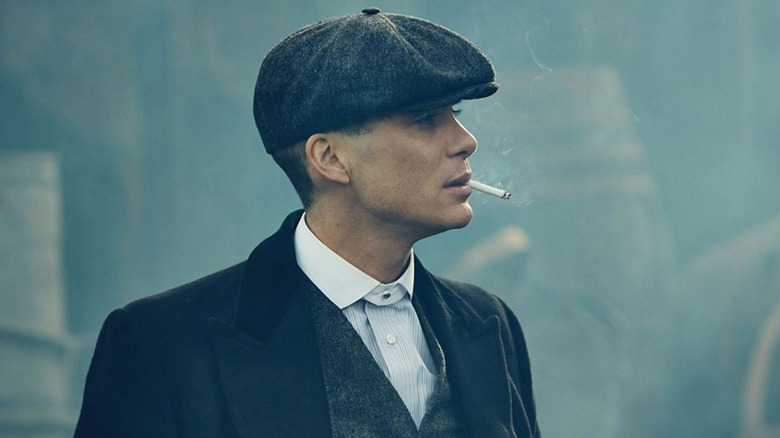 Netflix
The rise of "Peaky Blinders" over six seasons has been slow and steady, much like the ascent of Tommy Shelby (Cillian Murphy) up the social ladder from the streets of Birmingham to the halls of Parliament. First airing on BBC Two with a non-existent advertising budget, the series found new dedicated fans thanks to Netflix and a growing obsession with the overall look and 1930's fashion donned by the main characters. During a recent interview with Entertainment Weekly, Cillian Murphy shared the moment when he knew the show was really starting to become a phenomenon. 
"For me, it was when we went to the premiere of series 3 in Birmingham and there were thousands of people there and they were dressed as Peaky Blinders. Obviously, it's about that city and it's from there so it's special, but at the same time, it was people all over the world having Peaky Blinder parties and Peaky Blinder weddings and there [were] all these pop-up shops and bars."
The costume design for "Peaky Blinders" is partly responsible for the show's growing popularity, and any creative endeavor that inspires men to actually want to dress better is always welcome. Murphy's tweed newsboy cap and three-piece suits have made Tommy Shelby's silhouette almost instantly recognizable, and another outfit change may have seemed out of place in the drab greys and cloud-covered skies of the show's fictional world of Birmingham, England. 
Murphy always appears perfectly put together and comfortable wearing the tweed patterned wool threads required for the show, but in truth, sometimes it would get a little sweaty underneath all those clothes while filming.
Hot haute fashion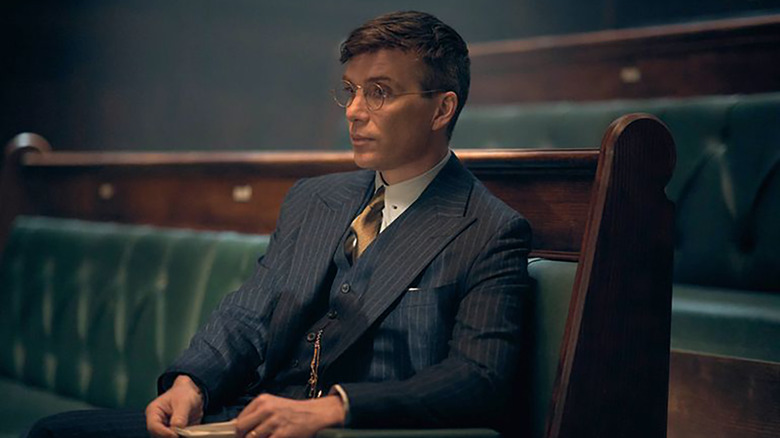 Netflix
Tommy Shelby and the other hard-nosed gangsters in "Peaky Blinders" would look completely out of place sun-tanning on a Somerset beach, which is precisely why the seasons don't ever seem to change. The series rarely shoots during summers, a fact that Murphy prefers, especially after he and the rest of the cast almost melted under the hot lights during the fourth season of filming. Speaking to EW, Murphy said:
"We normally shoot during the winter but we shot series 4 during the summer for some scheduling reasons and we were baking. All of us were just baking. We just skip that season in 'Peaky Blinders' land. It was difficult shooting because it's pure wool and layers of it. We like it nice and gloomy."
With six complete seasons and a feature film on the horizon, Tommy Shelby's fashion choices have changed to fit his new position as a Member of Parliament for Birmingham South. Shelby is now technically a member of high society, and his selection of cashmere and silk are examples of another class of fine suiting. Costume designer Alison McCosh told Netflix that the change in wardrobe reflects the evolution of the characters, saying, "When you come from the backstreets and now you're established, everything changes. You want to show your wealth in finer fabrics." 
The finale of "Peaky Blinders" will fulfill the promise of the fan favorite comedy "Community" when they make six seasons and a movie with production set to start sometime in 2023. Fans can't wait to see how the conflicts set up at the end of season 6 will wrap up, and there's sure to be a keen eye on all the exquisite high fashion choices as well.