Raya And The Last Dragon Director Carlos López Estrada Is The Latest To Try His Hand At Adapting Live-Action Your Name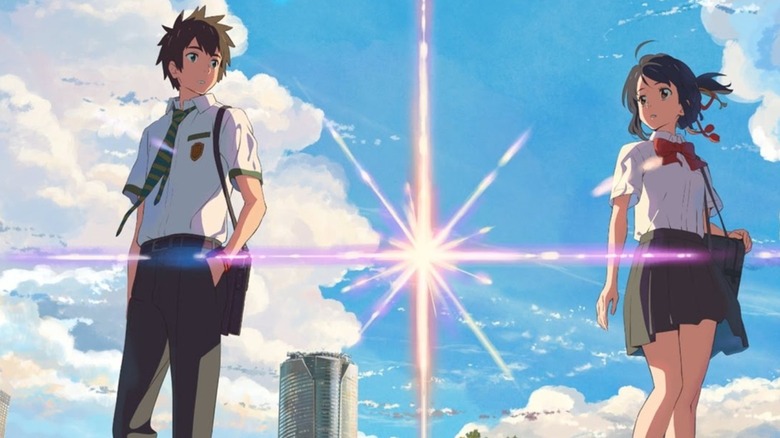 Crunchyroll
Hollywood simply can't stop trying to discredit the merit of animation, can it? The latest big anime project that Hollywood is desperately trying to bring to live-action is Makoto Shinkai's seminal film "Your Name." The film is a gorgeously animated romance with a body-swapping twist, and follows a boy from Tokyo named Taki Tachibana and a girl from the country named Mitsuha Miyamizu who find they share a strange connection, which develops into a romantic and cosmic entanglement. 
"Your Name" quickly became a phenomenon upon its release, with wide critical and commercial acclaim that catapulted the film into becoming the second-highest grossing film ever in Japan, until it was pushed to third place by the juggernaut "Demon Slayer: Mugen Train."
Of course, such success led to an instant wish to turn "Your Name" into live-action. Back in 2017 it was announced that J. J. Abrams and "Arrival" screenwriter Eric Heisserer would make the American adaptation, until "500 Days of Summer" director Marc Webb signed on to lead the film, at some point with a script that swapped the Japanese rural setting for a Native American girl swapping bodies with a boy from the city. In 2020, "Minari" filmmaker Lee Isaac Chung was tapped to take over directorial duties, as well as rewrite a draft by "The Big Sick" co-writer Emily V. Gordon.
Unsurprisingly, the project is changing hands yet again. Variety reports that "Raya and the Last Dragon" director Carlos López Estrada now the latest contestant in the new game show "Hollywood Stars and Directors, Can They Turn an Anime into Live-Action? Don't They Know It's Futile? Let's Find Out!" Estrada is also reportedly writing a new script.
The curse of live-action anime adaptations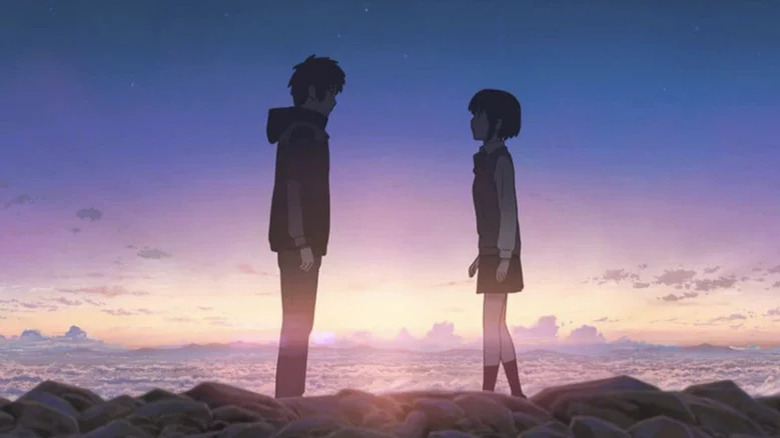 Crunchyroll
Other than maybe video game adaptations, is there something as cursed in filmmaking as trying to adapt anime? Virtually every major anime show or film has had a long-gestating film or TV adaptation in development at some point, from "Lupin the Third" and "Neon Genesis Evangelion" to "Sailor Moon" and "Akira." 
Actors such as Leonardi DiCaprio, Andrew Garfield, Keanu Reeves, writers such as Brian K. Vaughan, and directors like George Miller, Jordan Peele, Justin Lin and Taika Waititi have all been attached at one point or another to an adaptation, but with nothing to show for it. What movies and shows actually have been finished and released were met with, shall we say, less than stellar receptions.
When a project that already has dubious chances of getting made starts swapping out directors and scripts like a Secret Santa, why continue? What sunk cost fallacy makes Hollywood continue to desperately try to buy that jackpot-winning ticket and hope they have the one live-action anime adaptation that actually gets made and released, and is somehow not universally panned?
Well, at least they're trying to remake "Your Name" and not "Suzume," Makoto Shinkai's latest film that is apparently about a girl who falls in love with a boy who — checks notes — turns into a literal chair. 
In the meantime, you can check out the wonderful "Your Name" on Crunchyroll.