The Daily Stream: Your Name Is A Love Story For The Ages
(Welcome to The Daily Stream, an ongoing series in which the /Film team shares what they've been watching, why it's worth checking out, and where you can stream it.)
The Film: "Your Name"
Where You Can Stream It: Amazon Prime (both the Japanese and English dubbed versions)
The Pitch: A romance from anime legend Makoto Shinkai, "Your Name" is the story of a high school girl named Mitsuha Miyamizu who lives in rural Japan. Her life isn't very interesting to her, and she dreams of being a boy in Tokyo in her next life. Wishes sometimes come true in strange ways, and she begins to switch bodies with a high school boy in Tokyo named Taki Tachibana. They're very confused with this switching back and forth, but they begin to live each other's lives while they are in each other's bodies. They communicate by leaving each other notes, even writing on their "own" faces. The thing is, they're separated by time. There is magic involved, and a family ability, and of course, they're falling in love. 
I don't want to spoil anything here. I went into this film knowing nothing about it other than it's an anime and I left in tears, smiling and overwhelmed by the beauty of the animation and the story. I am absolutely not a rom-com person, so if there is a better pitch than that, I don't know what it is. This is one of the best love stories I've ever seen on screen.
Why It's Essential Viewing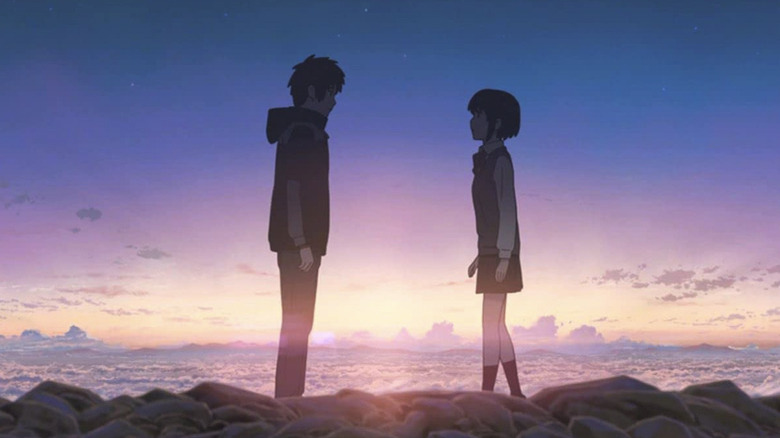 Toho
There is nothing that can make you care for a person more than actually understanding their lives and their feelings. When you try to understand someone else's family, home life, beliefs, and you know that the person in your body is trying to do things to make your life better in a way that doesn't benefit them at all, you have a recipe for the most romantic thing you've ever seen.
You've got a love story, a time travel, a magic story, and a story of friends here, and somehow, even with all of this, it is never convoluted. I've seen both the subtitled and the English-dubbed versions, so I can tell you that they both have their benefits, and I don't recommend one over the other. In fact, I think you should watch both. If you don't want to take my word for it, "Your Name" won the Best Animated Feature Film at the 49th Sitges Film Festival, the 2016 Los Angeles Film Critics Association Awards, and the 71st Mainichi Film Awards. The film is also really funny. I know it might not seem like it could be, but I giggled a lot during the screening I saw.
The Kind of Ending That Gives You Room to Dream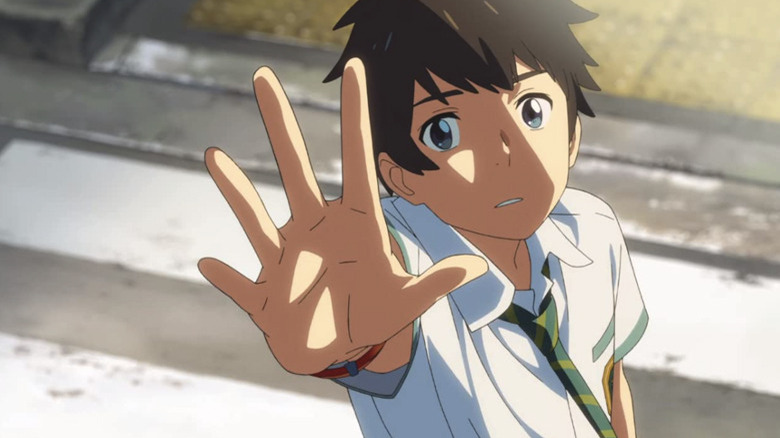 Toho
I hear there is a live-action version coming from Paramount, but wonderful as this story is, I think it needs the stunning beauty of Makoto Shinkai's animation style. It's not overly cute, though it is cute. It has a sort of close and intimate feel, but it never favors that over the awkwardness of teenage years and the sweetness of first love. It's a beautiful exploration of gender, and how that fades away in the face of understanding someone else's experience. It also has action pieces that never get muddled like some anime can. (I'm a fan of those as well. This is just different.)
"Your Name" has the kind of ending that gives you room to dream about what comes next. You'll leave wanting to know what happens after the ending, but it absolutely should not get a sequel. It's that longing that lets you really appreciate the beauty of the storytelling.