Coraline Director Henry Selick Has An Absolutely Fascinating Connection To Absolutely Fabulous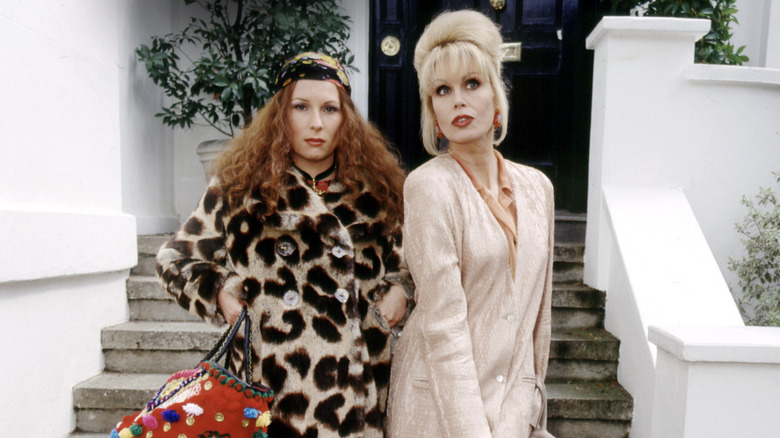 BBC Worldwide
Jennifer Saunders and Joanna Lumley are living comedic legends, as the drinking, drug-abusing, shallow stars of the British sitcom "Absolutely Fabulous." The British Film Institute ranked "AbFab" as number 17 of the 100 Greatest British Television Programmes of all time, and the beloved series saw a reunion nearly 25 years after the show first aired with "Absolutely Fabulous: The Movie" in 2016. The series sees Saunders as PR agent Edina "Eddie" Monsoon, who spends most of her time fad-chasing and crash dieting in an attempt to stay hip, young, and relevant. At her side is longtime bestie and magazine fashion director Patsy Stone (Lumley), whose inappropriate antics make Eddie look like a church-marm.
"Absolutely Fabulous" is one of the funniest sitcoms in television history, with Eddie and Patsy's signature style helping them become two of the most easily recognizable female characters in all of comedy. The show became hugely popular in the United States after it was broadcast on Comedy Central, but saw a resurgence in the 2010s after it was broadcast on Logo TV, the gay-centric channel that helped launch "RuPaul's Drag Race" into superstardom. "AbFab" was raunchy, mouthy, edgy, and hilarious, carried by the comedic mastery of Saunders and Lumley.
The two don't often appear together outside of playing their memorable characters, but in an absolutely fascinating stroke of genius, Saunders and Lumley have both starred in the films of Henry Selick, in equally as memorable albeit separate pairs of delightfully odd women.
Joanna Lumley scared a generation as Aunt Spiker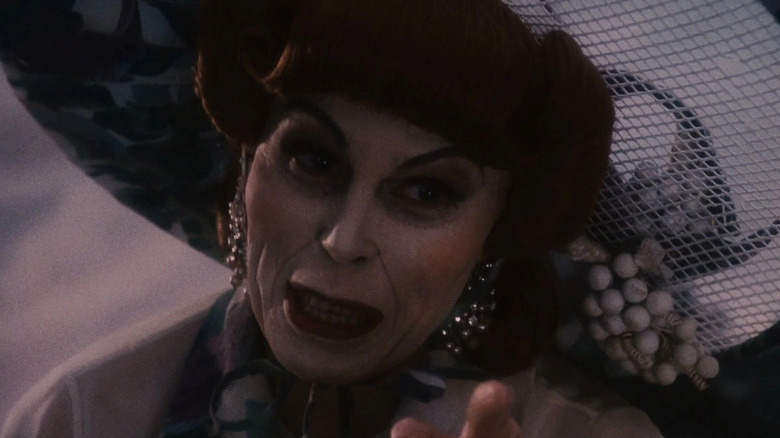 Walt Disney Studios Motion Pictures
Henry Selick's follow-up to the massively successful "The Nightmare Before Christmas" was Disney's "James and the Giant Peach," a live-action and stop-motion hybrid film adaptation of Roald Dahl's beloved children's book of the same name. Lumley was cast as the ghastly and sadistic Aunt Spiker, the rail-thin and witchlike guardian of young James Trotter. Aunt Spiker was a far cry from the fierce, fashionable, and fabulous Patsy Stone, designed instead to look like a child's greatest nightmare. "James and the Giant Peach" is filled with terrifying imagery, but the grotesque and dramatized makeup design of Aunt Spiker made her the source of kindertrauma for a generation. Lumley starred alongside future "Harry Potter" star Miriam Margolyes as her sister Aunt Sponge, who provided visual juxtaposition as the short and round counter to Spiker's tall and angular frame.
I distinctly remember watching "James and the Giant Peach" with a substitute teacher in elementary school for the first time and having to pretend as if the runny mascara and exaggerated teeth of Aunt Spiker weren't absolutely going to give me nightmares a few hours later. Part of Lumley's charm on "Absolutely Fabulous" was her Carol Burnett-esque commitment to physical comedy, including exaggerated facial acting, which can be used to great (and terrifying) effect when playing a storybook villain. She may not have been a stop-motion figure, but Selick knew exactly how to utilize her animated comedy stylings to craft one of the greatest antagonists in animation history.
French and Saunders dazzled in Coraline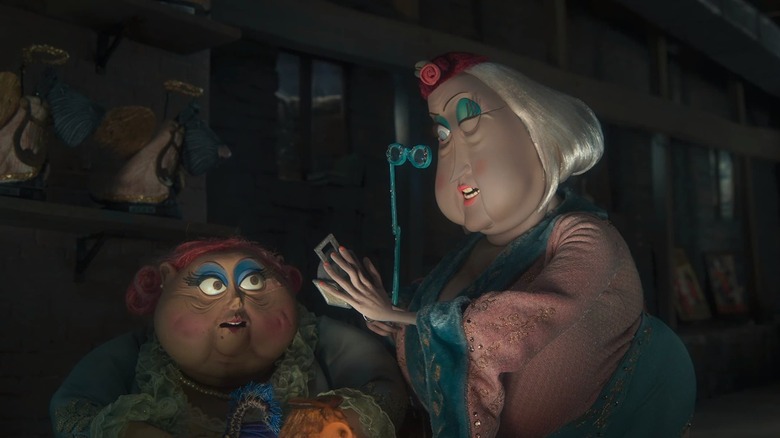 Focus Features
Selick was tapped to direct the debut future from the stop-motion animation studio, Laika, an adaptation of Neil Gaiman's popular novel, "Coraline." The film was a groundbreaking success in stop-motion and 3D animation, with many considering it to be one of the best coming-of-age films ever made, regardless of filmmaking genre or medium. Over a decade after Selick had Lumley star as one-half of his most memorable female pairings, Jennifer Saunders was brought in to provide the voice of Miss April Spink, a retired burlesque dancer who shares the basement apartment of Pink Palace Apartments with her lover and former burlesque duet partner, Miriam Forcible.
Spink is the gentler of the duo, which tracks perfectly to the way Eddie was always at least somewhat more sensible than Patsy on "AbFab," even if the bar for sensibility was low enough to trip over it. Spink is also more maternal, looking out for little Coraline Jones the way Eddie did for Saffy. When Spink and Forcible are shown in the Other World, Saunders really shines while voicing the younger, spiffier, and more energetic version of her character's former self. It's here that Spink has the most of Eddie's energy, hooting and hollering with the same delightful timbre of a PR agent who has enjoyed one too many cocktails.
Dawn French, who voices Miss Forcible, is Saunders' longtime producing partner, the co-star of their sketch comedy show "French and Saunders," and one of the main producers behind "Absolutely Fabulous." Henry Selick is so clearly a fan of these pillars of British comedy, a surprising connection (considering he's from New Jersey) that can only be described as "fabulous, darling."