'Absolutely Fabulous' Trailer: Edina And Patsy Kill Kate Moss And May Never Recover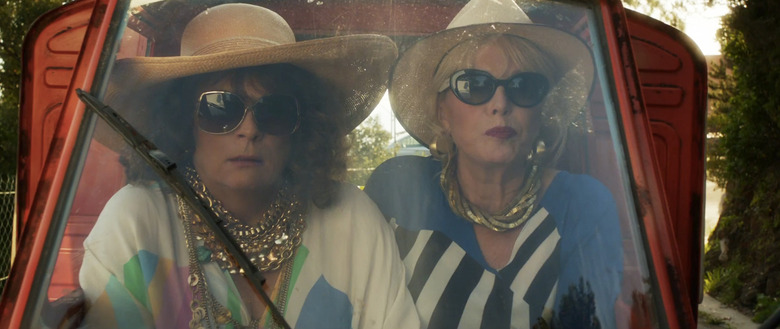 It's been 24 years since Absolutely Fabulous debuted on television in the United Kingdom. The series ended up lasting six seasons, but sporadically over the span of nearly 20 years. The second and third seasons arrived in 1994 and 1995, but the fourth season didn't debut until 2001 with a fifth season in 2003 and the last sixth season arriving in 2011. Now the series is coming to the big screen.
The full length Absolutely Fabulous movie trailer has just arrived, showing off what Edina (Jennifer Saunders) and Patsy (Joanna Lumley) are up to after all these years. Sadly, it looks like things aren't going very well for the duo, and they don't seem to be getting better after they accidentally kill beloved model Kate Moss at a posh party.
Watch the Absolutely Fabulous: The Movie trailer after the jump.
While I'm a big fan of British humor, Absolutely Fabulous isn't something that has tickled my funny bone. It's amusing from time to time, but the characters just don't make me laugh very much. There are some interesting cameos in the trailer, including Jon Hamm and Rebel Wilson (who both appeared in Bridesmaids previously), but I didn't finding myself laughing out loud at any of the proceedings. It's pretty slapsticky and British, which sometimes works for me, but not this time.
In addition to the return of Saunders and Lumley as the lead characters, the film also brings back original series cast members like Julia Sawalha as Saffy, Jane Horrocks as Bubble and June Whitfield as Mother. Plus, the movie is directed by Mandie Fletcher (who worked on the original series) with a script from Jennifer Saunders herself, so if anything this will be a satisfying return of what fans of the original series have loved for nearly 25 years. It may be the a fond farewell for Absolutely Fabulous as well, but we'll have to wait and see.
Appropriate for their big screen debut, Edina and Patsy (Jennifer Saunders and Joanna Lumley) are still oozing glitz and glamour, living the high life they are accustomed to; shopping, drinking, and clubbing their way around London's trendiest hotspots. Blamed for a major incident at an uber-fashionable launch party, they become entangled in a media storm and are relentlessly pursued by the paparazzi. Fleeing penniless to the glamorous playground of the super-rich, the French Riviera, they hatch a plan to make their escape permanent and live the high life forever more!
Absolutely Fabulous: The Movie opens on July 22 in the Us and July 1 in the UK.