Barbarian Director Zach Cregger Got Advice From Jordan Peele On Making His First Horror Movie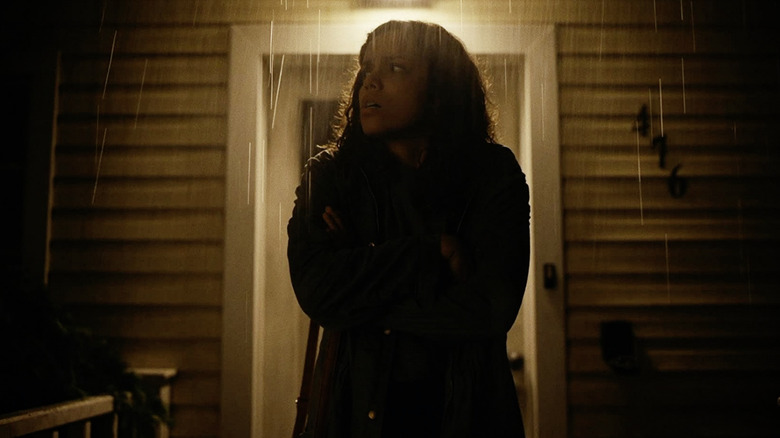 20th Century Studios
The 2022 year in film belongs to horror fans. From the sicko slasher that could "Terrifier 2," to satirical indie hit, "Bodies Bodies Bodies," and Jordan Peele's blockbuster-sized nightmare, "Nope," horror has consistently been bringing audiences back to theaters for thrills and chills. But by far, one of the biggest success stories of the year belongs to Zach Cregger's directorial debut, "Barbarian," a subversive, mystery-box horror film that's ten steps ahead of the viewer. Though it was minimally marketed, the film has thrived through pure word of mouth and enthusiasm from horror fans.
In a time where it feels as though the low-budget original studio genre film is extinct, "Barbarian" thrived despite all odds — including all of Cregger's rejected production company pitches.
Though "Barbarian" is his first feature film, Cregger has had plenty of entertainment industry experience as the founding member of the comedy troupe "The Whitest Kids U Know." Cregger gleefully injects his horror flick with an equal amount of self-awareness alongside its moments of genuine terror.
It turns out comedians-turned-horror-directors help each other out. In the December 2022 issue of Empire magazine, Cregger reveals that Jordan Peele himself provided some guidance during the production of "Barbarian," giving advice and pointers in navigating Cregger's first feature film.
Taking cues from the social thriller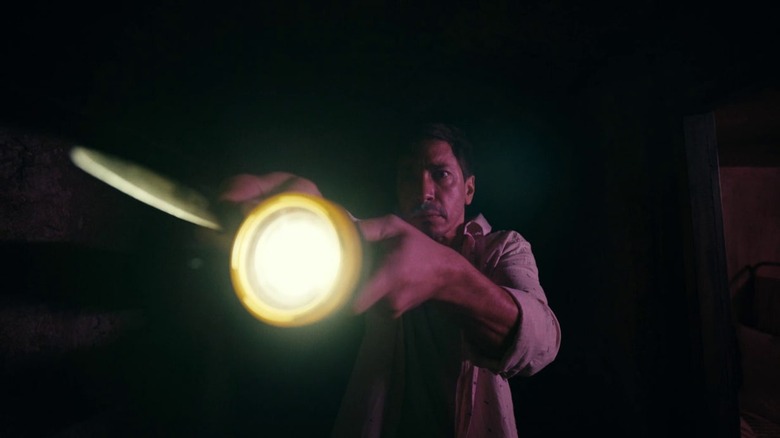 20th Century Studios
"I went over to his house and he gave me a ton of advice on inevitable issues I could expect to encounter on my first feature," Cregger told Empire. "Then I showed him a cut and he gave me notes. He was very helpful."
It's always a wonderful sight to see artists like Peele dedicate their time to boosting up-and-coming filmmakers. Ever since he found industry recognition for his debut film, "Get Out," making a change behind the camera and boosting fresh talent has been something Peele has been working towards with his production company, Monkeypaw.
Though "Barbarian" certainly feels like something shiny and new, the film's modern approach to its socially relevant ideas feels like something Cregger very much owes to Peele. Since "Get Out" blew up in 2017, there's been a wide array of media that makes up the "social horror" subgenre, which has even influenced the way we reflect back on horror's past (see Nia DeCosta's "Candyman" sequel).
"Barbarian" handles its subject and themes with subtlety and respect before going full camp, but it's undeniably a film about navigating a male-dominated world as a woman, and the horror found at the very center of its mystery box is rooted in a grotesque history of gendered violence. While "Barbarian" nose-dives into the fantastical much more than "Get Out" does, its suffocating approach to tying its horror to tangible, real-life social situations mirrors what Peele accomplished with his debut film.
Barbarian pays respects to Peele with one word, nope!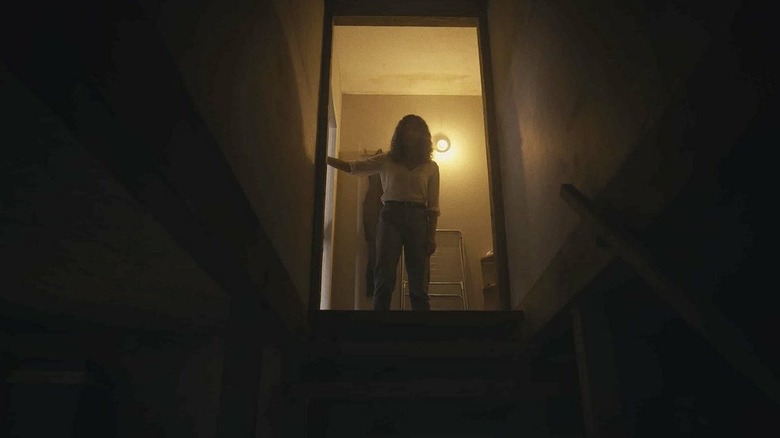 20th Century Studios
"Barbarian" star Georgina Campbell also went on record to talk about Peele's influence on "Barbarian" with IndieWire. "Zach's good friends with Jordan Peele, and I think he spoke to [him] a lot while he was writing the film, and [he] saw an early cut of it as well," Campbell said. "So he definitely was kind of part of the essence of the movie."
There's one cute nod to Peele's influence in "Barbarian," a scene in which our protagonist, Campbell's Tess, discovers the hidden doorway in the basement of the Airbnb, and says "nope!" Going back to 2021's "Candyman," which Peele co-wrote and produced, there's an almost identical moment where Teyonah Parris' Brianna finds a creepy door in a laundromat and says out loud, "nope!"
Of course, this would later become the title of Peele's third feature film. The uttering of "nope" in these films represents something cathartic and instinctual that all horror fans can relate to. It cleverly links Peele's relatable, comedic persona to his otherwise mysterious and opaque horror sensibilities. Cregger's "Barbarian" could have the potential to repeat a cycle of inspiration within horror storytellers, and if his film is any indication of what the next phase of modern horror will look like, we can't wait to see what's next.
"Barbarian" is now streaming on HBO Max.