Ryan Murphy's Original Script For Glee Had Justin Timberlake As A Meth Addict, We Couldn't Make This Up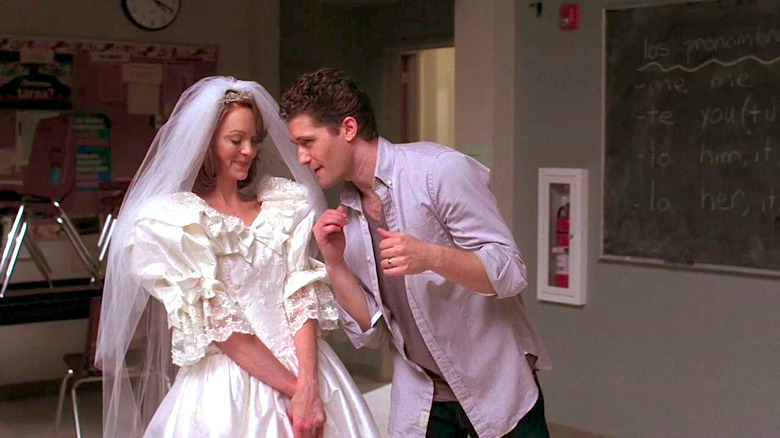 Disney+
If you're a certified Gleek, then you know that Will Schuster (a.k.a. Mr. Schue) is William McKinley High School's Spanish teacher turned extremely passionate choir director on "Glee," Fox's mega-hit about an underdog show choir and their rise to success. Mr. Schue (Matthew Morrison) enthusiastically leads the glee club through six seasons of ups and downs, but he may just be one of the creepiest characters to ever grace a television screen. His plucky, can-do charm often hides some of the more salacious aspects of his personality (just watch him in the background of any scene involving his female students dancing and you'll see what I mean), and I am still not and will probably never be over his rendition of "The Thong Song" which he performs at school for his engaged coworker, Emma (Jayma Mays) who just happens to show up in his classroom in her wedding dress requesting dance lessons because that's just what people do.
Admittedly, much of the appeal of "Glee" is based on its sometimes insensitive humor that really pushes the boundaries of what a network show can get away with. (Here I'm thinking of Mr. Schue's rendition of "La Cucaracha" which both offended every living creature on earth and finally proved Mr. Schue should probably not be teaching Spanish.) Over the show's run, characters have faked pregnancies and served as the Best Man in their teacher's wedding (yes, really, and yes, it was Mr. Schue's wedding), but the overall feel of the show remained relatively light and humorous. That's why it's so surprising to find out that "Glee" was initially pitched as something much darker in which the already questionable Mr. Schue was played by Justin Timberlake and was battling an addiction to meth.  
A darker kind of show choir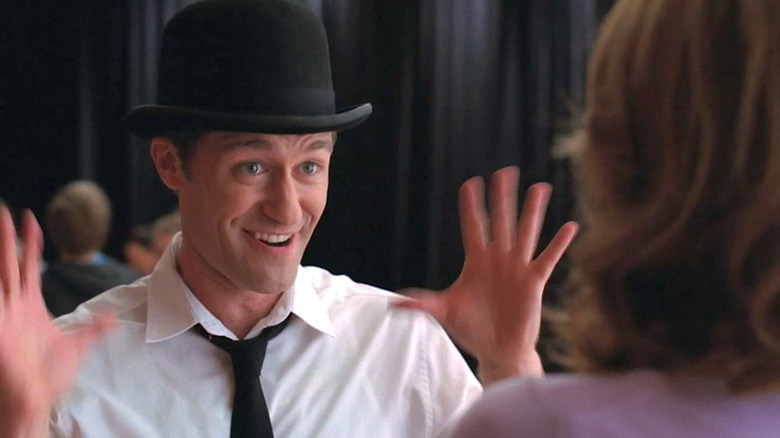 Disney+
It's been over seven years since "Glee" last aired on television (it ended in 2015), but the love for the show and its characters still lives on. Jenna Ushkowitz and Kevin McHale, who played Tina Cohen-Chang and Artie Abrams respectively, recently created a new podcast designed to go behind the scenes of each episode, revealing exciting tidbits of information for the super-Gleeks out there. The podcast is called "And That's What You REALLY Missed," and its very first episode welcomed the show's creator, Ryan Murphy, to the mic. 
Murphy revealed a lot of interesting things about creating the show, but one of the most shocking revolved around the character of Will Schuster. But in order to get to the juicy Schuster details, we first have to explain how Murphy got the script to begin with. According to him, "Like serendipity, I went to the gym, and I was in a towel, and [...] Mike Novick came up, and he handed me a script." He asked Murphy if his hunch that Murphy had been in show choir when he was younger was correct, which it was. And he told Murphy he thought he might be interested in a script. 
The script in question was what would eventually become "Glee," however, in its current iteration, it was, according to Murphy, "a very dark comedy." Murphy goes on to tell Ushkowitz and McHale that "Mr. Schue, I believe, was a crystal meth addict in Ian's script." McHale follows this information up by asking Murphy if Mr. Schue was also supposed to be, "touching the children," to which Murphy says, "yes." He goes on to describe the original script as "the NC-17 version of show choir, but with a weird protagonist who's unraveling." 
The glee leader that almost was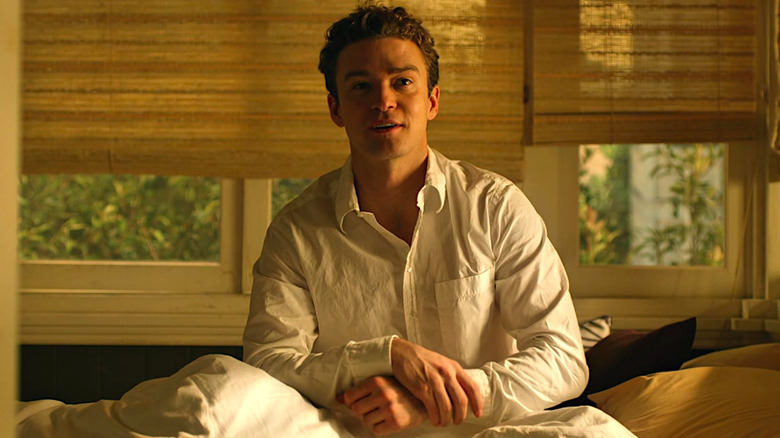 Sony Pictures Releasing
Of course, Mr. Schue was not a pedophile with a drug addiction in the eventual show (though he did try to frame Finn (Cory Monteith) for having weed in order to blackmail him into joining the glee club which earns him yet another yikes), but he also was not originally supposed to be played by Broadway baby Matthew Morrison. Instead, Murphy revealed on the podcast that the original part of Mr. Schue in the pilot episode for "Glee" was written for none other than Justin Timberlake.
Unfortunately, the podcast chooses this moment as a great place to end the first episode (talk about a cliffhanger!), so it's unclear what exactly happened to Timberlake in regards to his almost-role on "Glee," but color us all intrigued! Morrison, who eventually took on the role of the iconically creepy glee teacher, definitely does have a little bit of a JT thing going on, so clearly, Murphy and the rest of the crew had a specific image in mind, but it looks like we're going to have to wait until next week's episode of "And That's What You REALLY Missed" to find out why Timberlake ultimately did not bring the sexy back to William McKinley High.