'McCanick' Trailer: Cory Monteith's Final Role Couldn't Be Further From 'Glee'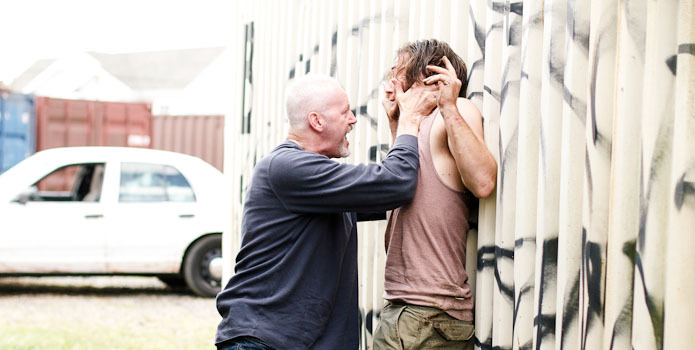 Before his tragic death last month, Glee star Cory Monteith had wrapped two indies to premiere at the Toronto International Film Festival. The trailer for one of these, Josh C. Waller's McCanick, has just hit the web.
In it, Monteith plays Simon Weeks, who's fresh off a stint in prison and in possession of a very dangerous secret. David Morse stars as the short-tempered cop who years ago helped put him away, and now is desperate to make sure Simon doesn't tell what he knows. Watch the video after the jump.
Ragged, drug-addicted Simon looks miles away from Monteith's most famous role as sweet, clean-cut Finn Hudson. The trailer offers too little of his performance for us to judge, but it looks like it could've launched him into a new, more grown-up phase of his career. Monteith's own fatal history with narcotics adds an especially poignant edge.
It's tough to tell what to make of McCanick as a whole. Waller's previous film, Raze, premiered at Tribeca earlier this year but failed to make much of an impression. McCanick's story of a crooked cop trying to cover up his misdeeds is one we've seen before, but it could prove tense and exciting if done well.
Also starring Ciaran Hinds, Mike Vogel, Rachel Nichols, Tracie Thoms, Trevor Morgan, and Aaron Yoo, McCanick premieres at TIFF next month. Here's the synopsis for McCanick:
A hothead cop (David Morse) learns a young man (Cory Monteith, in one of his final film roles) he helped put away seven years ago is back out on the streets — and carries with him an uncomfortable secret. This tough, tension-riddled action-drama is a showcase for Morse's intensity and Monteith's charisma.
Monteith's other final film, All the Wrong Reasons, debuts at TIFF as well.