Daniel Radcliffe Was Somewhat Perplexed When He First Read The Script For Weird: The Al Yankovic Story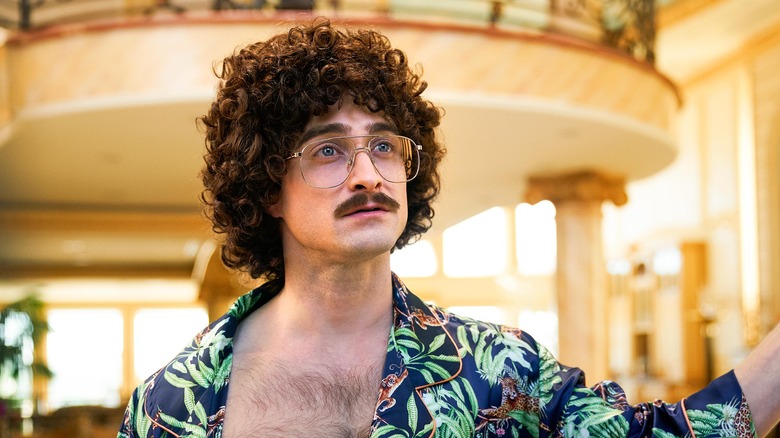 The Roku Channel
After landing the role of a lifetime as a child with the "Harry Potter" franchise, Daniel Radcliffe is now at a point in his career where he can just act in movies that he thinks would be fun. This often means he stars in some weird stuff. It's this penchant for weirdness that led Radcliffe to accept a role as the man with "weird" literally in his name, "Weird Al" Yankovic in the upcoming Roku movie, "Weird: The Al Yankovic Story."
According to a recent press junket that /Film was a part of, the role seemed like a fun opportunity for the British actor.
"I think there was so much about the script that was exciting when I read it... the way I try to prioritize my career now is by going 'What do I think I'm gonna have the most fun making?' and it was so very, very obvious that this would be an incredibly fun thing to shoot. Cuz every page you've got a fight scene, and then a pool party, and then a dance number, and a song, and to get to do something different every day and be pulling off all these different things, it was incredibly exciting."
But even with a role that would clearly be a ton of fun to play, Radcliffe found himself a bit perplexed that he had been asked to play the part of Yankovic, who he does not resemble physically in the slightest.
Oh, it doesn't matter!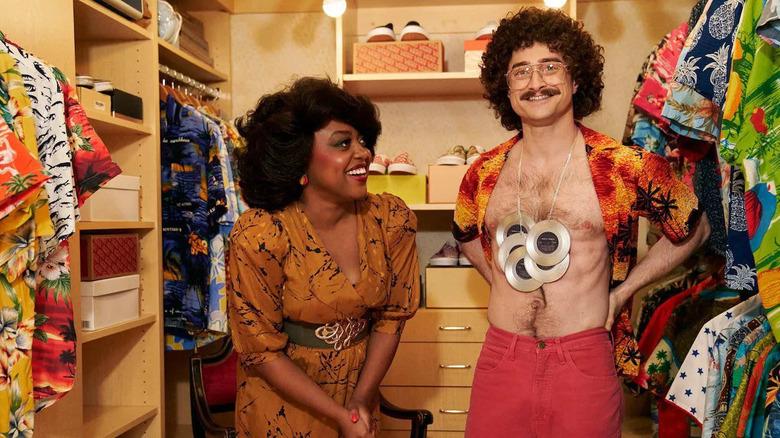 The Roku Channel
What Radcliffe didn't yet understand was the nature of the film they were making, which he spoke about during the junket.
"I got the script, and I got the email first that was like 'The Weird Al biopic, and you'd be playing Weird Al,' and my first reaction was kind of, 'Oh that's incredibly cool, but there's gotta be people that are physically closer than me... And then I read the script and a few pages into the script I was like 'Oh, it doesn't matter!'"
The movie, which parodies celebrity biopics like "Bohemian Rhapsody," is not at all attempting an accurate retelling of Yankovic's life. Director Eric Appel even admitted that he did zero research on Weird Al's life before making the movie. Due to the film's humorous and satirical nature, Radcliffe was no longer at all concerned about his lack of physical resemblance to the film's subject.
The movie's misleading nature is intentional, according to Yankovic himself in a New York Times interview. "I hope this confuses a lot of people," said Yankovic. "We want to lead them down a path and think, 'Is this a real biopic? Is this the real story?' The movie starts out pretty normal. Then it progressively goes way off the rails."
A movie that starts seemingly normal and becomes absolutely wild? Sounds just down Radcliffe's alley.