Weird: The Al Yankovic Story Almost Had Luke Skywalker And Harry Potter In The Same Scene [Exclusive]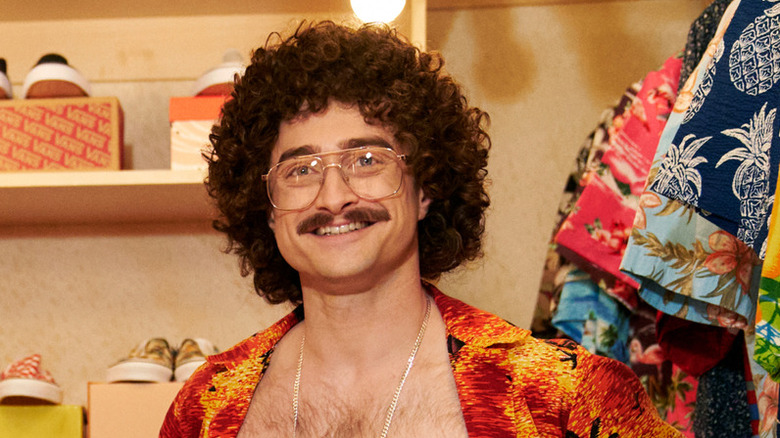 Roku
Imagine a world where Harry Potter goes to a pool party and ends up talking to Luke Skywalker. It might seem like fan fiction you came across on a questionable website. Maybe it sounds like a dream you had after you watched "Star Wars" and then fell asleep listening to a "Harry Potter" audiobook
That magical pool party in a galaxy far, far away almost happened. Well, not quite like you're thinking. "Weird: The Al Yankovic Story" is finally out on Roku, and it features a pool party scene with just about every famous person from the 1980s — well, actors playing them, anyway. The film stars Daniel Radcliffe as "Weird" Al Yankovic. It not only celebrates a fictional version of Yankovic, one of the best parts of that decade, but it parodies biopic films in the very best way. This fictional version of "Weird" Al's life imagines his parents' unwillingness to accept his accordion playing, his rise to fame, his dating Madonna, and his prerequisite musician meltdown. Again, this is fictional, but it's very, very funny and sounds like every "E! True Hollywood Story" to ever play on basic cable. 
Radcliffe, of course, played the boy wizard with the famous lightning bolt scar in the films based on the book series by J.K. Rowling. /Film's own Ethan Anderton recently spoke to director Eric Appel (who wrote the script with Yankovic himself) about how a certain Jedi almost ended up in a scene with Harry Potter.
'I'm going to have Harry Potter and Luke Skywalker in a scene together'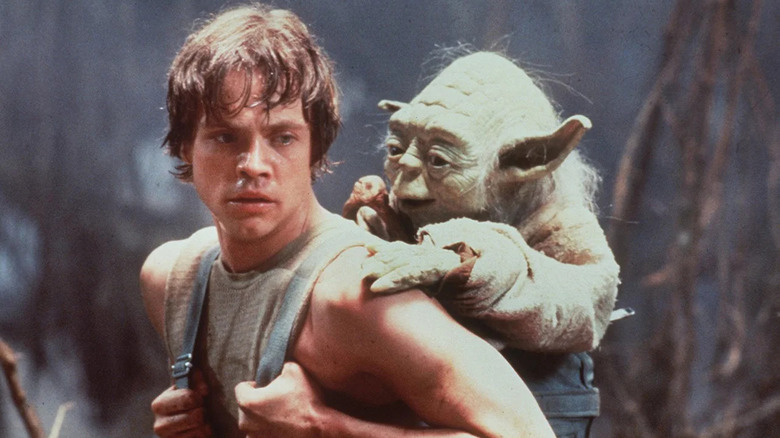 Lucasfilm
Anderton asked Appel about actors they weren't able to get for the big pool party scene. Appel mentioned Nick Kroll ("Don't Worry Darling") as someone who wasn't available, then he dropped the "Star Wars" thermal detonator.  
"Mark Hamill, we went out too for something. And it was, again, I think it was a scheduling thing, the date didn't work out. I was very excited. I was like, I'm going to have Harry Potter and Luke Skywalker in a scene together."
As to who he might have played, Appel didn't actually remember perfectly. He said: 
"There are a lot of characters that kind of came and went. That scene, the pool party, it was partly based on who works for the part. So we changed a couple of characters based on who we had. Yeah, I think, it became Gallagher when it was like, 'Oh, it's going to be Paul F. Tompkins.' But basically, all of those actors, it was all friends of Al's. He personally reached out to everyone that did a cameo on the movie. It was the people that were on Al's holiday card mailing list. People he's comfortable enough to shoot a text to, and it's amazing how quickly people said yes."
He joked that they'd mention someone and "10 minutes later, Al would text me and be like, 'We got a yes already. They're doing it.'" That pool scene features people like Conan O'Brien as Andy Warhol, Jorma Taccone as Pee-wee Herman, Jack Black as Wolfman Jack, and Nina West as the famous drag queen Divine.
'Soon I'm gonna be a Jedi'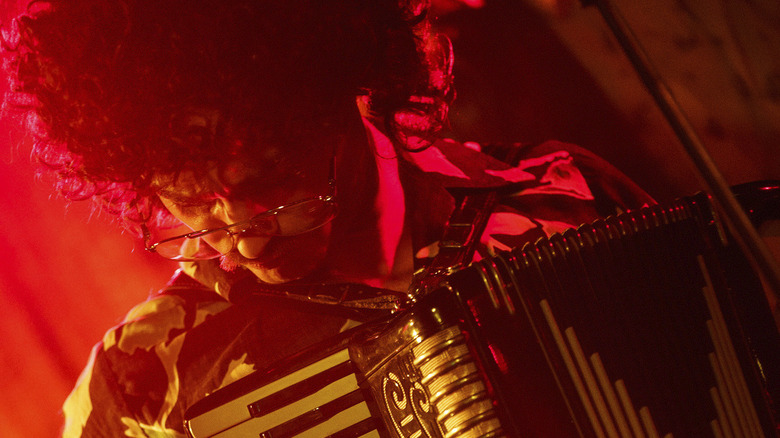 Roku
Appel has directed a whole lot of television, including episodes of "Eagleheart," "The Office," "New Girl," "Brooklyn Nine-Nine," "Son of Zorn," and more. He is making his feature directorial debut with this film, which is based on a Funny Or Die sketch that he directed 12 years earlier. 
"Weird: The Al Yankovic Story" premiered at the Toronto International Film Festival during Midnight Madness and stars Radcliffe as the titular musician, Evan Rachel Wood ("Westworld") as Madonna, and Rainn Wilson ("The Office") as Al's mentor Dr. Demento.
Here is the official synopsis for the film:
Daniel Radcliffe is "Weird" Al Yankovic in the unexaggerated true story about the greatest musician of our time. From a conventional upbringing where playing the accordion was a sin, Al rebelled and made his dream of changing the words to world-renowned songs come true. An instant success and sex symbol, Al lives an excessive lifestyle and pursues an infamous romance that nearly destroys him.
"'Weird: The Al Yankovic Story" is currently streaming on Roku.