Daniel Radcliffe Had No Way Real Way To Prepare For His Swiss Army Man Role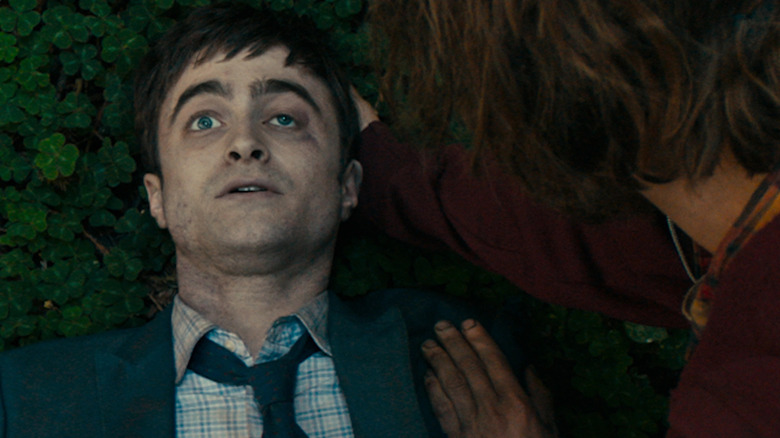 A24
Daniel Radcliffe has battled wizards, weathered live-streamed death matches, and soon, he'll be seen fiddling with an accordion. But one of the most challenging roles for the English actor required him to play dead.
"Swiss Army Man" confounded and thrilled audiences from its festival run to its wide release in 2016. From directors Daniel Scheinert and Daniel Kwan (the duo behind that bonkers music video for DJ Snake and Lil' Jon's party banger "Turn Down For What"), the freaky feature follows the friendship formed between an isolated man (Paul Dano) and a farting corpse that washes ashore (Radcliffe). And that's just the opening sequence in an unapologetically strange tale exploring the spiritual-physical connection within the human body.
Looking back on his roles with GQ, Radcliffe recalls excitement and trepidation at playing a dead man, and how makeup assuaged his fears. Radcliffe explains:
"I was like, 'Yeah, I want to be involved in this.' And I fully didn't know what I was going to do as this character for the longest time. Like, I had no idea what Manny was gonna be. When I was practicing at home and just doing, like, weird Manny voices and facial expressions, everything I was doing was kind of just slipping towards zombie. Every time I would say something or move, I would be trying to communicate the fact that he is dead. The lesson in that, for me, was having the makeup on the first time, being made up to be a corpse, suddenly I was like, 'Oh, I look dead. I don't have to act dead all the time, because this is doing the work for me. I can be this sweet little character, but he'll just look like a dead sweet little character, 'cause of what else is going on.'"
Letting his freak flag fly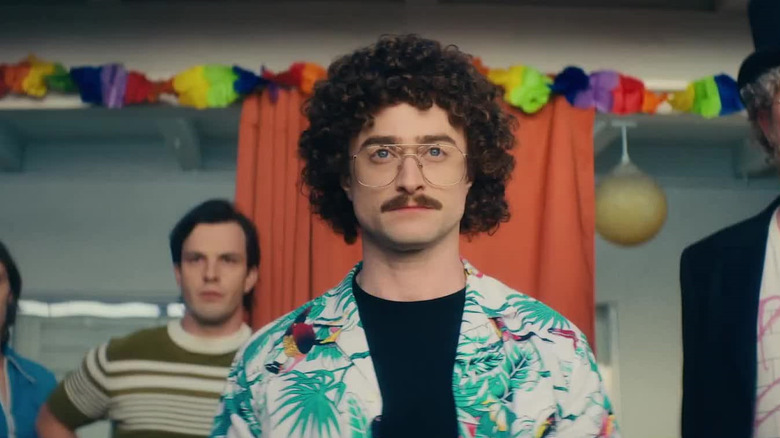 The Roku Channel
Such a foul and funny movie concept is sure to polarize audiences, and it did. "Swiss Army Man" prompted walkouts at Sundance, repulsing audiences with Radcliffe's post-mortem flatulence and what can best be described as erectile pathfinding. But for the most part, the film was a critical success. /Film's Jeremy Mathai hails it as "an unforgettable and oftentimes poignant treasure" about empathy and shame. Angie Han brought similar praise at Sundance, showing love for the movie as "a unique, oddly gorgeous adventure anchored by a superb performance from Radcliffe."
Scheduling conflicts prevented Radcliffe from jumping on board the Daniels' next head-trip adventure "Everything Everywhere All At Once," but this year he sunk his teeth into the berserk role of billionaire sociopath Abigail Fairfax in Adam and Aaron Nee's charming, audacious rom-com "The Lost City" opposite Sandra Bullock, Channing Tatum, and Brad Pitt.
Radcliffe's latest performance is another acting challenge: playing an especially weird music icon in an especially weird biopic. Coming from former Funny or Die writer Eric Appel, "Weird: The Al Yankovic Story" is a musical biopic of sorts, but judging by the trailer, it'll hew closer to the likes of "Walk Hard: The Dewey Cox Story" than the Elton and Elvis biopics we've nodded our heads to lately. /Film's Chris Evangelista caught it early and reveals that, "In true Weird Al fashion, this isn't really a biopic — it's a parody of a biopic." Radcliffe plays the title role and takes audiences through the highlights of Yankovic's catalog from his early days with DJ Dr. Demento to his silly parodic hits like "Eat It" and "Like A Surgeon." 
Now as before, Daniel Radcliffe proves that he's not afraid to get weird.