Denise Gough Was Skeptical Of Star Wars Before Reading Andor's Script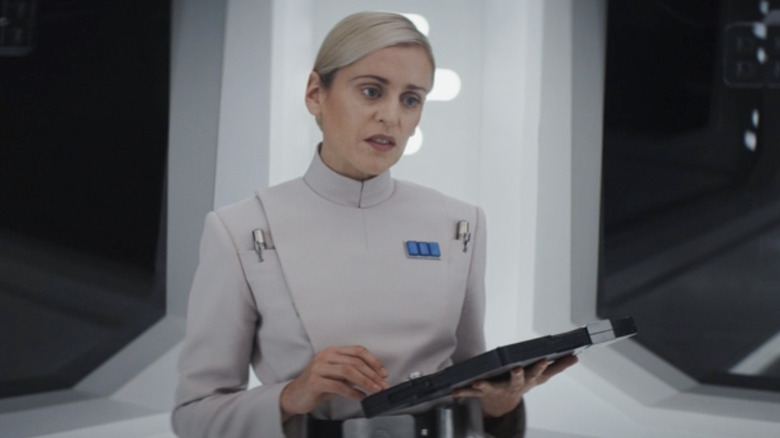 Lucasfilm
The Disney+ series "Andor" has the distinction of being called the least Star Wars-y series in the galaxy. (That might be paraphrasing the social media sentiment a bit, but you get the idea.) With a few small changes, this show could stand alone as an espionage drama. For fans who are feeling a little overwhelmed with the amount of content from the long-running franchise, the show is a big relief. 
People still love the Star Wars universe. It's just that some of the recent offerings (ahem, "The Book of Boba Fett") leaned so heavily on fan service and an "ooh, look at the Easter egg" style of storytelling that the actual narrative can suffer for it. Having a show that is good enough to stand on its own, without much in the way of Jedi or too many familiar characters, might even attract brand-new viewers to Star Wars. 
It isn't just the fans who are praising the unfamiliar path that "Andor" is taking. In an interview with Collider late in September 2022, Denise Gough ("Under the Banner of Heaven"), who plays ISB agent Dedra Meero expressed a similar sentiment. She wasn't sure about taking a role in a Star Wars show — until she read the first three scripts. 
'It never really was my thing'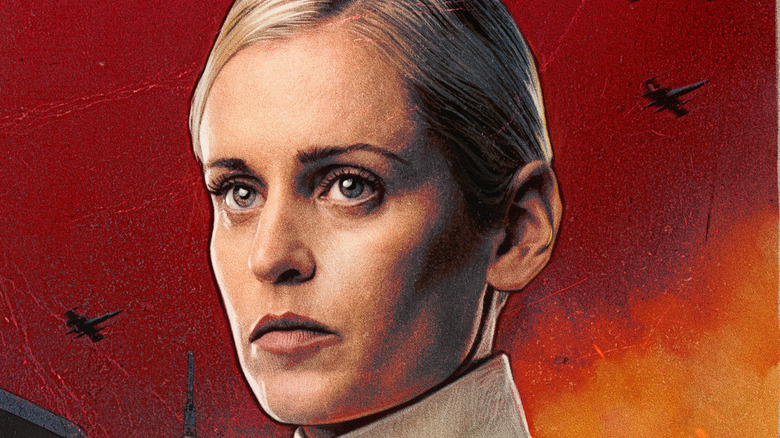 Lucasfilm
Gough and her castmate Kyle Soller ("Poldark") who plays Syril Karn were asked about the non-Star Wars aspects of the show. Soller said that it was "so different to what I ever expected" and that the characters were relatable. "I certainly hadn't ever seen anything like that in Star Wars before," he explained. 
Gough felt the same way. She said: 
"I didn't really have anything to compare it to because I hadn't seen any. I have never been a Star Wars... Not that I wasn't a fan. It never really was my thing. So when I was in talks about being in it, Tony [Gilroy - series creator] let me read the first three episodes to get a flavor of what it was because I was like, 'I don't know. I'm a theater actress. I'm not sure this is what I want to walk into. What if it's all just in space with green screens? And I don't know how I'll feel about that.' 

Then I read these three episodes, and I was like, 'Hold on. This is not what I expected it to be. This is like a dance.'"
Gough actually has an extensive history in theater. She was nominated for a Tony Award and won a Laurence Olivier Award for her work in "People, Places & Things," and won another Olivier for "Angels in America." 
Dancing at the Star Wars party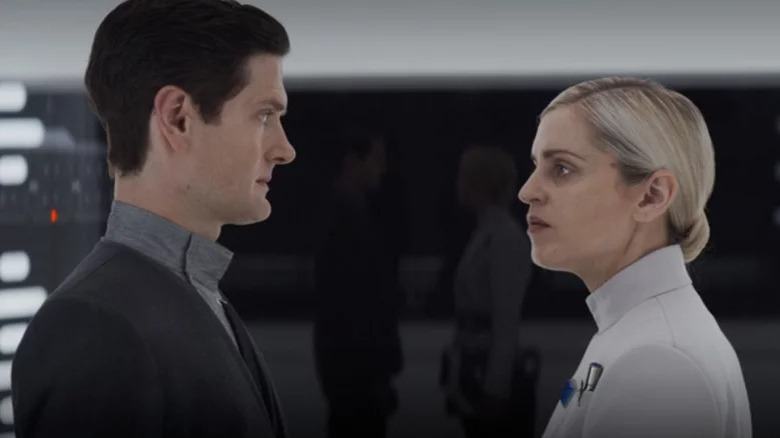 Lucasfilm
What's even more interesting is that when Gough read the first three episode scripts, her character wasn't even in them. She explained that she thought that was "such a good sign" because she wasn't looking for her own character arc. "I was just like, 'Oh, my God.' How has he done this?" She said that Gilroy explained to her what Dedra would do once she appeared. "I thought, any party you want me to dance at, Tony, I will be there."
"Andor" really has been a breath of fresh air in the Star Wars universe. We've gotten to see how the normal people in the galaxy are handling the growing power of the Emperor and the changes that come with it. We've seen them on a beach resort planet. We've watched Syril have cereal with his mom (Kathryn Hunter) in the morning before a mind-numbing job. We've even seen the darker side of the Rebellion and the fanatics that it sometimes takes to make change happen. 
It's often said that a character should — in most circumstances — be able to be gender-swapped and still work if they are well-written. Scripts and stories have something similar when they're set in a long-standing universe. You should be able to take them out of the fandom they're set in and still hold up if they're done well. 
Having an actor come in who isn't a huge Star Wars fan, and hooking them with the story alone speaks for itself. 
"Andor" is currently streaming on Disney+.