Why Ralph Macchio Missed Out On Playing Marty McFly In Back To The Future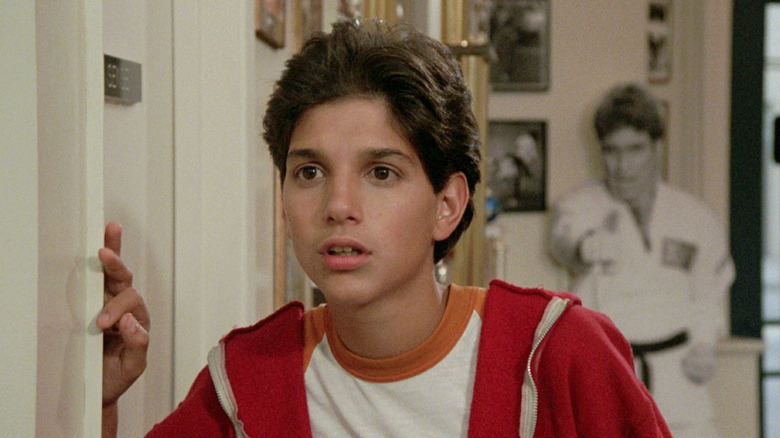 Columbia Pictures
Eric Stoltz being cast as Marty McFly and spending several weeks filming the role before Michael J. Fox replaced him is easily one of the most widely-known pieces of "Back to the Future" trivia there is and for obvious reasons. But as fascinating as it is to wonder what might've been had Stoltz gotten to drive Emmett "Doc" Brown's time-traveling DeLorean all the way to the finish line, he's far from the only "What if?" bit of casting when it comes to that McFly kid.
With Robert Zemeckis directing hot off his 1984 breakout film "Romancing the Stone" and Steven Spielberg producing, "Back to the Future" had its pick of up-and-coming actors to cast as Marty. That included Ralph Macchio, who had only just shown off his waxing skills and crane-kicking to the world in "The Karate Kid" a few months before he met Zemeckis and Spielberg in the fall of '84. In his new book "Waxing On: The Karate Kid and Me" (which /Film's Jenna Busch got to interview him about), Macchio reveals he was "very excited" to throw his hat in the ring for "Back to the Future." He also takes the time to clarify that reports stating he "turned down this mega-blockbuster franchise" were greatly exaggerated. Well, sort of exaggerated, that is.
An all-American quality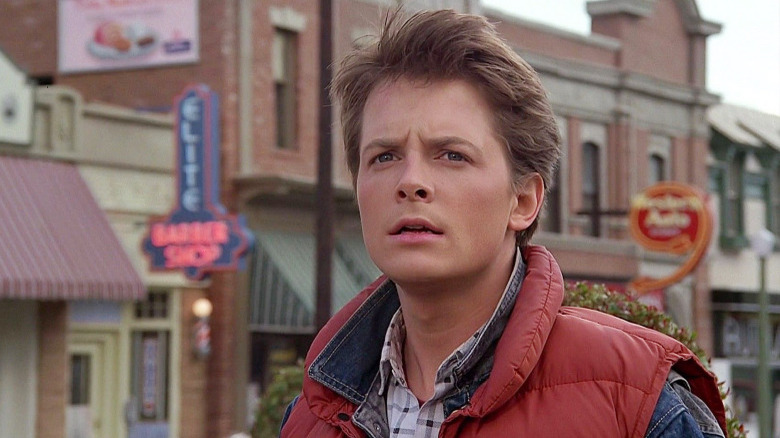 Universal Pictures
The issue Macchio has with claims that he turned down "Back to the Future" is that it implies the role of Marty was his to "turn down" in the first place. In his book, the actor recalls meeting Zemeckis and Spielberg in a New York City hotel suite for what he describes as a "fast-paced, upbeat, and positive" conversation. Macchio had already read the film's script and wasn't asked to perform a scene. Instead, his pals Bob and Stevie focused on explaining what they were seeking in an actor to play Marty. Macchio recalled two points they hit on in particular:
"One was the importance of an all-American quality to the character, as was written in the script. The concern was that I had a New York accent that would need to be curbed for the character and a distinct East Coast ethnicity. McFly was apple pie, and as I mentioned in chapter 3 of this book, I came up Fore cannoli."
As Macchio remembered it, he tried to demonstrate he could shed his "New York-ness" over the course of the meeting by enunciating more and slowing down his speech patterns. One suspects that was easier said than done, given his "New York-ness" has always been one of Macchio's most distinct qualities as an actor. "I imagine it came off as a hilarious train wreck," he confesses in his book.
Macchio also remembered being asked about the infamous sub-plot where Marty's mom develops a crush on him as a teenager. (One assumes this wasn't seen as one of Marty's "all-American" qualities.) "I wish I could say that I had an insightful answer, but I believe I just tap-danced around it and expressed my view that as long as it was entertaining, it should be okay," Macchio admits.
Macchio finds himself at a Crossroads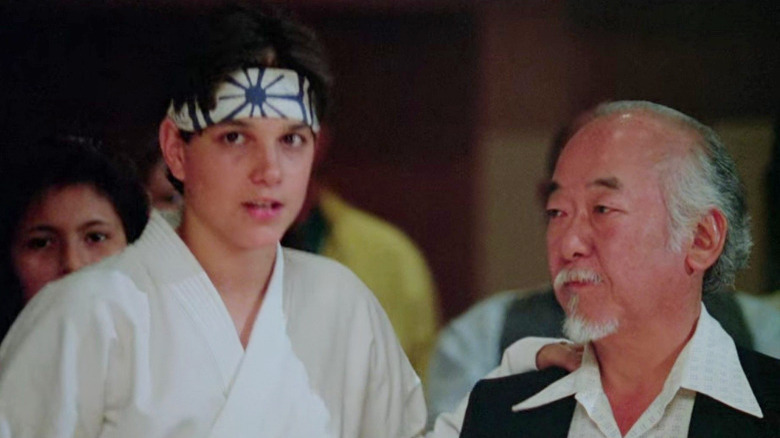 Columbia Pictures
However Macchio feels his conversation with Zemeckis and Spielberg went in hindsight, it didn't go so poorly as to take him out of the running to play Marty. While he was told the team behind "Back to the Future" was "unsure" if he was the right fit, he was also given a chance to screen-test for the role with some other candidates. Thing was, by that point, Macchio was deep into prepping for his part in Walter Hill's musical drama "Crossroads" and knew he was slated to film "The Karate Kid Part II" in the summer of 1985. That meant he would have to do some re-scheduling if he wanted to go back in time.
It's possible Macchio might have been able to work things out, too, had "The Karate Kid" and "Back to the Future" not been based at different studios. "Typical Hollywood politics came into play, with one franchise being at Columbia Pictures and the other at Universal Studios, and, in short, the 'Back to the Future' discussions didn't go any further," he explains in his book. He also notes how funny it was that after all that talk of Marty McFly being an "all-American, apple-pie role," it ultimately went to a Canadian actor.
Still, it's hard to feel like we really missed out on anything. Fox is pitch-perfect as the in-over-his-head Marty and his on-screen chemistry with Christopher Lloyd as Doc is the heart and soul of the "Back to the Future" films, much like the role of the good-natured but hot-headed Daniel LaRusso feels almost tailor-made for Macchio (as does his on-screen dynamic with Pat Morita's Mr. Miyagi).
Macchio puts it best in his book: "I said it before and I say it again... the right actor got the right part."