Ralph Macchio On His New Book, A Miyagi Origin Story, And Cobra Kai [Exclusive Interview]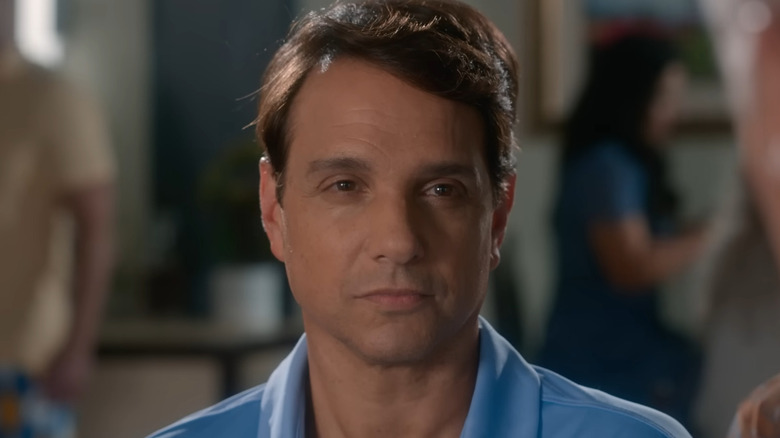 Netflix
We're in a full-blown "Karate Kid" renaissance era. The franchise that started with "The Karate Kid" in 1984 not only got three sequels and later a remake in 2010, but it spawned the series "Cobra Kai," which began on YouTube and ended up on Netflix. The first film was the story of young Daniel LaRusso (Ralph Macchio), who just moved with his mom to Los Angeles from the East Coast. He gets bullied by Johnny Lawrence (William Zabka), a student at the Cobra Kai karate dojo, and meets a mentor in Mr. Miyagi (the late Pat Morita), who teaches him how to defend himself. 
"Cobra Kai" not only gave audiences a chance to see what happened to Lawrence and LaRusso later in life, but it brought back characters from the first three films. It's been a huge hit with fans, who remember the first film with tremendous amounts of love. Now Macchio has a new memoir out called "Waxing On: The Karate Kid and Me," which explores not only his experience with the audition and his co-stars, but how much the love of the films and the embracing of the series has meant to him.
Macchio has some great stories, from what Pat Morita meant to him, to his hope for a Mr. Miyagi spinoff, to a pitch the late director John Avildsen was given for a "Rocky"/"Karate Kid" crossover. There is even some discussion of the all-time best guitar battle in a movie (it's a fact) from "Crossroads" between Macchio and guitar legend Steve Vai, and his work on "The Outsiders." We spoke with the actor/author about his memoir, those stories, and more.
'Fortunately, I get to write the book about it'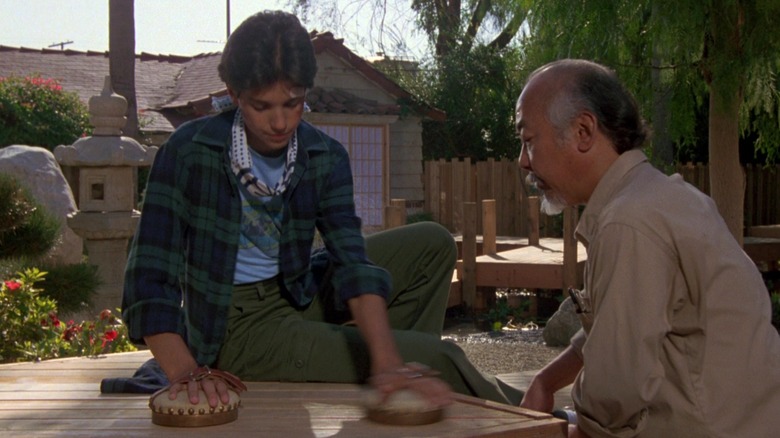 Columbia Pictures
When you hear something so beloved from your childhood is coming back, you pause a little bit. But "Cobra Kai" is so wonderful and it brings us so much joy. What is it about this franchise that you think allowed this to work so perfectly?
I think the themes — and I allude to this in the "Waxing On" book — the themes still resonate on a human level, whether it's bullying, mentorship, single parenting, fatherless teen, fish out of water, all these areas of life and navigating life, certainly in adolescence and beyond, are truthful to everyone in some way. And "Cobra Kai" doesn't lose sight of that. No matter how big and amplified and heightened the world may get in its tone, it's still Daniel trying to connect with his daughter and son, Johnny Lawrence and his son and his students, and taking down the evil empire and doing right, moving forward. All those themes and elements still work, and I think they ground it in a way, and then I think that people relate, and then they're beloved characters on top of that.
It's crazy to think that you were training for this role [on the studio lot] but still watching people around you auditioning for your part. Can you give future book readers a little bit of a tease into that?
Well, yeah ... In this chapter called "Becoming the Kid," the first chapter of the introductory story, I talk about [how] I auditioned for John Avildsen, the great director who directed "Rocky" and the "Karate Kid" films. He put me in first position right away, but the actual offer was based on a screen test. Even though I had the part, I didn't have the part until it was official. And the "official" [word] came when Pat Morita came along, and he and I got together. Then it was just lights out, everybody — it's just a perfect match of the two characters and two actors. And I speak to that very often in the book as [well], creating that magic that we had.
But before that, I would be out prepping, doing some karate training and soccer lessons and all the things that Daniel LaRusso had to do well in the film, and I'd occasionally see Charlie Sheen outside the production office. And I knew Charlie from working with Emilio Estevez, his brother, on "The Outsiders." And then, later on, I heard Clint Eastwood's son, Kyle Eastwood, was someone that was considered. Then I learned, even years after that, C. Thomas Howell, who I worked with on "The Outsiders," who never told me, for whatever reason, that he met with John Avildsen, even.
So it was interesting to know that I kinda had the part, but they were still just making sure everything was right. To be honest, at the time, I thought when they initially offered it, that it was just going through and I just had to wait through the red tape. And I think that was the case. They always said I was the upfront choice there. But the business is the business. So, fortunately, I get to write the book about it.
'How has someone not figured out the right way to carry on Daniel LaRusso's story?'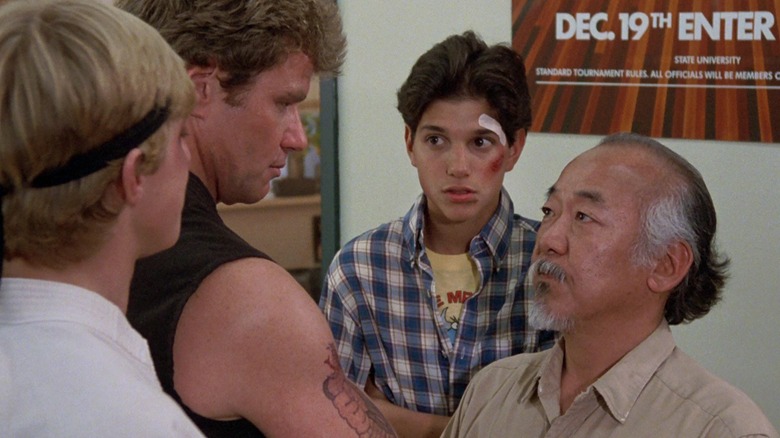 Columbia Pictures
Every time you wrote about Pat, whether it was choosing not to present an award to him or then honoring him at a different event later, it made me tear up. And obviously, I didn't know him outside his work. What do you think it was about him and his character that produces these feelings in all of us?
Well, over the years, I see how the audiences and the people of all ages are so moved by the magic of what the "Karate Kid" film was, and how it even pays forward in "Cobra Kai" and scenes that are quite profound and emotional in the Miyagi-verse, and in that character that was just so beautifully written and so well-portrayed by the perfect actor for the part.
So in writing that stuff, you can imagine how I felt when I was writing it, thinking back because he's no longer here and writing those moments. It's that nostalgia of yesteryear, but then I get to be contemporary and relevant because it's living and breathing and storytelling moving forward with the new series. So it really had a fresh and unique way of expressing — I just wanted people to hear from me on what I was experiencing as a young actor and how I value it now, as a not-as-young actor. [laughs]
You talk about your family so much in the book, and I know you've been with your wife since this all started. [They were dating when the first film happened.] What is her opinion of the "Karate Kid" renaissance?
Oh, I mean, she's just thrilled. Listen, for a while, when she'd see other things be either rebooted or continued, she would say to me, "How has someone not figured out the right way to carry on Daniel LaRusso's story or the 'Karate Kid' story going forward?" Because she would see how beloved the character is by walking by my side through life and seeing people come up to me over the years, or the decades, really, and share their inspirational story or the impact or maybe certain hardships in their lives and how this film represented a piece of comfort or a character that they were inspired by or felt a connection with. She's witnessed all that. So to see it work on this level and to see 12-year-old kids run up to me, 13-, 14-year-old kids and know who Mr. Miyagi is and "Cobra Kai" is their favorite show...
I mean, every Halloween I look for the next set of characters. Certain ones will have the shower costume [from the first film] and the skeleton costumes and the "Karate Kid" Daniel LaRusso costumes and the "Cobra Kai" kids. And now you get Sam [Mary Mouser], Miguel [Xolo Maridueña], and Tori [Peyton List], and Hawk [Jacob Bertrand], our next-generation characters. So we're just really enjoying it. And that's part of the reason why the book, for me, is so timely. To hopefully be honest and have a conversation with everyone about what it's been for me as well.
'Be careful what you think you know'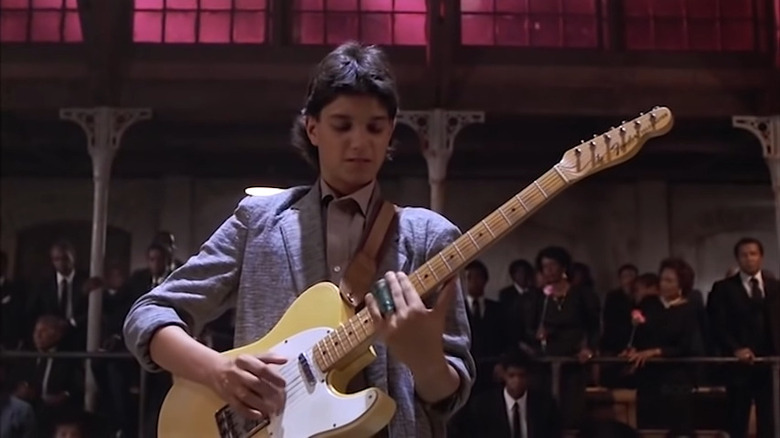 Columbia Pictures
I'm just throwing this out there, but you do mention Bruce Springsteen a lot, and I appreciate that. I'm wondering if anyone's asked him to appear on "Cobra Kai?"
[laughs] No, we haven't. That's my next one. If we get our season 6, which we're still awaiting official word on, but we're very hopeful and feel confident ... [I wrote about him] because Springsteen is a big part of my life. I've never met Bruce Springsteen, I've just been a fan, and from the first time I saw him on stage, it's just really quite an extraordinary talent. I'll listen to his music every week, at least. It's just on there. It'll be somewhere populated into my playlist. So yeah, Springsteen, the Mets, the Islanders, the Jets, I think — although my New York Jets, I should have written more about the Jets right now, because they're five and two.
You mentioned — this was so crazy — a pitch meeting for a "Rocky"/"Karate Kid" crossover. Ever since I read the book, I've been thinking about what that would've looked like. I mean, would you even consider a cameo from anyone from the "Rocky" movies in "Cobra Kai?"
Yeah. Listen, "Cobra Kai," the three guys who write that show [Josh Heald, Jon Hurwitz, and Hayden Schlossberg] have just opened up the world that I would say "never say never" has never been more relevant to me. Because if you were to ask me if I would ever be in a show called "Cobra Kai" that would have Terry Silver [Thomas Ian Griffith] from "Karate Kid Part III" and Mike Barnes [Sean Kanan] in it, I would say, "No way! This thing's done." So youth is wasted on the young. And I write to that, and I've enjoyed writing to that. Be careful what you think you know. Maybe a young reader will see that. Keep your eyes and ears open. You never know.
I have to ask you about the "Crossroads" guitar battle and the training you did working with Steve Vai. It's just mind-blowing.
Yeah. I love that film, and I try to mention it a few times in the book because I was so passionate about the blues and learning it and that story and working with [director] Walter Hill at that time.
Yeah, I could still watch that guitar duel any day. First of all, it was beautifully filmed. It's really one of the better-looking movies I was in. That and "The Outsiders," are the two probably more cinematic films I was ever in. And that music. Yeah, I still think there's life for [the character] Eugene Martone, and down the line, if we can come up with it, go down to the crossroads and maybe revisit that world at some point. We have some ideas there. But it's always tough, it's always tough pushing it through. But I'll keep going. I love that, and Steve Vai is a magician — really just this spectacular musical artist.
'Staying Gold: The Later Years'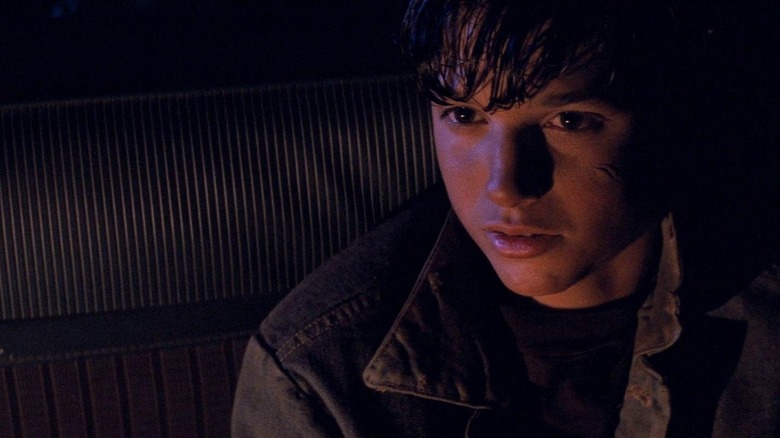 Warner Bros. Pictures
Well, I vote for a continuation of that. But it's funny, I run by "The Outsiders" mural in the valley in L.A. every day. You don't mention it that much in the book. I'm wondering if that could be a separate memoir.
Yeah, "Staying Gold: The Later Years."
Yes!
Yeah, I've thought about it. I do mention "The Outsiders" here and there, and I mentioned Rob Lowe, C. Thomas Howell, Emilio Estevez, so it gets this fair share of mentions. But yeah, I really wanted to keep the book focused on the Daniel LaRusso journey of it all and keep it from being a long, 500-page autobiography of my first day of kindergarten through until yesterday. I wanted it to be an easy read, but one that hopefully will have some profound and poignant thoughts throughout.
You talk about imagining John [Avildsen] and Pat [Morita] beaming in drunken happiness watching "Cobra Kai." I'd love to hear a little more about your thoughts on what they would think of "Cobra Kai."
Yeah, I think they would love it. It's really amazing. And then the last time I saw John, which I write to that one, he gave me the two film strips from "The Karate Kid Part II," and I nostalgically was just looking at them. I had just heard the early rumblings and discussions of the potential of the "Cobra Kai" meetings, and I didn't share it with him at that time because I didn't know if it was ever going to be real. So to my knowledge, he never knew about it. Pat had passed years earlier. [Morita passed away in 2005.]
So I do think they are toasting some sake up there, maybe with Jerry Weintraub, the producer, and just looking down on their boys that are Billy Zabka and myself, who was the inroads beginning of what "Cobra Kai" has grown into. It's really wonderful and unique, and that's why I think it deserved a book. So I'm glad I'm on this side of it, and I'm glad people seem to be really enjoying it. It makes me very, very happy and fulfilled. So hopefully, that continues.
'They wished they had a Miyagi in their life'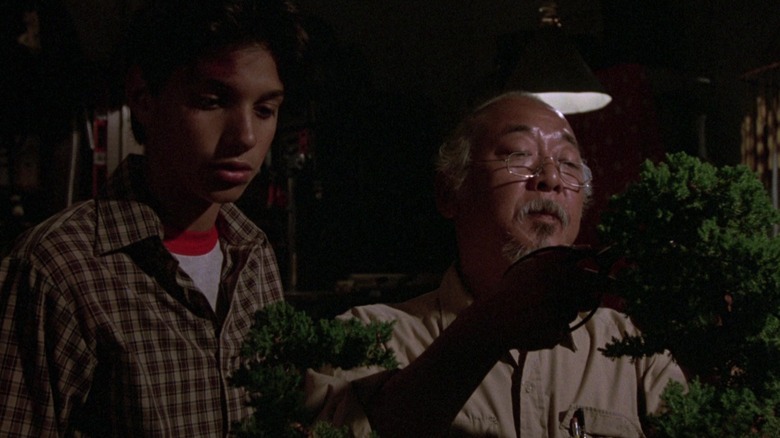 Columbia Pictures
One thing you mention is you'd love to see a Miyagi origin story. What would that look like for you, if you could just imagine the pilot?
Yeah, I know there's been discussions from all the folks that have written, from the ["Karate Kid"] screenwriter, Robert Kamen, to the guys who write "Cobra Kai." It just makes such obvious sense to figure out how to tell that story. I would probably like to see it as the dramatic story that it is less in the tone of "Cobra Kai" and more in the tone — meaning that heightened reality — more the tone of a drama following this man and the ups and downs of his life 'till he got to the point where a kid knocked on his door and asked him to fix the faucet in his apartment building in Reseda. I mean, who is this guy who served in World War II and lost his wife and child, which is all part of the story of the internment camps in the "Karate Kid Part I?" Wouldn't that be interesting?
I would watch every second of that. One of the things that "Cobra Kai" and "Karate Kid" talks about is bullying. And, like you said, it's really changed people's lives. How does it feel when someone comes up to you and talks to you? You mentioned one incident in the airport [in the book] that was so lovely.
Yeah. I mean, I put three stories in that chapter, "The Impact and Inspiration," I think, is that chapter. And that's three stories of probably 3,000. I just had to pick the ones that represented those experiences. And they'll happen and it just happened on the book tour. I've had at least 10 people stop with tears in their eyes to explain the impact of the film on their lives and maybe connect in some way, whether they were bullied, or whether they were a product of a single parenting scenario, or they had a Miyagi in their life where they wished they had a Miyagi in their life. The power of which the entertainment of these characters and that underdog element gave them a little wind in their sails in getting through some maybe tough times.
Or whether it's even a film that they watched with their dad 40 times who is no longer here, those I get a lot, because they're a lot of people in their thirties and forties that don't have their parents. They remember their parents took them to this movie and what it meant to them. I spread a little bit of joy and positivity in a world that's not always that way. I'm pretty lucky and blessed to have that. So it's awesome.
"Waxing On: The Karate Kid and Me" by Ralph Macchio is on sale now. "Cobra Kai" is currently streaming on Netflix.