The Karate Kid's Mr. Miyagi Has An Incredible Connection To Real-Life Heroes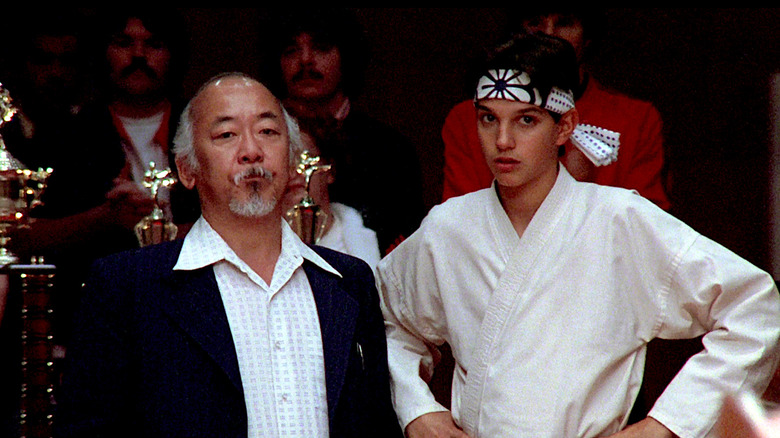 Columbia Pictures
Fans of director John G. Avildsen's "The Karate Kid" franchise will no doubt remember the emotional scene in the first film where a drunk Mr. Miyagi (Pat Morita) reflects on his early life in America. Dressed in his old army uniform, he toasts to a photograph of his late wife and shows a picture of her to Daniel (Ralph Macchio) who is just now learning of his sensei's complicated past. 
Born in Okinawa, 18-year-old Miyagi immigrated to the United States after he unsuccessfully professed his love to Yukie, the woman who was arranged to marry his best friend, Sato. He met his wife in Hawaii while working in the cane fields, but their romance was quickly complicated by the United States' decision to enter World War II. When President Roosevelt ordered the incarceration of over 120,000 Japanese and Japanese American citizens in concentration camps, both Miyagi and his wife were relocated to Manzanar, a camp in California. While overseas fighting for the U.S. Army, Miyagi's wife and unborn child died during childbirth — a tragedy that would go on to haunt him for the rest of his life.
Throughout "The Karate Kid" films and "Cobra Kai," Miyagi is always referenced as having been part of the 442nd Regimental Combat Team during his time in the U.S. Army. His service in this particular regiment is even engraved on his headstone. But just what is the 442nd Infantry Regiment, and how is its history significant to "The Karate Kid's" most famous sensei?
Going for broke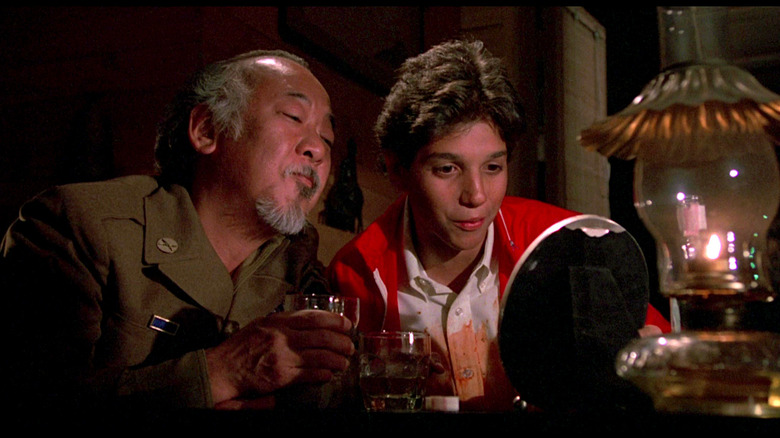 Columbia Pictures
In 1942, when the United States made the heinous decision to incarcerate Japanese Americans in concentration camps, they also refused to allow any of these men to enlist in the United States Army. This decision was reversed a year later with the creation of the 442nd Regimental Combat Team (RCT). This segregated RCT was predominantly made up of Japanese American volunteers, many of which came from Hawai'i as well as the concentration camps on the mainland. During their training, the members of the 442nd excelled, foreshadowing their eventual outstanding success. 
The 442nd fought the majority of its battles during World War II in Europe, and they often worked alongside the 100th battalion which was another predominantly Japanese American unit comprised of men that were already enlisted in the U.S. Army before the start of the war. They were famously known for using the phrase, "Go for broke" as their motto, and their strong determination and skill is reflected in the fact that they are, to this day, "the most decorated unit for [their] size and length of service in the history of the US military." Many of the men in the 442nd received awards for their service ("4,000 Purple Hearts, 4,000 Bronze Stars, [and] 560 Silver Star Medals") including 21 Medals of Honor which is the highest military award a person can earn.  
The 442nd had a hand in many impressive operations during the war including rescuing members of the 1st battalion, 141st infantry after the group became surrounded by the German Army. Two previous attempts to rescue these men were unsuccessful, but the 442nd prevailed and got the job done. Their success as a unit is extremely impressive when you consider how despite being subject to horrific racial discrimination at the hands of their own government, the men of the 442nd made the decision to still proudly fight for their country. It's no surprise, then, that the valiant Mr. Miyagi is linked to these heroic men. 
Isn't karate for defense only?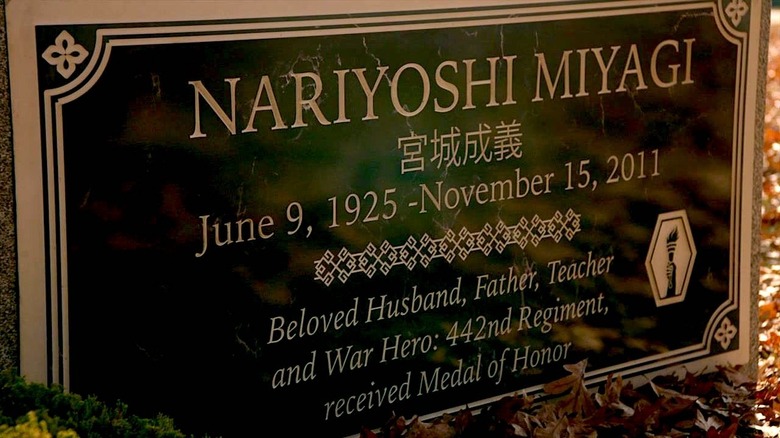 YouTube Red/Netflix
Not only is Mr. Miyagi a member of the 442nd Regional Combat Team, but he is also one of the 21 men who received a Medal of Honor for his service. In "The Karate Kid," This medal is discovered by Daniel who comes upon it in a box of keepsakes after helping a drunk Miyagi to bed one night. It is a tender and revolutionary moment in the first "Karate Kid" film that quietly speaks to Miyagi's heroic nature, but some might wonder how Miyagi, a man who is so adamant that karate only be used for defense, ended up fighting in a very real, very complicated war in the first place.
It's possible that Miyagi's own sense of justice is what fueled his decision to join the 442nd RCT. When it comes to fighting, Miyagi often chooses not to, however, faced with an unending prison sentence at the hands of the United States, Miyagi may have seen his choice to enlist as a way to both prove his allegiance to his new country and fight for his freedom within it. Historically, many Japanese American men made the decision to enlist in the U.S. Army for this very reason. They believed that their choice to fight despite their incarceration would be a good way to show that they were loyal to the United States. Whatever Miyagi's reasons for enlisting, the film's decision to make him a member of the 442nd is a powerful one that is loaded with important historical significance.