The History Of Treasure Planet, Disney Animation's Biggest Ever Flop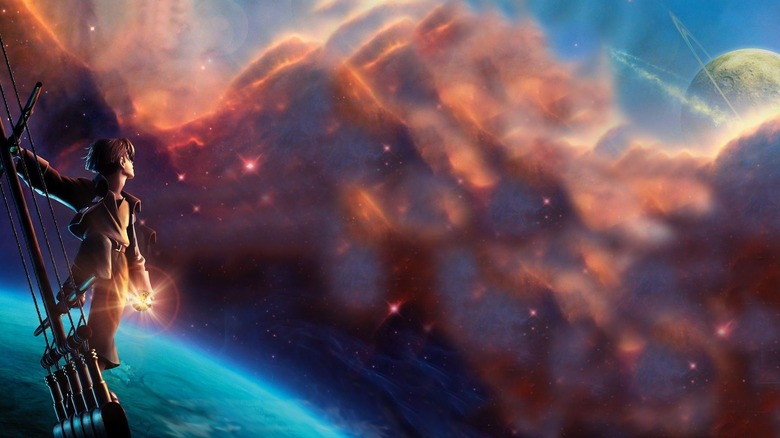 Walt Disney Animation
It is said that the typical gap of time for nostalgia to take root in the public consciousness is 20 years. Consider how the '70s were rife with rose-tinted fondness for the '50s, with the popularity of "Grease" and "Happy Days." Nostalgia for the 1980s hit hard in the early 2000s, although it never truly left if the success of shows like "Stranger Things" is anything to go by. We're now two whole decades on from the beginning of the new millennium. While we once again embrace emo rock and digital cameras, perhaps it's time to look back on the Disney film that ushered in a new era for the company, and may have killed it in the process.
In November of 2002, Walt Disney Feature Animation released "Treasure Planet." Based on the novel "Treasure Island" by Robert Louis Stevenson, the sci-fi adventure tale was the long-time passion project for two of Disney's most beloved directors. They spent many years trying to convince the company to let them make it, were given a record-breaking budget to bring it to life, and helped to pioneer some major animation techniques in the process. It should have been a slam dunk for a company that was continuing a streak of incredible cartoon successes. Instead, it became the biggest flop in the history of Disney animation, and one of the costliest movies in Hollywood history. While the company that made it has all but refused to acknowledge the existence of "Treasure Planet" in the ensuing decades, it's gained a small but mighty fanbase and it remains an important, if somewhat tragic, relic of the downfall of hand-drawn animation in American cinema.
Treasure Island in space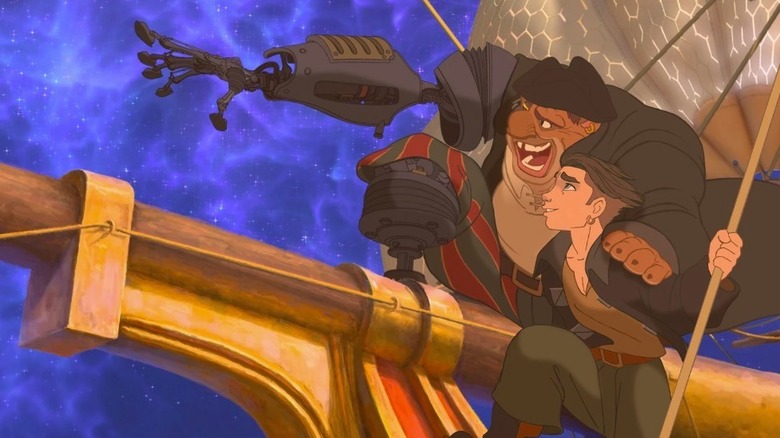 Walt Disney Animation
In the 1980s, Disney was in a terrible place. With a slew of flops under their belt and increased competition from the likes of Don Bluth, it seemed as though the company was on the verge of closing down its animation division. One of their most ambitious attempts to revive their fortunes, "The Black Cauldron," was beaten at the box office by "The Care Bears Movie." Jeffrey Katzenberg, then the head of Disney's motion picture division, was charged with turning their fortunes around. By the late '80s, things were changing for the better. One of the films to push the doors open for a brighter future was "The Great Mouse Detective," an immensely charming take on the Sherlock Holmes stories with a scene-stealing villain turn by Vincent Price. Behind the drawing board for that film were two rising animators, John Musker and Ron Clements.
Musker and Clements were animators who were brought to Disney during a bleak time for the company. After the death of Walt Disney, the studio struggled to establish an identity independent of their founder. Many movies were some version of "what Walt would have done" and felt hopelessly out of step with the changing times. One of these films, 1981's "The Fox and the Hound," led to Musker and Clements being paired together. Their partnership flourished almost immediately, and they went to work on "The Great Mouse Detective." 
While working on that film, Katzenberg and Disney's CEO Michael Eisner issued invitations to the animation staff for their first held "gong show" session. They wanted new ideas, fresh visions for a company many saw as being stuck in the past. Musker and Clements brought to the table two big ideas. One was "Treasure Island in space," a high-concept sci-fi adventure tale inspired by a children's favorite. It was rejected because, at the time, Paramount Pictures was developing a "Star Trek" movie sequel inspired by the book (it never got made.) The other idea they pitched was a new musical take on Hans Christian Andersen's "The Little Mermaid." That concept was eventually accepted and led to a historic change in Disney's animation division.
The fight to get Treasure Planet greenlit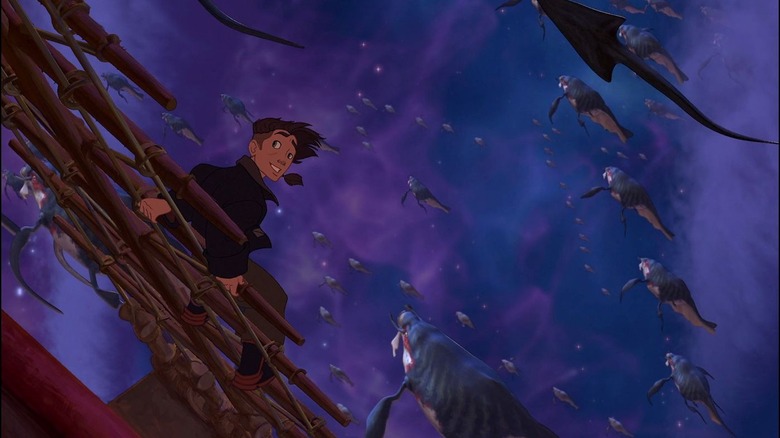 Walt Disney Animation
After "The Little Mermaid" became a massive hit, winning a few Oscars and rebirthing the company, Musker and Clements went back to Eisner and Katzenberg to pitch "Treasure Planet" once more. Still, the studio wasn't convinced, but they wanted to keep the directors who helped save the brand on board. So, they offered them one of three in-development projects: A new take on "Swan Lake," a "Hamlet" reimagining involving lions called "King of the Jungle," and the Arabic folktale "Aladdin." They chose the last one, turning it into a Warner Bros.-esque, fourth-wall breaking fantasy-comedy and free-wheeling vehicle for Robin Williams. Again, that movie made a lot of money. Again, the pair asked if they could make "Treasure Planet." And again, Katzenberg said no.
Musker and Clements were determined to see their dream project finally be greenlit. They even approached Feature Animation chairman Roy E. Disney for his support, which he gave. So, they made a deal. After signing on to a new take on the Greek myth of Hercules, they signed a seven-year contract deal with the studio which stipulated that Disney would finally make "Treasure Planet." After "Hercules" proved to be a modest hit, it was, at long last, time for "Treasure Planet" to fly into the stars.
How Treasure Planet was made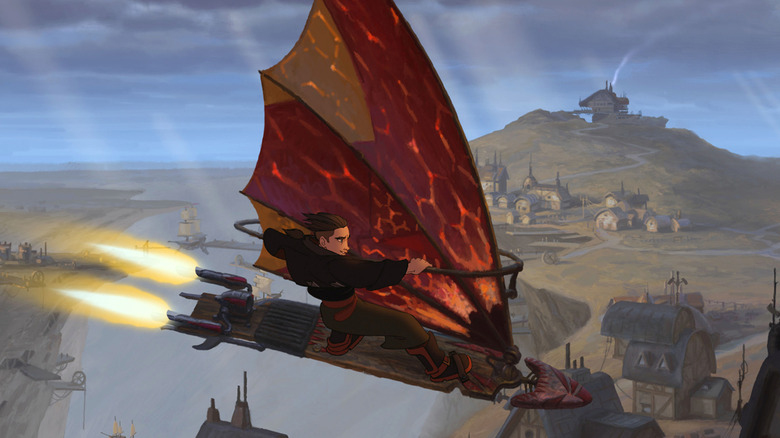 Walt Disney Animation
All in all, "Treasure Planet" is a rather traditional adaptation of Stevenson's novel. Young Jim Hawkins, who finds a treasure map and goes on an incredible adventure, is aged up to a cool teenager, complete with a spacey skateboard, and his mentor figures, Squire Trelawney and Dr. Livesey, are melded into one character, Dr. Coppler. Otherwise, the sci-fi shifts from the classic adventure yarn aren't especially major. In its most basic form, it really is just "Treasure Island in space." The focus would be on Jim and his father-son-esque relationship with Long John Silver, the ship's cook and conniving pirate. Moreover, it wouldn't be a musical like much of Disney's output the previous decade. Instead, non-diagetic songs would be provided by John Rzeznik, lead singer of the Goo Goo Dolls (presumably because Phil Collins was busy.)
"Treasure Planet" was a mighty undertaking. Production took roughly four and a half years, with around 350 crew members, and delays were not uncommon. Musker and Clements didn't just want to tell this story: they wanted to use it as the foundation for some new developments in animation technology. They wanted space to look like it had never looked before. Clements explained in an interview that they wanted "to develop a space world that was warm and had more life to it than you would normally think of in a science fiction film." That involved a blending of traditional hand-drawn animation and still-burgeoning 3D. CGI had been used before in 2D films. "Hercules" featured a scene with the Hydra that used 3D, albeit in a still-rudimentary form. With "Treasure Planet," Musker and Clements wanted to make the integration seamless.
A true hybrid film
Walt Disney Animation
Clements described it as a "true hybrid film [...] fifty percent of it has been done on the computer and fifty percent of it has been done by hand." It wasn't as simple as a half-and-half split, however: backgrounds and environments were CG, and the characters were a blend of 2D and 3D, such as Long John Silver's cyborg arm. The animators used Deep Canvas, a technology which they had initially developed for 1999's "Tarzan," wherein the title character weaved through the trees and vines like a surfer to striking effect. This allowed the crew to add immense depths to backgrounds in a way that 2D didn't always allow. It also enabled animators to place the camera anywhere in the set and maneuver it as they would in a live-action film. Musker and Clements cited both James Cameron and Steven Spielberg as influences for how they wanted to bring the fluidity of camera movement to their film.
The overall effect is certainly impressive, and "Treasure Planet" stands alone in the Disney animation canon in terms of its unique aesthetic.
No more princesses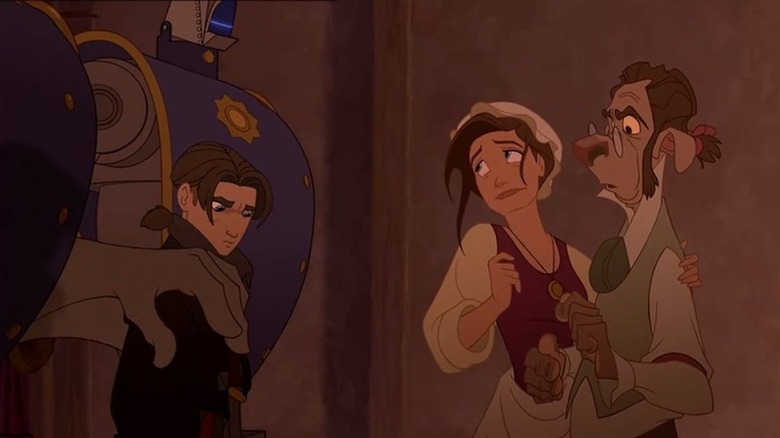 Walt Disney Animation
The 2000s were a curious era for Disney Animation. The Renaissance era was firmly over and the company sought to move away from that now well-worn formula of musicals based on fairy-tales or familiar pre-existing narratives. So, the new decade meant no more princesses, no more traditional musicals with flashy villains, and a more conscious move towards other genres. 
With the new millennium, Hollywood's priorities changed dramatically and the big-budget franchise further dominated the landscape. Disney was forced to keep up with the likes of "The Matrix" and "The Lord of the Rings" — huge money-makers with more adult appeal — without abandoning their core family-friendly demographic. So, we see movies like "Treasure Planet," "Atlantis: The Lost Empire," and "The Emperor's New Groove," all of which seem as ideal for teenagers and young adults as little kids. They, for lack of a better term, were meant to be cool, something Disney was never exactly celebrated for. "Treasure Planet" was one way that the House of Mouse was ready to prove that they could keep up with their rivals and be more than the company that made princess tales with happy-ever-after endings.
The premiere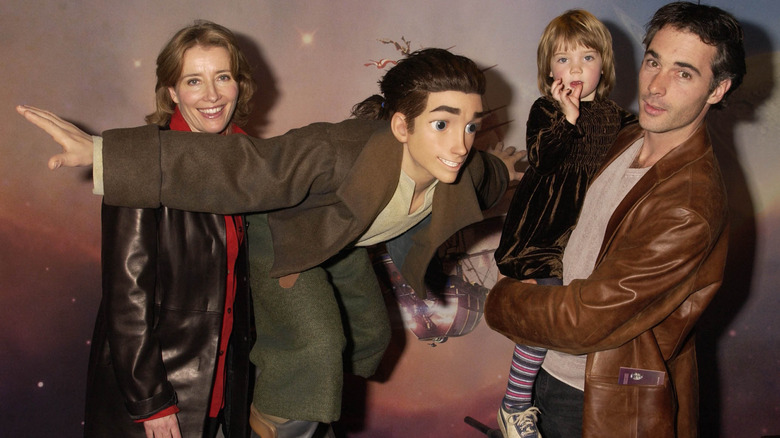 Dave Benett/Getty Images
As was typical for a new Disney animation, the studio went wild in marketing it, making sure "Treasure Planet" was as inescapable as prior releases. The trailer was shown ahead of "Spider-Man" and "Star Wars: Episode II – Attack of the Clones." McDonald's sold "Treasure Planet" Happy Meals. Hasbro released action figures. Disney also planned to make the film a huge part of their theme parks, hoping it could provide a fresh new backdrop for the Submarine Voyage ride. A sequel was already in the works, with Willem Dafoe on board as the voice of the villain. 
But then it actually premiered. Reviews were warm but not as enthusiastic as Disney was used to. The biggest problem was its competition at the box office, which included "Harry Potter and the Chamber of Secrets" and the newest James Bond film, "Die Another Day." Eventually, "Treasure Planet" opened in fourth place with a $12 million debut. It was beaten by "The Santa Clause 2."
Why Treasure Planet flopped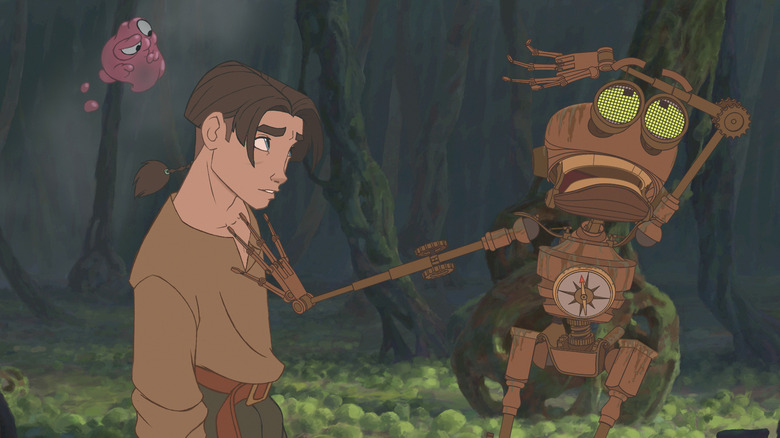 Walt Disney Animation
It took little time for Disney to see the writing on the wall. The same week "Treasure Planet" flopped at the box office, the company took a $74 million write-down for the fourth business quarter to reflect the lowered profit projections caused by the movie. To this day, the film has never earned back its lavish budget or marketing costs. Adjusted for inflation, "Treasure Planet" lost about $128 million. That makes it a bigger flop than "Battlefield Earth" and 2015's "Fantastic Four." What Disney had hoped would quash their animation troubles only further exacerbated them.
"Treasure Planet" was Disney's most expensive attempt at moving away from the tropes of the '90s that had revived their fortunes. That era led to some truly fascinating and often great films, yet, aside from "Lilo and Stitch," which became a merchandising phenomenon, none of these films made money. Audiences didn't gel with this shift in direction and turned to Pixar, DreamWorks, and Blue Sky instead. By 2004's "Home on the Range," Disney was done with 2D animation. They briefly revived it for Musker and Clements to return to Disney in 2009 with "The Princess and the Frog" and the underseen 2011 version of "Winnie the Pooh." Alas, since then, Disney has been 3D-focused, albeit to great financial success and critical acclaim. This formula is working for them and they've no desire to change it.
The end of 2D animation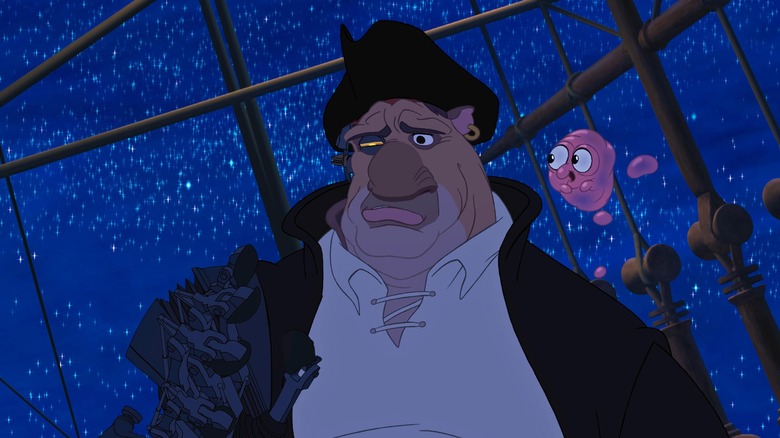 Walt Disney Animaton
It's a disheartening reality that Walt Disney Animation seems to have abandoned its rich past of hand-drawn work in favor of 3D features. That's not to say they can't be beautiful films but to see the company that defined 2D animation see the medium as a relic seems like a mistake. "Treasure Planet" isn't top-tier Disney, but it is a fun action-adventure lark that saw the company take a risk with a new formula and some truly stunning visuals. It also contains perhaps the company's most affecting portrayal of a father-son relationship in the dynamic between Jim and John Silver. It's when "Treasure Planet" has to remind itself to be a Disney movie that things fall apart, from the irritating robot sidekick voiced by Martin Short to the intensely dull Goo Goo Dolls songs. As dazzling as the sci-fi visuals are, there are moments where you can't help but wonder if the film would be more narratively sturdy had it just been an adaptation of "Treasure Island."
Disney plays it safe and doing so has made them exceedingly rich and powerful. One can't fault them for doing what they do best when they've spent close to a century perfecting the formula. Yet it still seems like a waste to not step out of the animation comfort zone of the 2020s when their riskier projects have yielded such surprises. Surely, it's more exciting to fail in style than stay in your small box forever?