Leslie Jordan Could Always Count On Ryan Murphy For A Wild Role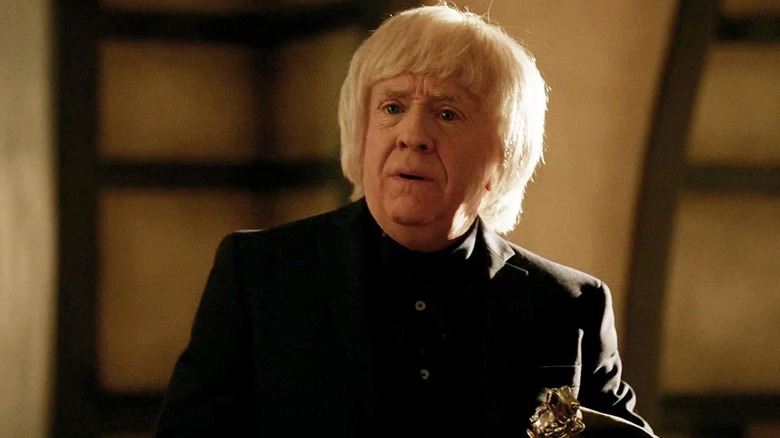 FX
"American Horror Story" has a revolving door of repertory players, from Kathy Bates and Billie Lourd to the ever-game Evan Peters and Sarah Paulson. Yet few actors were ever as delightful to see as Leslie Jordan, the endearing gay, Southern comedian who passed away this week at the age of 67. Jordan's distinctive voice, small stature, and infectious energy made him a great guest star on any series, but an especially excellent one in the campy, spooky world of "American Horror Story."
In an interview with NME last year, Jordan spoke about his working relationship with series creator Ryan Murphy, and the fun he had working on whatever kooky roles the filmmaker came up with. "He's always been so brave and outside the box," the comedian told the outlet. "I can always count on him to write some totally crazy character for me." Jordan appeared in three seasons of "American Horror Story," playing increasingly wild roles each time.
First, he was Quentin Fleming, a bestselling author who achieved his status via witchcraft in "American Horror Story: Coven." The third season is still a fan-favorite, and Jordan definitely contributed to its greatness as a member of the Witches' Council who ends up getting his eyes scooped out by a melon-baller-brandishing Myrtle (Frances Conroy). Next, he popped up in "American Horror Story: Roanoke," where he was killed not once but twice — first as a New Orleans medium, then as the actor who played him. He donned a blonde wig for the part and shared a memorable scene with Lady Gaga, whose wild woman costume was so convincing, he told Trailblazers Radio (via People) that he didn't recognize her when they met on set.
Jordan was a beloved recurring actor on American Horror Story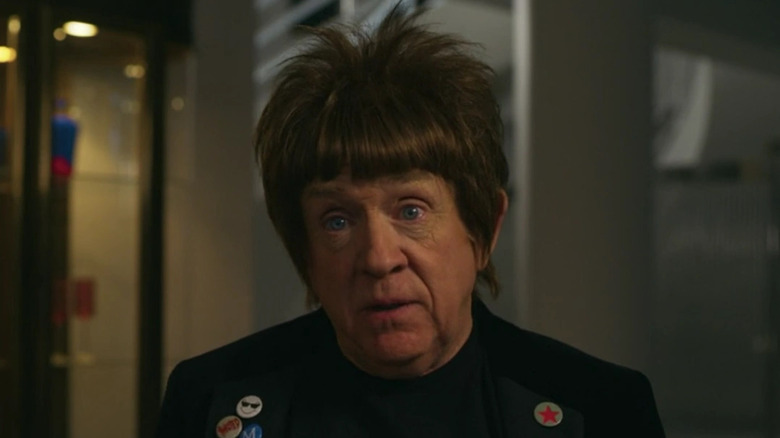 FX
Finally, Jordan played Courtney in "American Horror Story: 1984," donning an even more egregiously funny wig as an assistant who dresses like a rock star despite being in his '60s. Jordan praised Murphy's recurring cast, telling NME, "You know, he's very loyal to his actors. Look at 'American Horror Story' and all the amazing characters Sarah Paulson has gotten to play over the years. I think people look forward to that — like, 'What is she gonna do this year?'"
Jordan went on to say that Murphy "really has his finger on the pulse," citing the show's Massachusetts-set "Double Feature" season as an example. "People in the gay community have known about Provincetown for years, but now Ryan Murphy is gonna have a series [of 'American Horror Story'] there," he shared. "Oh my gosh, that's just thrilling to me." Jordan even expressed his interest in appearing on the show again, saying, "I was wondering why he didn't cast me in it actually, but then I remembered I'm in 'Call Me Kat' at the moment, so he can't."
Murphy has returned the love for Jordan as well. During COVID-19 lockdown, when the comedian went viral for his wildly entertaining Instagram videos, LA Magazine reports that Murphy took to his own Instagram account to declare his intention to write a show centered around Jordan and Dylan McDermott. "Should it be a romance? A buddy comedy? A heist movie?" the filmmaker posted. There's no indication that this show was ever shot, which is frankly heartbreaking. But it's still a testament to the pair's creative partnership that Murphy always had another role planned for Jordan, who was eager to tackle each new challenge with his signature contagious enthusiasm.