Jim Carrey Owes Part Of His Ace Ventura Success To Fellow Canadian Rick Moranis
Warner Bros.
Tom Shadyac's 1994 hit film "Ace Ventura: Pet Detective" starring Jim Carrey has, in 2022, been the subject of a deep re-litigation. Upon its release, audiences reacted with the utmost enthusiasm to Carrey's over-the-top-and-then-some shenanigans, laughing heartily at the actor's boundless energy and aggressive strangeness. Even the premise was odd: Ace Ventura was a private investigator who only took cases involving pets and animals. His plum gig comes when the Miami Dolphins hire him to find their kidnapped mascot, a dolphin named Snowflake. 
What made the film worthy of reconsideration was a staggeringly transphobic twist that mocked and derided one of the film's main characters for comedic purposes. The climax of "Ace Ventura" saw a trans woman (Sean Young) stripped down to her underwear in front of dozens of cops as evidence of her guilt in the case. Her exposure was accompanied by having the surrounding crowd spitting and rubbing their tongues in disgust; it seems she had kissed them all at some point and their gay panic immediately kicked in. The film also include an unfortunate helping of slut-shaming as well. It's a gross, gross ending to an otherwise "wacky" comedy. 
Prior to "Ace Ventura," Jim Carrey was known primarily for his standup comedy and for his work on the popular sketch comedy series "In Living Color," itself a cultural juggernaut. Then 1994 saw Carrey starring in "Ace Ventura: Pet Detective," the cartoonish comic book movie "The Mask," and the farce "Dumb and Dumber." All three were massive hits, and the Canadian comedian immediately leapt to the top of the Hollywood firmament. Afterward, 1995 saw Carrey opening a "Batman" sequel, and in 1996, he would be commanding a $20 million salary (unheard of at the time) for his work on Ben Stiller's "The Cable Guy."
Carrey's meteoric rise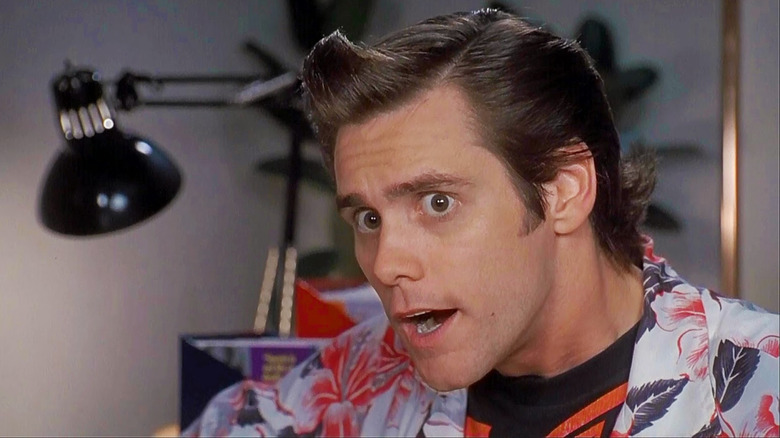 Warner Bros.
Jim Carrey had actually been working in show business for over a decade prior to his trio of big breaks in 1994. In addition to "In Living Color," he headlined a 1984 Canadian sitcom called "The Duck Factory," appeared in the feature film "Peggy Sue Got Married," the vampire sex comedy "Once Bitten," the Dirty Harry sequel "The Dead Pool" (playing an Axl Rose-style rock star), and the glorious Julie Brown-scripted "Earth Girls are Easy," based on her hot novelty song. As the old showbiz axiom goes, it took years for him to become an overnight sensation. 
In a 2019 retrospective in The Ringer, the making of "Ace Ventura" was laid out in detail. Carrey, it seems, owes a lot to another famous Canadian comedian for clearing the way for his "Ace Ventura" opportunities: Rick Moranis, star of "SCTV," "Strange Brew," "Streets of Fire," "Spaceballs," and "Little Shop of Horrors."
James G. Robinson, then the head of Morgan Creek Studios, knew he wanted a vehicle for an "untamed" comedian. Moranis was his first choice. When he turned the part down, they tapped Carrey as their second choice. In a 1994 issue of the Los Angeles Times, Carrey said: 
"The character had to be rock 'n' roll. He had to be the 007 of pet detectives. I wanted to be unstoppably ridiculous, and they let me go wild."
Wild indeed. It's a physical performance for the ages. Whether or not Moranis would have been able to bring a similar manic energy, one can only speculate.
"Ace Ventura" cost $15 million to make and ended up earning $72 million. The film had two sequels and an animated series. In 2022, Carrey starred in "Sonic the Hedgehog 2."