Alrighty Then! Jim Carrey Would Make Another Ace Ventura Movie If Christopher Nolan Directed It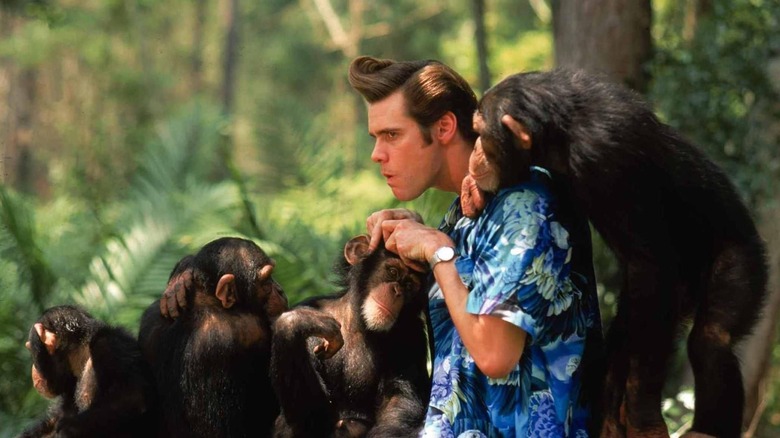 Warner Bros.
1994 was a banner year for Jim Carrey. After years of working in standup in Toronto, numerous comedy and TV jobs, a year on his own sitcom, and a stint on the hit sketch comedy show "In Living Color," Carrey starred in three high-profile, ultra-successful comedy films released within the same year. "Ace Ventura: Pet Detective" was released in February, "The Mask" was released in late July, and "Dumb and Dumber" came out that December. By the following year, Carrey was already playing one of the supervillains in a Batman film — one of the highest-profile jobs imaginable — and was following up "Ace Ventura" with a sequel. After that, Carrey's career went to some wild places. There were more high-profile comedies ("Liar Liar"), but also a notable biopic ("Man on the Moon"), prestige pictures ("The Majestic"), and an arch, conceptual romance ("Eternal Sunshine of the Spotless Mind"). 
In the 2017 documentary film "Jim and Andy: The Great Beyond," Carrey describes the intense experience he had working on "Man on the Moon," but also his intense rise to fame, his mental health struggles, and his ultimate realization that enormous wealth and fame weren't bringing him the contentment he needed. It seemed that Carrey was no longer going to pursue broad comedies or huge blockbusters. He would do both again in "Sonic the Hedgehog" and its sequel in which he would play the over-the-top supervillain Dr. Robotnik. But Carrey has said he's eyeballing the exit door, preparing for retirement from acting altogether. 
In a recent interview with E! News, Carrey said that he might come back to do another Ace Ventura movie, but only if it had a really, really interesting idea or angle to explore. Carrey joshed that if Christopher Nolan wanted to make a fourth "Ace Ventura," he'd be game.
Something interesting
Carrey is no longer interested in repeating his old successes. He paid homage to "Dumb and Dumber" by appearing in the third film "Dumb and Dumber To," but he seems done with reliving nostalgia. Carrey, 60, has said that he would prefer to explore something interesting:
"I think after the fact when there's been a lot of years, unless some genius person, director, auteur comes to you with a completely new take on what's going on, you know. If Chris Nolan came to me and said, 'I want to make Ace Ventura real and I want to do something, you know, something more interesting...' then I might listen. But for the most part, you know, after a certain time there's not one cell in your body that is that person anymore so you end up just imitating what you did in the old days and the original inspiration isn't there."
One's brain immediately goes to "Ace Ventura: When Time Inverts" wherein the title character begins experiencing his past, his present, and his future all at once. He remembers every pet he had, has, and will have. Nolan could even hire Josh Flitter from 2009's "Ace Ventura, Jr.: Pet Detective" to tie everything together. 
Carrey was, of course, making a point: He's keener on working with genius auteurs and exploring new kinds of ideas than he is in rehashing material from 25 years ago. Christopher Nolan has no plans, as far as we have been able to determine, to make a fourth "Ace Ventura" feature film. 
In 2002, Nolan and Carrey were working together on a biopic about Howard Hughes, with the director and actor working very closely to come up with a script. That project was scrapped when a competing Howard Hughes biopic — Martin Scorsese's "The Aviator," starring Leonardo DiCaprio — was put into production first. Carry did not comment on his work with Nolan in the E! interview, but they did develop a working relationship 20 years prior. Carrey was being facetious, but if Nolan did decide to work with Carrey on a deeply penetrating psychological drama about Ace Ventura, Carrey would likely make good on his promise.