How To Watch Terrifier 2 At Home
Bloody Disgusting
We may receive a commission on purchases made from links.
Apparently, "Terrifier 2" has been making people throw up and pass out. The extremely gory sequel to 2016's killer clown horror film "Terrifier" has had an impressive theatrical run this month. It's even managed a box office increase in its third week in theater thanks, most likely, to positive word of mouth from twisted horror fans who want to witness Art the Clown's (David Howard Thornton) excessive violence on the biggest screen possible. But it's the extreme bodily reactions making headlines that compel me to wait and watch this flick at home, and I'm sure I'm not the only one.
Luckily, if you're worried an ambulance might have to take you away halfway through the unrated film's splatter-heavy 138-minute runtime, you'll soon have the chance to catch "Terrifier 2" from the comfort of your own home. You know, that way if you faint you might already be laying somewhere comfy. Writer-director-producer Damien Leone's shock horror hit will soon be available for streaming, even as its theatrical run continues. And while the film's distributor, Bloody Disgusting, hasn't yet shared information about an official home release, it looks like Blu-Ray, DVD, and steelbook collector's editions are already popping up online for preorder as well. Here are all the best ways to catch "Terrifier 2" at home.
The mayhem starts on Halloween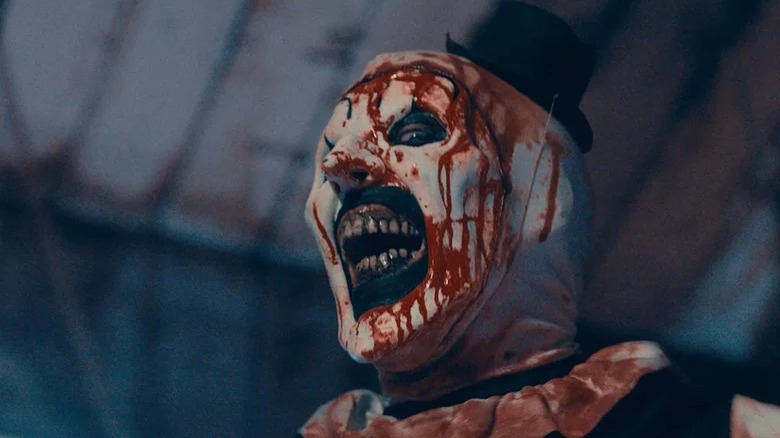 Bloody Disgusting
If you need something extra disturbing to round out your Halloween marathon, you're in luck: Bloody Disgusting reports that "Terrifier 2" is set to hit streaming on October 31, 2022. The film will be available exclusively on Screambox, the horror platform from Cinedigm and Bloody Disgusting. Like fellow horror subscription service Shudder, Screambox has plenty of horror programming to choose from, as well as a live TV option and curated selections.
As of publication time, they also have some great subscription plan options. Free plans allow viewers to watch non-premium content with ads, although that might not give you a one-way ticket to Art's latest murderfest since "Terrifier 2" will reportedly be a Screambox exclusive. Paid plans are quite affordable, though, with $4.99 per month subscription plans with even better deals on 3-month and year-long plans. The paid plans also advertise a "first month free" deal, so if you want to see how many times you can sit through "Terrifier 2" between Halloween and Thanksgiving, it sounds like you can make that dream a reality.
While no home video release for "Terrifier 2" has been announced, both Amazon and Walmart already appear to have exclusive Blu-Rays already available for pre-order. The Walmart exclusive option is listed as a Blu-Ray steelbook with a price tag of $19.96, while Amazon has a collector's edition Blu-Ray listed for $19.99, and a DVD copy for $12.96. All three seem to feature the film's official poster as their cover art, including a Ferris wheel, a bed of flames, and Art's horrifying scowl under the tagline "Who's laughing now?" The physical media's official release date has not yet been announced and is not listed on either product page, but we'll keep you posted when that information arrives.