How Paul Dano Got Sufjan Stevens On The Little Miss Sunshine Soundtrack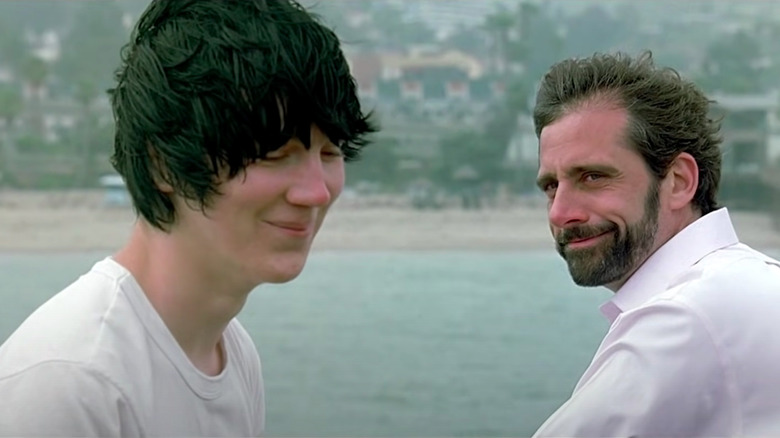 Fox Searchlight Pictures
Singer and songwriter Sufjan Stevens has made quite the name for himself over the years. From his ambitious project where he set out to make an album for every state in America (of which there are only two) to his recent 2017 contributions to the soundtrack for Luca Guadagnino's Oscar nominated "Call Me By Your Name" (of which the song "Mystery of Love" also earned its own Oscar nomination for Best Original Song), Stevens has had an extremely successful career.
Style wise, his songs tend to hover somewhere in an ethereal dream space with songs that are often always filled with Stevens's soft, breathy vocals and the charming tinkling of his banjo. Lyrically, Stevens is a master of storytelling, frequently singing about love and loss, sometimes even veering into truly creepy and uncomfortable territory ("John Wayne Gacy" may just be the stuff of nightmares). He's also known for appearing on stage dressed in elaborate costumes that frequently include intricate wings that float behind him open and angelic. In short: he's kind of an indie music lover's dream.  
His songs also pair well with movies, so while "Call Me By Your Name" was a recent collaboration for Stevens, it is not the first time his music have appeared in films. Fans of Valerie Faris and Jonathan Dayton's heartwarming road trip film, "Little Miss Sunshine," about a dysfunctional family who decide to drive across the country so that their youngest child Olive (Abigail Breslin) can compete in a beauty pageant, will no doubt recognize Stevens' upbeat, playful songs from the film. But the way Stevens came to be involved in the soundtrack for "Little Miss Sunshine" wasn't planned. In fact, it was Paul Dano — who plays the oldest child, Dwayne, in the film — who was responsible for getting Stevens's music in the movie. 
All things go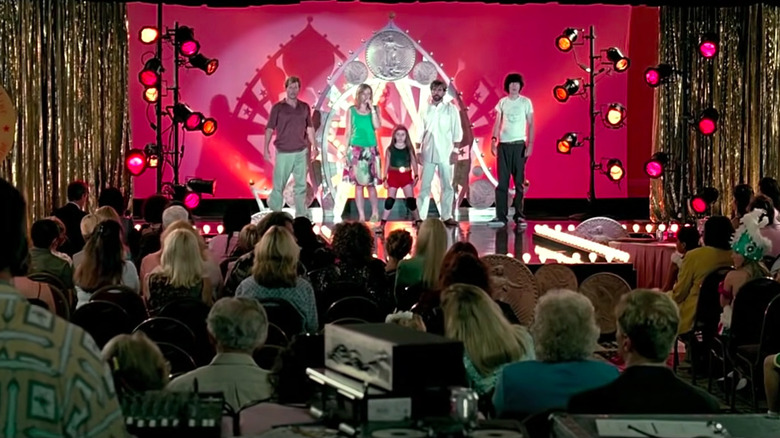 Fox Searchlight Pictures
In "Little Miss Sunshine," when the Hoover family first sets out on their road trip across America, they pile into their instantly recognizable Volkswagen Transporter van, and as they drive, Sufjan Stevens's song "Chicago" plays in the background. His instrumentals give the scene an uplifting, lighthearted quality even though, quite literally, everyone in the van is miserable. No lyrics are sung in the part of the song that's used in the film, but if they were, they would be extremely pertinent. "I made a lot of mistakes," sings Sufjan. "All things go. All things go."
"Chicago" is a song that appears on Stevens's 2005 album, "Illinoise," which was released right around the time that "Little Miss Sunshine" was filming. In an interview for GQ, Paul Dano talks about how he had been listening to the album and was a fan of Stevens and his music. He explains, "I played it for Jon [Dayton] and Val [Faris], and I said I'm gonna go see him in concert." The directors were intrigued, and Dano says, "Me and Jon and Val, and Toni Collette, and maybe some others went to see him. And then we went and hung out at, I think, the Chateau Marmont afterwards, like drinking tequila."
The combination of the concert and the company seem to have inspired the husband and wife director duo because, according to Dano, "they ended up putting a Sufjan song in the film" after this experience. It's a good thing too because Stevens' music pairs perfectly with the infectious charm of "Little Miss Sunshine," a film that captures the magic — and misery — of family road trips across the America that Stevens loves to sing so much about.