George Harrison Thought Terry Gilliam Owed Him An Apology Over Time Bandits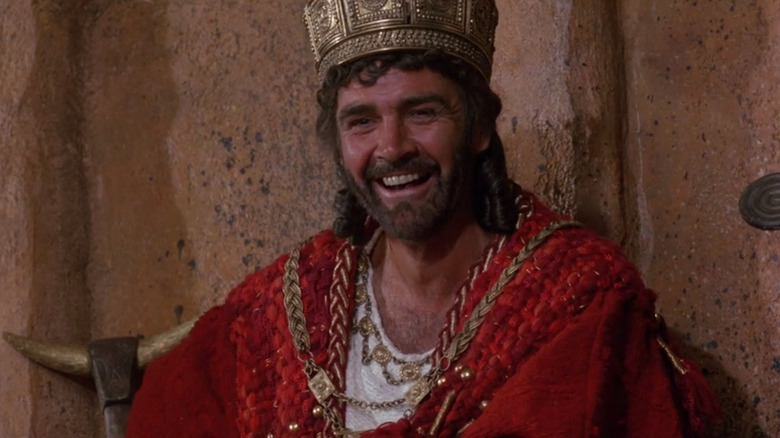 Avco Embassy Pictures
We may receive a commission on purchases made from links.
For a director who has a seemingly boundless, whimsical imagination, you almost never hear stories about wonderful times making films directed by Terry Gilliam. He has a reputation as a hard-headed perfectionist and someone not particularly interested in compromising. His films consistently go over schedule and over budget, and getting a finished film on the screen rarely doesn't happen without frequent fights and arguments.
One would think that because Gilliam rose to prominence within a group setting as a member of Monty Python, he would be able to foster a collaborative environment — but he was the soloist within that group, creating the odd, absurd animated sequences for "Flying Circus." He had the leeway to do whatever he wanted and could create his own worlds without limits. When you are directing a multi-million dollar movie with hundreds of people working with you, that just isn't going to be a healthy way to operate, and you are going to inevitably end up being incredibly hostile to people who don't deserve it. One time, that person was a Beatle.
George Harrison, along with being one of the most important and celebrated musicians of the 20th Century, was also quite the film producer. He co-founded HandMade Films as a means to produce "Monty Python's Life of Brian" in 1978, which found a lot trouble getting made due to its controversial, religious subject matter. A few years later, Terry Gilliam returned to HandMade with "Time Bandits," which he co-wrote with his fellow Python Michael Palin. Well, things did not go swimmingly, particularly in regards to the film's music. George Harrison had intended to write a plethora of songs for "Time Bandits," and Gilliam was very much against that happening.
'Like bashing a head against a brick wall'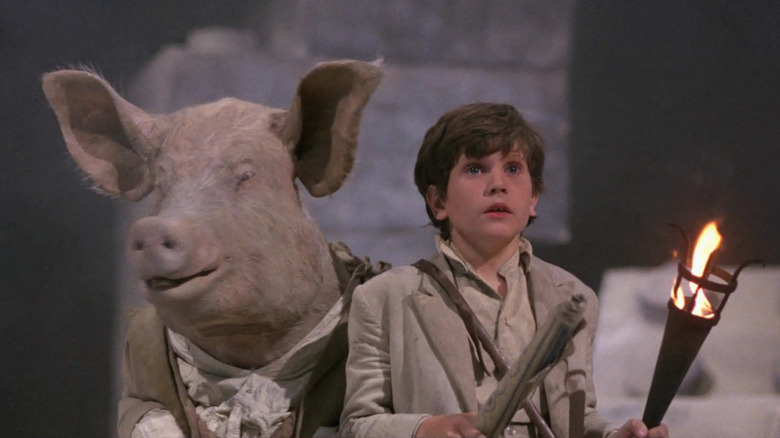 Avco Embassy Pictures
Though the fights about the music were about George Harrison, the "My Sweet Lord" songwriter was not the figurehead for his side of the argument. That would be his HandMade co-founder Denis O'Brien, who was at constant loggerheads with Gilliam about the picture. In Robert Sellers' book chronicling HandMade Films called "Very Naughty Boys," Gilliam says of his working relationship with O'Brien:
"It just became like bashing a head against a brick wall, but I was the brick wall and he was the head, that was the stupid thing. I kept saying, 'No, don't go there, Denis.' And he'd go — Wham! 'Stop it, Denis.' And eventually I started screaming at him, 'You're a f**king idiot, Denis. I've told you time and time again your brains are bashed out all over this wall that I am and you won't stop.'"
Sounds like a great environment to foster beauty and creativity, right? Out of the many things that they fought about was that there was an expectation that George Harrison was to write a number of songs for the film, somewhat turning "Time Bandits" into a musical. Gilliam couldn't be more opposed to this direction. O'Brien brought in music producer Ray Cooper to help supervise the music, but unfortunately for O'Brien, Cooper was more on Gilliam's side about the songs:
"I'd never met Ray before ... I think his main function was to try to convince me to put a lot of these songs all over the film so it was a musical. Ray and I agreed within the first two or three minutes that this was a bad idea, this was not what the film was trying to do."
End of one collaboration and beginning of another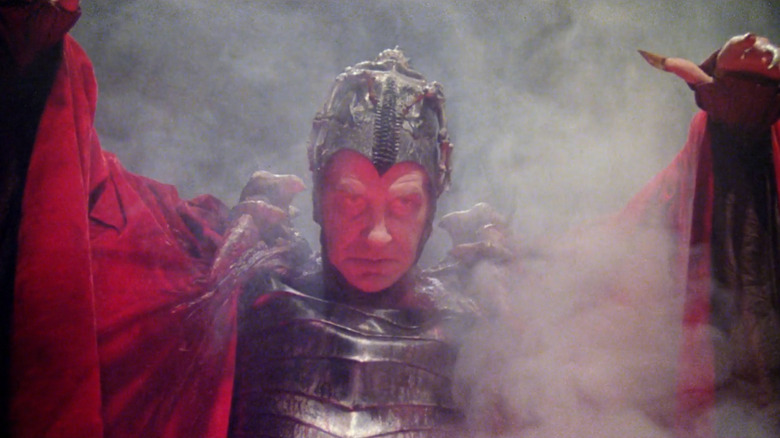 Avco Embassy Pictures
Ultimately, only one George Harrison song ended up in the final film, "Dream Away," that plays over the end credits. While the song is ostensibly related to the feeling of "Time Bandits," its message was Harrison's direct response to how he and Denis O'Brien were treated by Gilliam during production:
"Greedy feeling, wheeling dealing

Losing what you won

See the dream come undone

Stumble you may with the elementary

Lucky you got so far

All you owe is apologies"
You read that out, and it is plainly obvious that Harrison was hurt and wanted some acknowledgement and accountability from Gilliam, which he didn't get. Gilliam didn't even realize the song was about him at the time, recalling in "Very Naughty Boys":
"He felt I owed Denis and him some apologies because I was so unbending in the way I approached things. It's really funny because I enjoyed listening to the song but at the time I had no idea it was George writing his notes to me."
As you would expect, HandMade Films and Terry Gilliam did not collaborate again after "Time Bandits." Why would anyone want to go through that headache again? However, Terry Gilliam ended up finding a collaborator in Ray Cooper. He would go on to work in some capacity on all of Gilliam's films up through 2013's "The Zero Theorem." HandMade Films would make a slew of great British films in the 1980s, including "The Long Good Friday," "Mona Lisa," and "Withnail & I." The only time their paths would cross again would be for "Monty Python: Live at the Hollywood Bowl" the year after "Time Bandits." Thankfully for HandMade, Gilliam wasn't directing that one. He also isn't directing the TV reboot either.