Christopher Reeve And Margot Kidder's Superman Contracts Were Hiding Some Unpleasant Surprises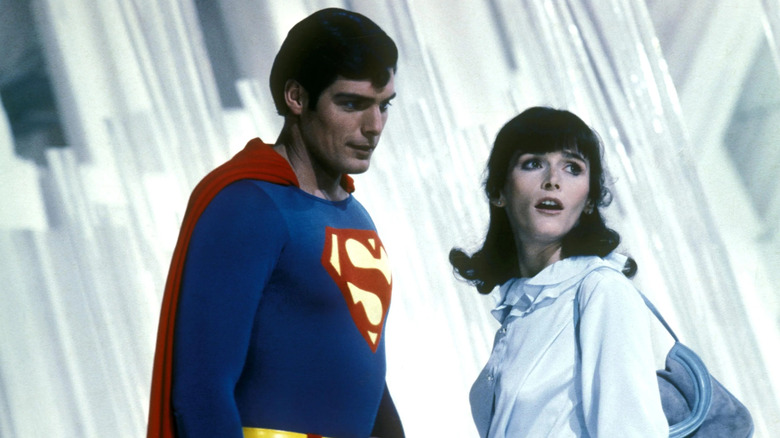 Warner Bros. Pictures
Until Marvel Studios began phasing out huge multi-movie contracts for its actors, these commitments were a standard industry practice. When Marvel was first assembling the Avengers cast, the studio was asking actors to commit to as many as nine pictures — a demand that Samuel L. Jackson agreed to and which almost cost us Chris Evans as Captain America.
High expectations for multiple appearances are not the only conflict Marvel has had with its actors. Reflecting on her lawsuit with Disney over just compensation for the dual theatrical and Disney Plus release of "Black Widow," Scarlett Johansson said that she was leading a charge in the industry by asking for fair recognition of her value.
To its credit, Marvel has softened its stance on sequel commitments and adopted a new strategy of recruiting actors who are enthusiastic about appearing in several projects long-term, rather than being contractually locked in. Though it may have been one of the first studios in the superhero business to learn this lesson, Marvel was not the first to ask so much of its actors in the first place. Long before the Hollywood machine began churning out a new superhero film every quarter, Warner Bros. required multi-picture contracts for 1978's "Superman" with terms that would raise questions about whether the actors' salaries were high enough.
The fine print
Warner Bros. Pictures
Even after retiring to the small town of Livingston, Montana, Margot Kidder — who played Lois Lane alongside Christopher Reeve's Clark Kent in four "Superman" movies — continued acting. Kidder, who was not exaggerating when she said "I just love to work," spent her later career appearing in independent films, off-Broadway, as Laurie Strode's therapist in Rob Zombie's "Halloween II," and in numerous television roles, including a cameo for two episodes of "Smallville" in 2004.
The depth of her experience in the film industry comes through in a 2016 interview with HeyUGuys, during which Kidder described her experience navigating a "Superman" legal landscape that mirrors the early days of Marvel Studios:
"I had a contract — a very thick one. They weren't going to risk having a hit with 'Superman' and then not have those same actors in the second because you could then go back and ask for $20m to do the sequel. Chris [Reeve] and I were the most inexperienced so we got the lowest salaries of anyone."
Renegotiating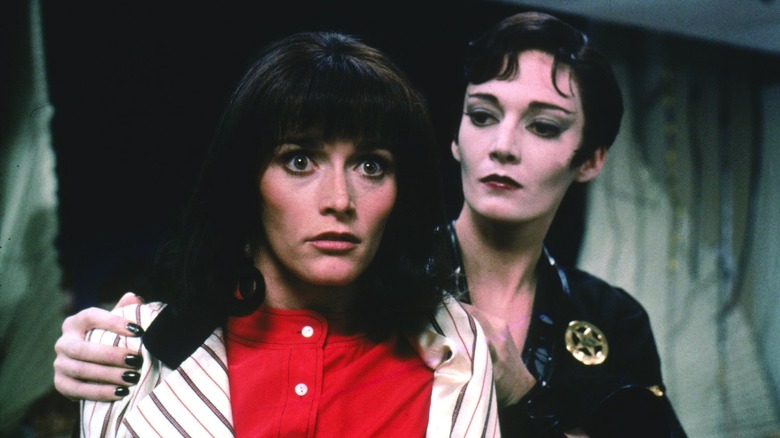 While Kidder was effectively powerless going into "Superman," she and Reeve entered "Superman II" negotiations more experienced and armed with specific demands. Following the release of Richard Donner's debut Man of Steel film, Kidder and Reeve had noticed the widespread use of their likeness in much more than the film's promotion. In response to the monetization of their appearances, Kidder recalled:
"For the second one we renegotiated our contracts because I found out they had things with Chris in Japan holding Pepsi cans in his hand — which I teased him about relentlessly. He then found out they had Taco Bell glasses with my picture on it."
Kidder may have been stuck making multiple films, but like Johansson, she would not tolerate under-compensation. Proving that her business acumen had come a long way, Kidder was confident enough to go on a one-woman strike:
"We weren't getting part of the proceeds so we were able to sue the producers. Chris was too nervous about it all so he turned up to work every day but I said through my lawyers that I wasn't going to turn up until we renegotiate my contract for it to include part of the merchandising. So they upped both of our salaries."
This self-assured attitude, which reappeared when Kidder spoke out against Warner Bros.' producers for firing director Richard Donner from "Superman II," was a large part of what made her so perfect as Lois Lane. Being someone who loved to work, it's no surprise Kidder said in the HeyUGuys interview that she'd be happy to do another DC project with the right script. It's very sad Kidder passed away in 2018, because who wouldn't have wanted to see her return to DC? She clearly had the skills to reach an agreement with Warner Bros. — Taco Bell tie-in glasses and all.