If You Want To Dance The Masque, You Must Service The Composer With The Tar Soundtrack Available Today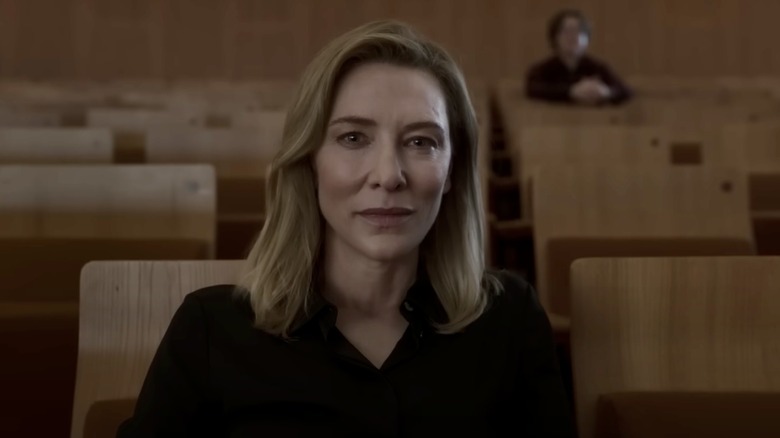 Focus Features
"If you're here, then you already know who she is." And if you're confused by our headline, then you most likely haven't seen the trailer for "TÁR," where Cate Blanchett's famous composer-conductor, Lydia Tár, talks all about dancing the masque, servicing the composer, sublimating one's ego, and all that good stuff. One thing Blanchett's not sublimating is her status as an EGOT (Emmy, Grammy, Oscar, Tony) winner, perhaps a foreshadowing of the Academy Award nomination Blanchett herself is likely to receive for her performance.
"TÁR" is currently in limited release in the U.S., but it goes wide on October 28, 2022, and /Film's review by Marshall Shaffer calls it "a Cate Blanchett masterclass," confirming it's "a title so serious it requires special instructions to ensure capitalization and with an acute Á." The movie premiered at the Venice Film Festival in September, where it received the requisite standing ovation, and it marks the long-awaited return of Todd Field ("In the Bedroom," "Little Children") to the director's chair. The film's soundtrack, available now digitally and on CD, also promises to be a unique listening experience.
Billed as a concept album from classical music label Deutsche Grammophon, the soundtrack, per its official press release, "captures the process of music-making that lies at the heart of the film." Its tracklist includes new music by Hildur Guðnadóttir, the Oscar-winning composer of "Joker" — who worked closely with Field from early in the production — and extracts from Edward Elgar's Cello Concerto and Mahler's Fifth Symphony. A video for Guðnadóttir's cello work, "Mortar," shot with cast members during principal photography, will be released on November 11, while a vinyl edition of the album will be issued on January 20, 2023.
A different kind of soundtrack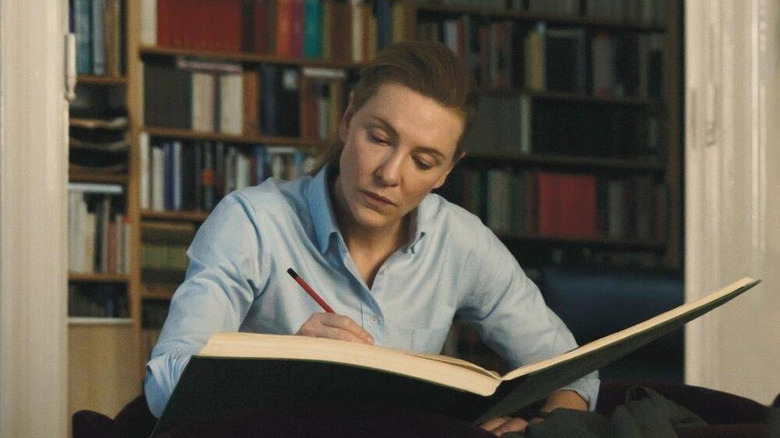 Deutsche Grammophon
The "TÁR" concept album is said to complement the film "by inviting listeners to experience what Field refers to as 'the messiness' of the work involved in preparing classical music for performance, via a combination of audio glimpses from real-life recording sessions, sequences from fictional rehearsals, music listened to by the film's characters, and completed versions of the music on which we see Lydia working."
The soundtrack features Blanchett herself in character, conducting rehearsals of Mahler's Fifth Symphony and performing a Prelude from Bach's "The Well-Tempered Clavier." The actress described her collaboration with the Dresdner Philharmonie and its concertmaster Wolfgang Hentrich as "a great, and life-changing, privilege," saying she was "truly blessed" to have her name "appear anywhere near this ridiculously talented assembly of musicians."
British cellist and actress Sophie Kauer and the London Symphony Orchestra, conducted by Natalie Murray Beale, perform the Elgar Cello Concerto extracts. The album also features the Burke/Van Heusen jazz standard "Here's That Rainy Day," performed by the New Trombone Collective with soloist Al Kay, conducted by Martijn Sohler, and Peruvian shaman/maestra Elisa Vargas Fernández's "icaro Cura Mente," whose "purpose is to illustrate Tár's history in Shipibo-Koniboethnomusicological fieldwork."
Guðnadóttir was fascinated by Field's script, "with its focus on the inner workings of the music-making process and the emotional and psychological elements that invisibly influence composition and performance." She said, "It's been a real privilege to get to do a deep dive into the multifaceted process of making music with the wonderful artists that manned all the 'TÁR' posts. And to get to release the music in a parallel world that is our reality, where we hear music they are writing and rehearsing in the film."
The "TÁR" concept album is available now.