TÁR Trailer: A Grand Introduction To Cate Blanchett's Best Work Yet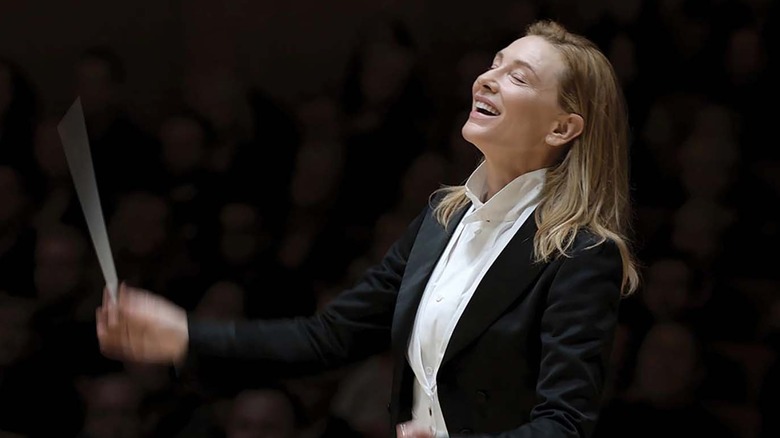 Focus Features
Meet Lydia Tár, the next role likely to get Cate Blanchett nominated for an Oscar. "Tár," the upcoming character epic from writer-director Todd Field, is a powerhouse showcase for the acclaimed performer, and now we have a full trailer for the film that shows off her skills.
In the trailer, we meet Tár, a classical composer and conductor with as many top-notch accomplishments as one could possibly ever want, including being one of 15 creatives who have achieved EGOT status, according to a voiceover introduction in the clip. But not all is as it seems in her idyllic and musical life. The trailer suggests something more sinister is at play in the musician's world, something that threatens to bring her to her knees, but it does well to hide exactly what Tár will be facing throughout the film's runtime. Watch the trailer below!
Watch the Tar trailer
There's no denying this trailer asserts, simply by the cuts it includes, that this could be an all-time great performance in Blanchett's career. It minces no words on how it is an epic of a character piece designed for this storied performer to show us what she's got. As someone who saw the film at Venice Film Festival earlier this month, I can say that she absolutely lives up to the expectations this trailer gives you. In fact, I would even go as far as to say that this performance is perhaps better than her incredible turn in the devastating 2015 drama "Carol," widely lauded as the best of her career.
I am a "Carol" evangelist and purist, there's no denying that, but what she does with Lydia Tár — who is fictional, by the way — is wholly different from her work in the heartbreaking romance film. Carol and Tár come at life from two different angles, with two different worldviews, headspaces, and ways of approaching their problems. Even further still, they exist in two different eras, navigating two different norms. Playing Tár gives Blanchett the permission she has needed to crack open the eggshell that is her unbridled, raging vulnerability and give it to us in abundance. And it works, almost too well — you're rooting for her even in the moments where maybe you shouldn't.
"Tár" also stars Nina Hoss, Noémie Merlant, Sophie Kauer, Mark Strong and Andris Davis rounding out the cast. Field produces alongside Alexandra Milchan, and Scott Lambert. This is Field's first film since his 2006 drama "Little Children."
After having its world premiere in Venice in September, "Tár"will be released in theaters in the US on October 7, 2022.