Hearing About The Blair Witch Sequel Was An Emotional Moment For Heather Donahue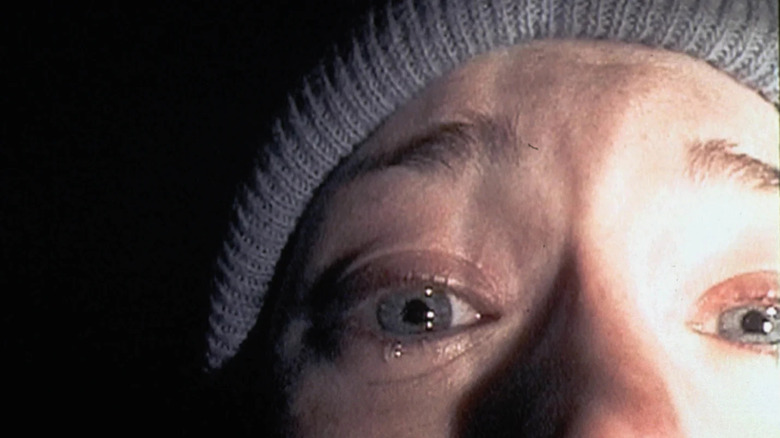 Artisan Entertainment
"My obituary was published when I was 24," begins Heather Donahue. You don't even have to be a horror fan for you to recognize her terrified, runny-nosed face, the face that "The Blair Witch Project" seared onto the pop culture consciousness in 1999, one of the greatest years for movies. Scraped together by Daniel Myrick and Eduardo Sánchez, "The Blair Witch Project" changed the landscape of horror movies with its lo-fi approach; despite little by way of script, set pieces, and budget, the trio of actors leading the documentary on a local legend shot and acted the story so well that everyone thought it was real, following in the tradition of controversial luminaries of the genre like "Cannibal Holocaust."
Despite their training and contributions to the movie, stars Heather Donahue, Michael Williams, and Joshua Leonard — all trained actors — were paid wages so scant that they struggled in stark contrast to the film's runaway success. Naturally, the experience soured things for Donahue such that when director Adam Wingard and writer Simon Barrett circled back to the legend for a new chapter in 2016's "Blair Witch," Donahue's reaction to the upcoming movie was a rollercoaster.
In an opinion essay to the Guardian, Donahue gives the play-by-play:
"On learning of the sequel, I did what any sensible woman would do and drank very nice bourbon in a very nice bathtub while bawling my eyes out. Nothing I do will ever surpass what I did at 24. My name and face are forever going to be someone else's intellectual property. My snot-flooded portrait was back. It's all anyone wanted to talk to me about. I bawled more. Refilled the bath. Stared at the wall."
Afraid to close her eyes, afraid to open them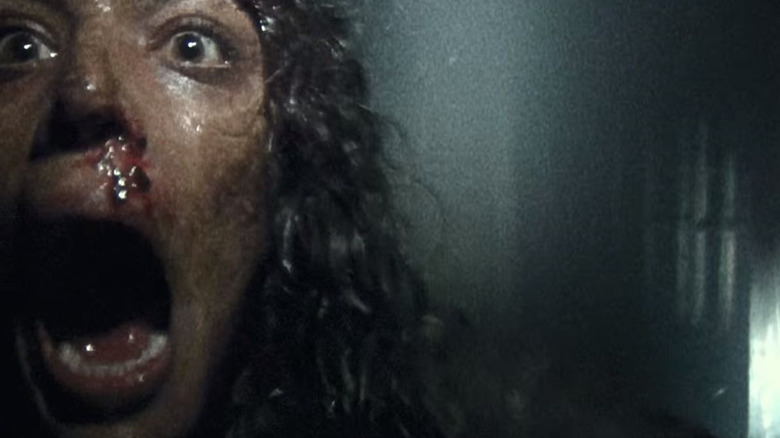 Lionsgate Films
Then something unexpected happened to interrupt the bathtub therapy. Donahue got a call from Lionsgate, who expressed a level of concern for her that the original marketing department never displayed. She writes in The Guardian:
"Then Lionsgate called. The company that originally bought The Blair Witch Project was purchased by Lionsgate and they're the ones behind this new sequel. They asked what they could do to show me how much they appreciated my work in the original. They made sure my last name wasn't used anywhere. In their press materials, their protagonist goes in search of his 'sister' but they don't use my name. For all the talk of Hollywood being populated with jerks and sharks, these guys were actually being considerate and were genuinely concerned that this would not be any more disruptive to my life than was inevitable."
"Blair Witch" entails another Donahue searching for Heather, who disappeared at the end of the original movie. His search is the subject of another documentary-within-the-movie, enabling a filmmaker, their significant other, and some locals to head into the Burkittsville woods to become canon fodder for a very angry supernatural force. While there's plenty of faux-doc and handheld footage, nu-Blair updates its toolkit with the kind of action cameras and drones that are accessible to the average adventurer/budding filmmaker today, along with departures from the original: onscreen deaths and a decent glimpse of the movie's monster (a choice that polarized fans upon release). Donahue bears no hard feelings towards the new "Witch" since by 2016, due credit and sensitivity were given freely; hopefully, the bathtub bourbon is more celebratory from now on.